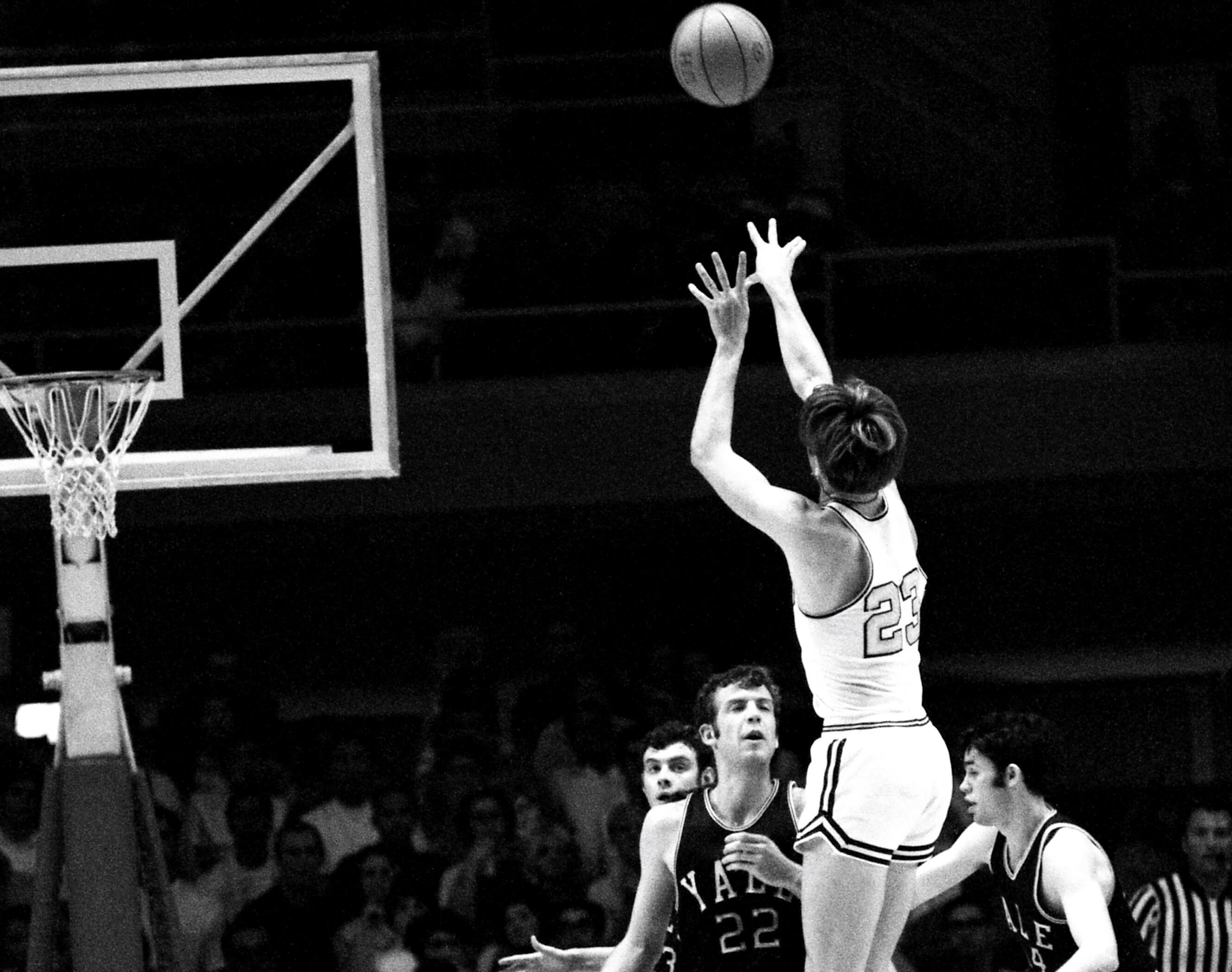 Pete Maravich and His Father, Press, Had Serious Decisions to Make Before Joining Forces at LSU
Pete Maravich remains the NCAA Division 1 men's basketball all-time scoring leader.
Press Maravich and Pete Maravich were thriving on the basketball court. Press just finished his second year as head coach at North Carolina State, where he went 38-13 in those two seasons. Pete just completed a season where he averaged 33 points a game for Edwards Military Academy in Salemburg, N.C.
The father-son duo was in demand, but what was next? Would Press coach at the professional level? Pete had plenty of college offers. Although they decided to team up at LSU, that decision was hardly a given.
Pete Maravich and his father headed to LSU together
Press Maravich guided North Carolina State to a conference championship and a berth in the NCAA tourney in his first season. After two years there, he drew interest from others, including the Baltimore Bullets of the NBA or LSU. Would he leave for either of them or remain at NC State?
Pete Maravich was college bound. He had plenty of options, but where would he take his talents? The two thought long and hard, discussing the pros and cons of heading to the same place.
"I told Dad he had always said his life was with kids and that there weren't many kids in the pros," said Pete to Sports Illustrated in 1968. "We discussed the problems of being together, but we both liked the idea of reviving basketball someplace. And LSU looked awfully good to me."
Press left North Carolina State for LSU, and Pete joined him. Back then, freshmen weren't allowed to play at the varsity level, so Press was on his own in the first season. The Tigers suffered through a 3-23 mark during the 1966-67 season.
Pete Maravich ran the show the following season. The flashy guard with the floppy socks averaged 43.8 points per game in his first LSU season. He became an instant hit with the college basketball world. LSU finished the year with a 14-12 record, its first winning campaign since the 1961-62 season.
The younger Maravich went on to become the NCAA Division 1 men's all-time leading scorer with 3,667 career points. It's a record that still stands. He averaged 44.2 points in his three years at LSU despite playing without a shot clock and a three-point line.
Helen Maravich knew the two would get together
While Press had to decide whether or not to leave a successful North Carolina State program, Pete had to figure out if playing for his father was a good move. Pete's mother, Helen, believed they both knew all along they would be together.
"I think now that they both knew it all along," Helen Maravich, Pete's mother, told Sports Illustrated in '68. "I am sure Pete would have regretted it if he hadn't come with Press."
Pete and Press on the court together was most certainly going to come with some questions, the biggest being favoritism. Ralph Jukkola, a former teammate of Pete's at LSU, admitted to Sportscasting that he was initially irked by Press's comments when he arrived at LSU.
"Press came out one year and said that Pete's going to have to shoot 40 times for us to win," Jukkola told Sportscasting in March. "That was kind of a downer for us to hear. I think it may have burned some bridges. I didn't like it. It was almost like telling us we ain't worth a darn."
Jukkola then quickly learned the younger Maravich was something special.
"We didn't know who he was," Jukkola said of the hyped-up freshman. "The freshmen were playing pickup. We were like, let's go see what this hot-shot kid is all about. We saw them standing there and couldn't figure out which one he was. There was this kid about 155-160 pounds, skinny kid. Is that him?
"Then, when you play against him or play with him, you find out what he can do. He was legit. His talent was above and beyond what we had."
Pete was well aware of the "shoot 40 times" comments.
 "I'm conscious of what people say about my shooting so much, but there's a lot of difference between shooting 40 times a game and being able to shoot 40 times," he told Sports Illustrated. "I can get open that many times. I don't care who's playing. Some other people would have to start throwing over their heads to get it up there 40 times."