Pete Maravich's Scoring Record Survives — Rightfully So
The Antoine Davis story would have been pretty cool, but not half as cool as Pete Maravich's.
Davis is the Detroit Mercy high-scoring guard who was gunning for a record that has stood for better than 50 years. That record, the all-time NCAA Division I college basketball scoring mark, belongs to Maravich and was set at LSU back in 1970. After an impressive run by Davis this season, Maravich's record still stands, and rightfully so.
Pete Maravich turned plenty of heads while at LSU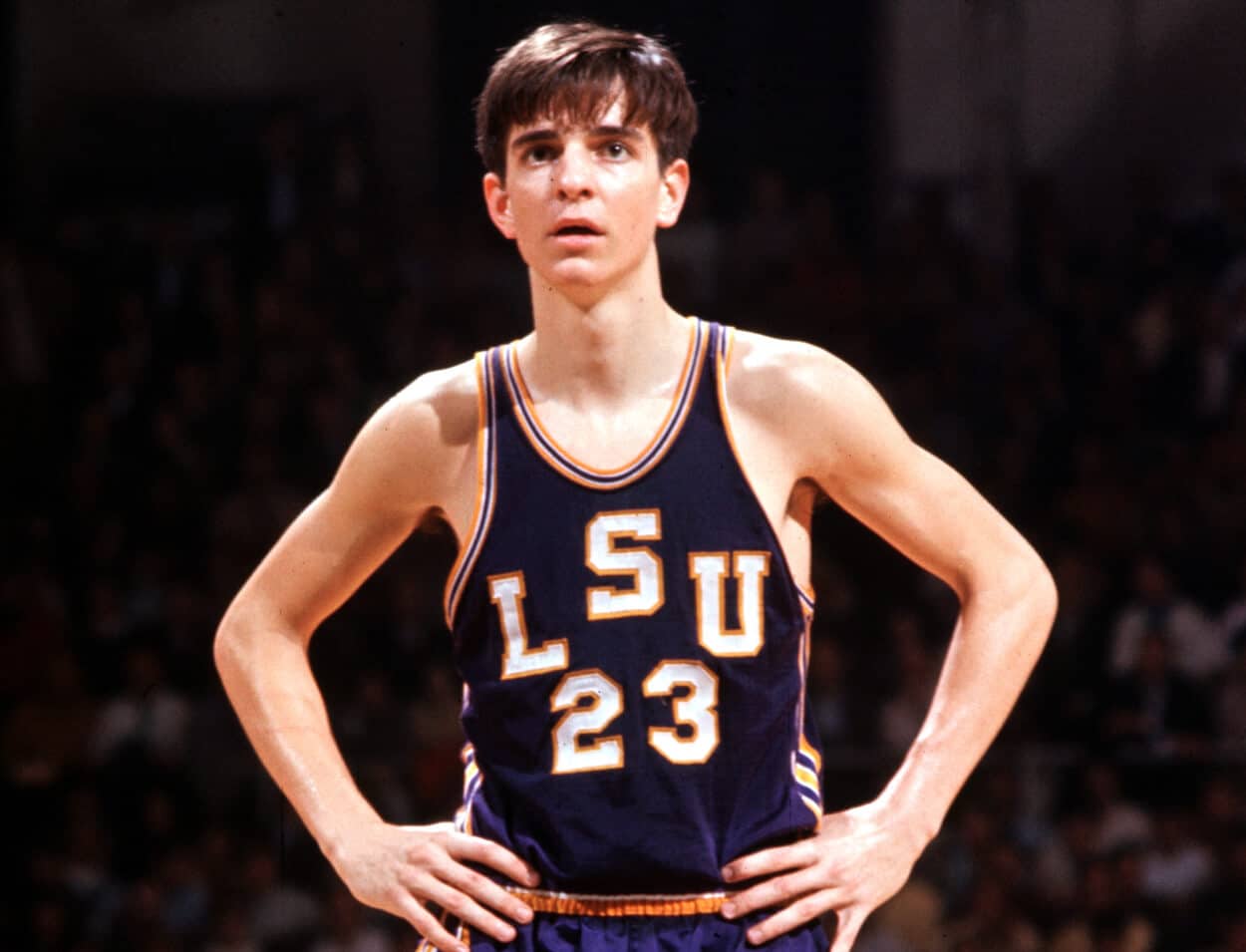 During his days at LSU, Pete Maravich might have been the most exciting player in college basketball. Not only was he a tremendous scorer, but his flashy passes and ability to see the court made him one of the best college basketball players ever.
Like all freshmen back then, Maravich wasn't allowed to play with the varsity, so he has just three years of college statistics. He certainly made the most of those three years.
Playing for his father, Press, Pete Maravich averaged 43.8 points in his first varsity season with the Tigers. He also pulled down 7.5 rebounds and dished out 4.0 assists. While many see 1,000 points in a career as a significant milestone, "Pistol Pete" finished his first college season with 1,138 points.
Maravich's numbers only got better in the next two seasons. As a junior, he racked up 1,148 points, averaging 44.2 per game. In his final season, Maravich averaged 44.5 points. He finished his career with 3,667 points, a record that has stood for 53 years but was in serious jeopardy as Davis made quite a run.
Davis came up three points shy of tying Maravich's mark
Davis needed 26 points in the quarterfinals of the Horizon League tournament Thursday night to break Maravich's mark. He finished with 22 in Detroit's 71-66 loss to Youngstown State.
It's a proper ending for both Davis and Maravich.
Maravich did all his scoring in three years. He also did it without the benefit of a three-point line or a shot clock. It took Pistol Pete 83 games to register 3,667 points.
Davis played five years at Detroit Mercy. He was granted a fifth year because of the implications of COVID-19. He still played 22 games in the year affected by the virus. Davis scored 3,663 career points in 144 games.
Like Maravich, Davis played for his father, Mike. Mike Davis said he would've expected some criticism had his son broken the longstanding record.
"People would have put an asterisk by his name if he would've broken it," Mike Davis said after the game, per ESPN. "Pistol Pete was in a world of his own and there will never be another Pistol Pete in college basketball. I think there will never be another Antoine the way he scored in 144 consecutive games."
Antoine Davis handled coming up just short with class. He missed a late three-pointer that preserved Maravich's mark.
"Just special," Davis said about his college career. "I had the opportunity to play for my dad. I was a couple of points short of the record. God knows what he's doing.
"I'm thankful to even be in the same boat as Pistol Pete."