Pete Maravich's 35-Foot Hook Shot Had the Opposing Team Carrying Him in Celebration
Pete Maravich was one of the most exciting college basketball players of all time.
Pete Maravich had some big games and wild moments during his illustrious college basketball career. At LSU, he scored a career-high 69 points in a 106-104 loss to Alabama. He had 66 against Tulane. The man they called "Pistol Pete" was one of the most exciting players in college history.
In one game against Georgia, Maravich finished with 58 points in LSU's 90-80 overtime victory. As the clock wound down, Maravich launched a 35-foot hook shot and walked off the court. The ball swished through the net, and suddenly Maravich was carried around the court by Georgia cheerleaders and fans.
Pete Maravich was the ultimate crowd pleaser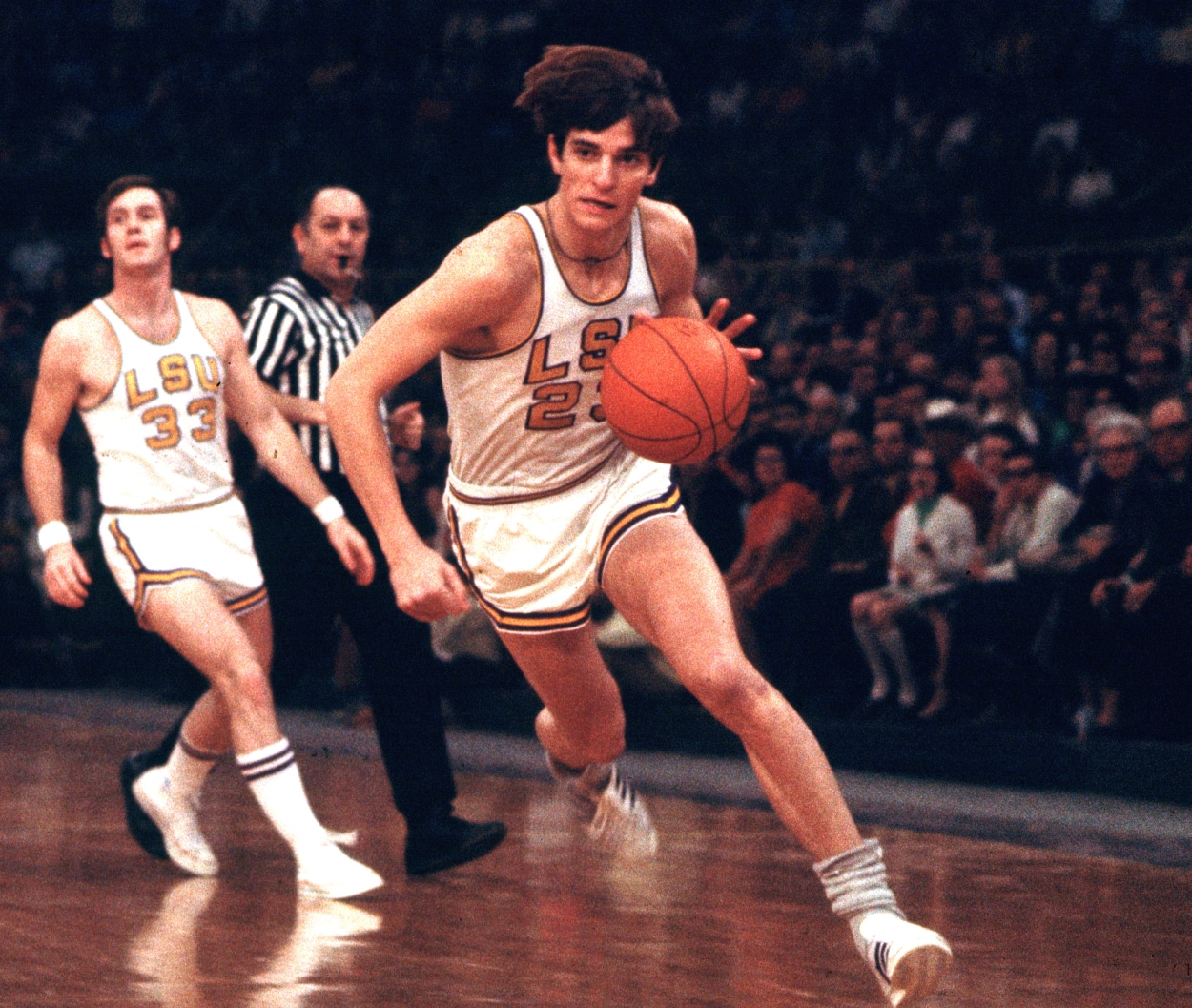 It didn't matter what team you were rooting for. When Maravich was on the court, you couldn't help but pull for him. He was a showman. He was exciting. Maravich always seemed to steal the show.
"The way basketball was in the 1960s in the SEC, it was full houses when he played, and half full when he wasn't there," said Mark Womack, Executive Associate Commissioner/CFO of the SEC back in 2019, per The Daily Advertiser. "He was certainly responsible for bringing a lot of attention to SEC basketball. It was one of those things — if he's coming to your town, you better go see him play."
"A group of us coaches went to see him play (back in the '60s)," said former Auburn coach Sonny Smith. "We couldn't believe how good he was. He was terrific. He knew he was better than everybody else, and he just took over the game. The rest of his teammates just watched him. I watched him, too. Everybody did."
Maravich played three years at LSU, averaging better than 43 points in each season. In his final year, he put up 44.5 points and 6.2 assists.
"I think now we look at guys if they score 30, it becomes a story, right? 'Hey, so-and-so got 30 last night.' Well, that's only 14 short of Maravich's average," Womack said.
The Atlanta Hawks made Maravich the third overall pick in 1970. He played 10 seasons in the NBA, six with the New Orleans/Utah Jazz. He was a five-time All-Star and averaged 24.2 points for his career. In 1988, Maravich died while playing in a pick-up basketball game. He was 40.
Maravich hit a 35-foot hook shot and was carried off by the opposing team
In a game at Georgia, LSU held an eight-point lead in overtime in the waning seconds. Maravich had the ball and was dribbling out the clock. Just before the final buzzer sounded, he lofted a hook shot from 35 feet out and started to walk off the court. The ball went in, and he suddenly found himself in the arms of Georgia's cheerleaders and fans.
He told the story to Roy Firestone on an episode of Up Close in 1987.
"As I was going off the court, I noticed all the Georgia defenders were coming at me and leaving all my teammates open," Maravich recalled. "There was only like four seconds on the clock, so with two, I just let it fly, right by our bench.
"After I let it fly, I just walked off the court behind our bench to the locker room. It happened to go in. The Georgia cheerleaders came running up to a ramp, got me, brought me back down, put me on their shoulders, and walked me around."
Firestone asked what the Georgia players said.
"They were mostly congratulatory," Maravich said. "They were part of that. It was the end of the season.
"I guess that shot has become kind of legendary in the fact that it's gone from, you know, 35 (feet) to 45 to 55 and keeps on going out. That was an exciting era for me."
Have thoughts on this topic? Keep the conversation rolling in our comments section below.