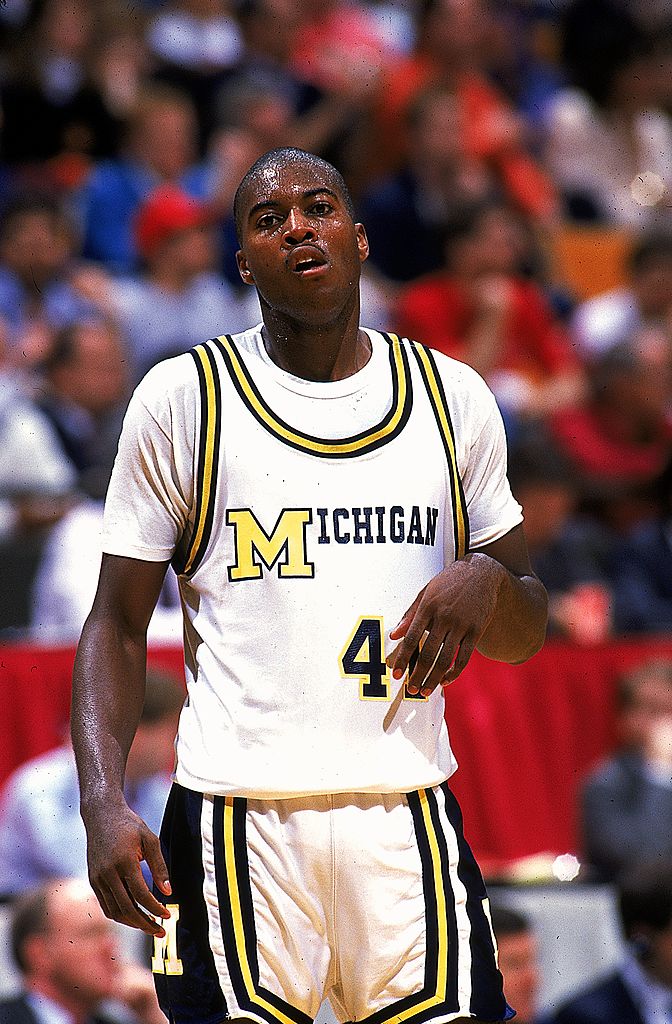 Glen Rice, Not One of the Fab Five, is the Greatest Player in Michigan Basketball History
A look at why Glen Rice is the best basketball player in University of Michigan history, not any member of the famed Fab Five.
The University of Michigan has produced a number of fantastic basketball players over the years. From Cazzie Russell to Rudy Tomjanovich to Jamal Crawford to Louis Bullock to any member of the Fab Five and everyone else in between, the Wolverines have been a big part of college basketball. However, one player stands out above the rest: Glen Rice.
While Chris Webber, Jalen Rose, Juwan Howard, Jimmy King, and Ray Jackson made the Fab Five the coolest thing in basketball in the early '90s, it was Glen Rice, alongside other future NBA players, who led Michigan to their only national championship in 1989, setting a number of records in the process.
Glen Rice did more at Michigan than anyone in the Fab Five
The Fab Five may have made Michigan basketball more popular but Glen Rice did more for the Wolverines than anyone in that famed class. Yes, it might be true that Chris Webber was overall the most talented player in Michigan history, helping Michigan to two national championship games, but it's Rice that holds scoring records and Rice that won a national title, also breaking NCAA Tournament records in the process.
While the Fab Five all shined as freshmen, Glen Rice actually didn't start one game his first year in Ann Arbor. He played in all 32 games but averaged just seven points per game. He made improvements in each of the following two seasons, averaging 16.9 points his sophomore year and 22.1 points his junior year. In his senior season in 1988-1989, Rice was one of the best college players in the country, averaging 25.6 points, shooting 57.7% from the floor and 51.6% from the three-point line.
In 134 career games with the Wolverines, Glen Rice scored 2,442 career points, the most in Michigan basketball history. While some would argue that the main members of the Fab Five didn't stay all four years and had better averages, that's not the case. In his three years as a starter, Glen Rice averaged 21.5 points. Even adding in his freshman year, he averaged 18.2 points in his four years in Ann Arbor. In comparison, Chris Webber averaged 17.4 points in his two years. Jalen Rose averaged 17.5 points and Juwan Howard averaged 15.3 points in their three seasons. Glen Rice is the only player in Michigan history to be in the top 25 in points, rebounds, and assists.
As for the argument that Rice didn't have other NBA talent around him, that's also not the case. Loy Vaught, Terry Mills, and Rumeal Robinson all spent time at the pro level.
Rice hit a new level in the 1989 NCAA Tournament
The Michigan Wolverines entered the 1989 NCAA Tournament as the No. 3 seed in the Southeast Regional. Glen Rice scored 23 points in the tourney opener against Xavier, the lowest number of points he'd score over the next few weeks. In the second round against No. 11 South Alabama, Rice scored 36 points, pulled down eight rebounds, and handed out five assists. He scored 34 points in the Sweet 16, knocking out No. 2 North Carolina.
In the Elite Eight, Michigan beat No. 5 Virginia, 102-65, with Rice scoring 32 points. In a Final Four matchup against No. 1 Illinois, the Flyin' Illini team that had beaten them twice during the regular season, Michigan pulled out a two-point victory as Rice poured in 28 more points. In the national championship game, a thrilling 80-79 overtime win against Seton Hall, No. 41 once again led the way with 34 points and 11 rebounds, easily winning the Most Outstanding Player trophy as the best player in the tournament.
To this day, the 184 points scored by Glen Rice in 1989 remains the most points scored in a single NCAA Tournament.
Glen Rice had a solid (and underrated) NBA career
The NBA draft stock of Glen Rice jumped following his performance in the 1989 NCAA Tournament and he was taken fourth overall by the Miami Heat. Rice spent six seasons in Miami, averaging 19.3 points, before heading to the Charlotte Hornets, where he had the best years of his career.
While Glen Rice spent just three years in Charlotte, he remains one of the best players in franchise history. He was an NBA All-Star all three seasons he was a Hornet, averaging 23.5 points. He also set an NBA All-Star Game record in 1997, which was tied by Anthony Davis in 2017, by scoring 20 points in a single quarter. Rice was named the All-Star Game MVP.
Rice won his first and only NBA championship in 2000 with the Los Angeles Lakers. Brought in as the third option alongside Shaquille O'Neal and Kobe Bryant, Rice averaged 16.3 points in two years in LA. He jumped around in his final few seasons in the NBA, playing for the Knicks, Rockets, and Clippers before retiring in 2004. In exactly 1,000 career games in the NBA, Glen Rice averaged 18.3 points. He sits in 73rd on the all-time NBA scoring list and is 29th in three-pointers made with 1,559.