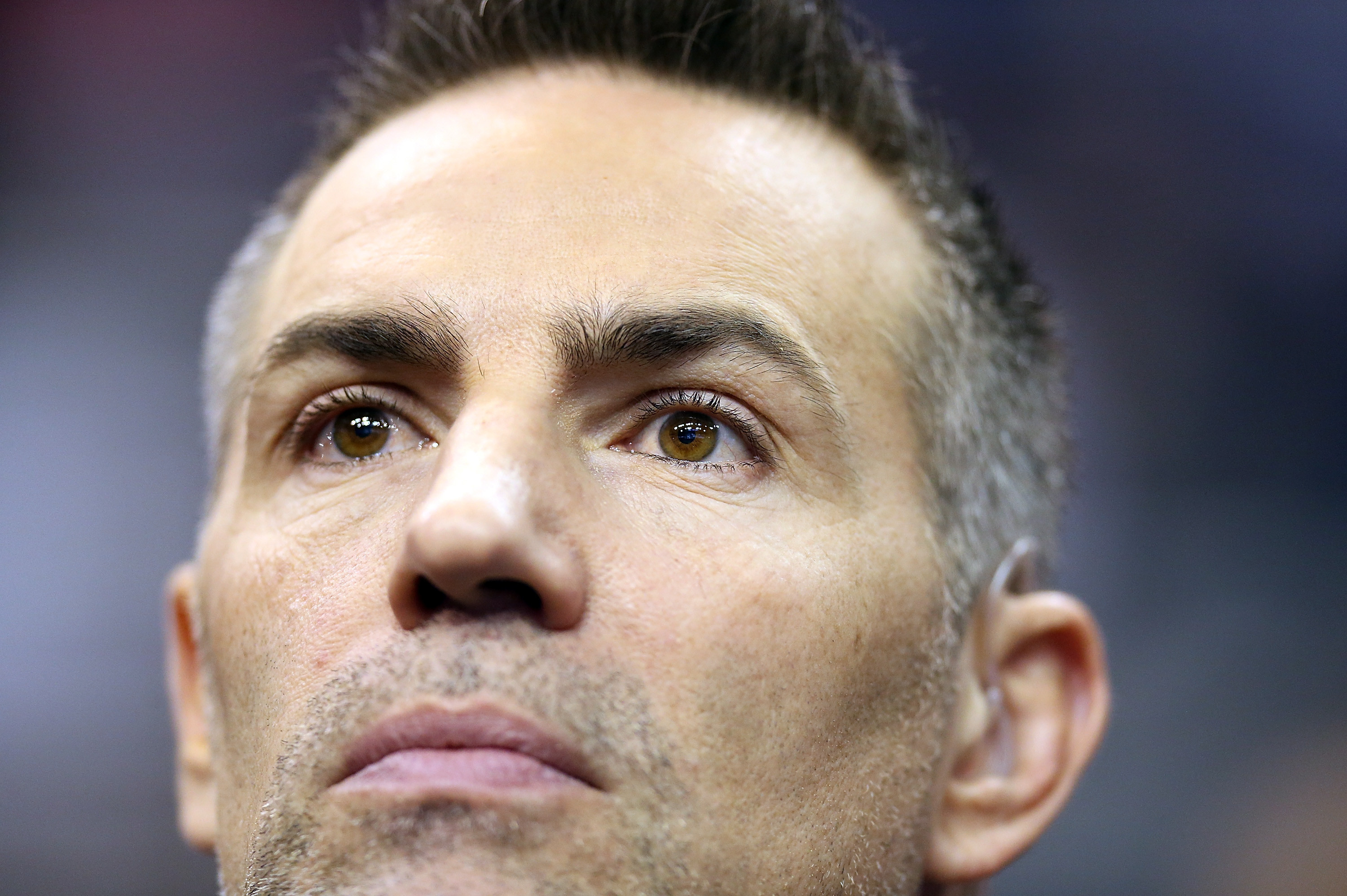 How Kurt Warner Used Part of His $62 Million in Earnings To Build a Better Life for His Son
Kurt Warner is one of the greatest success stories in NFL history. Warner spent part of his hefty earnings on a home for his son, Zachary.
Pro Football Hall of Fame quarterback Kurt Warner is responsible for one of the greatest stories in football history.
An undrafted quarterback who later worked at a grocery store to make ends meet, Warner later became an MVP and Super Bowl-winning quarterback for the St. Louis Rams.
A charismatic leader and charitable person during and after his NFL career, Warner has also taken care of his loved ones. Warner did something incredible for his son, Zachary, who is blind.
Kurt Warner is a classic NFL success story
RELATED: What Happened to St. Louis Rams Receiver Torry Holt?
Related post url: 
The Kurt Warner story can best be divided into six specific sections.
Warner impressed at Northern Iowa, an FCS program, but went undrafted in 1994. After a brief stint with Brett Favre and the Green Bay Packers, Warner took his talents to the Arena Football League.
The journey of playing in the Arena League and working at a grocery store leads to the third section, which is Warner's time with the St. Louis Rams. After taking over for an injured Trent Green in 1999, Warner won the MVP Award that season and guided the Rams to a Super Bowl victory.
Warner won another MVP, and nearly a second Super Bowl, two years later. Injuries, age, and backing up young quarterbacks Eli Manning and Matt Leinart on the New York Giants and Arizona Cardinals, respectively, had Warner's career on the brink.
Then came that miraculous final section, where Warner led the Arizona Cardinals to Super Bowl 43 after the 2008 season. Ben Roethlisberger and the Steelers emerged victorious that night.
Warner took Arizona to the NFC divisional round the next season, his final year in the league. He is currently in the sixth section, one that has seen him become a high-profile broadcaster and enter the Pro Football Hall of Fame.
Warner made a great deal of money in the NFL
RELATED: Patrick Mahomes Is Already Investing His Massive Contract Earnings
Related post url: 
Kurt Warner parlayed that brilliant 1999 season into a long NFL career — and, eventually, a bronze bust at the Hall of Fame.
Warner made plenty of money along the way. According to Spotrac, Warner made $62.7 million in the NFL. Warner made over $31 million in his five years with the Arizona Cardinals.
The two-time first-team All-Pro selection brought home another $28.2 million from the St. Louis Rams.
Kurt Warner used part of that money to help his son, Zach
RELATED: You Won't Believe How Many Children Kurt Warner Has Fathered
Related post url: 
Kurt Warner has always been a man of faith, someone willing to help others and hope they pass those kind gestures onto someone else.
When the time came, Warner had to do something similar for his oldest son, Zack. According to CBS News, Zack is legally blind.
Kurt and his wife, Brenda, tried finding somewhere in Arizona that Zack could live on his own, to no success. The Warner family eventually built a home, known as Treasure House, where Zack and others in similar circumstances could live.
By October 2018, the home housed Zack and five other residents. Kurt explained what made Treasure House so alluring to build and fund.
"Here's a place where they can grow and they can thrive and they can chase after their dreams. We believe it can be life changing for thousands and thousands of families."
According to its official website, the Treasure House prided itself on providing residents with a "strong emphasis on independence, respect, and community integration."
"I think that this will be our legacy more than a Hall of Fame," Brenda Warner said.
All contract figures courtesy of Spotrac.