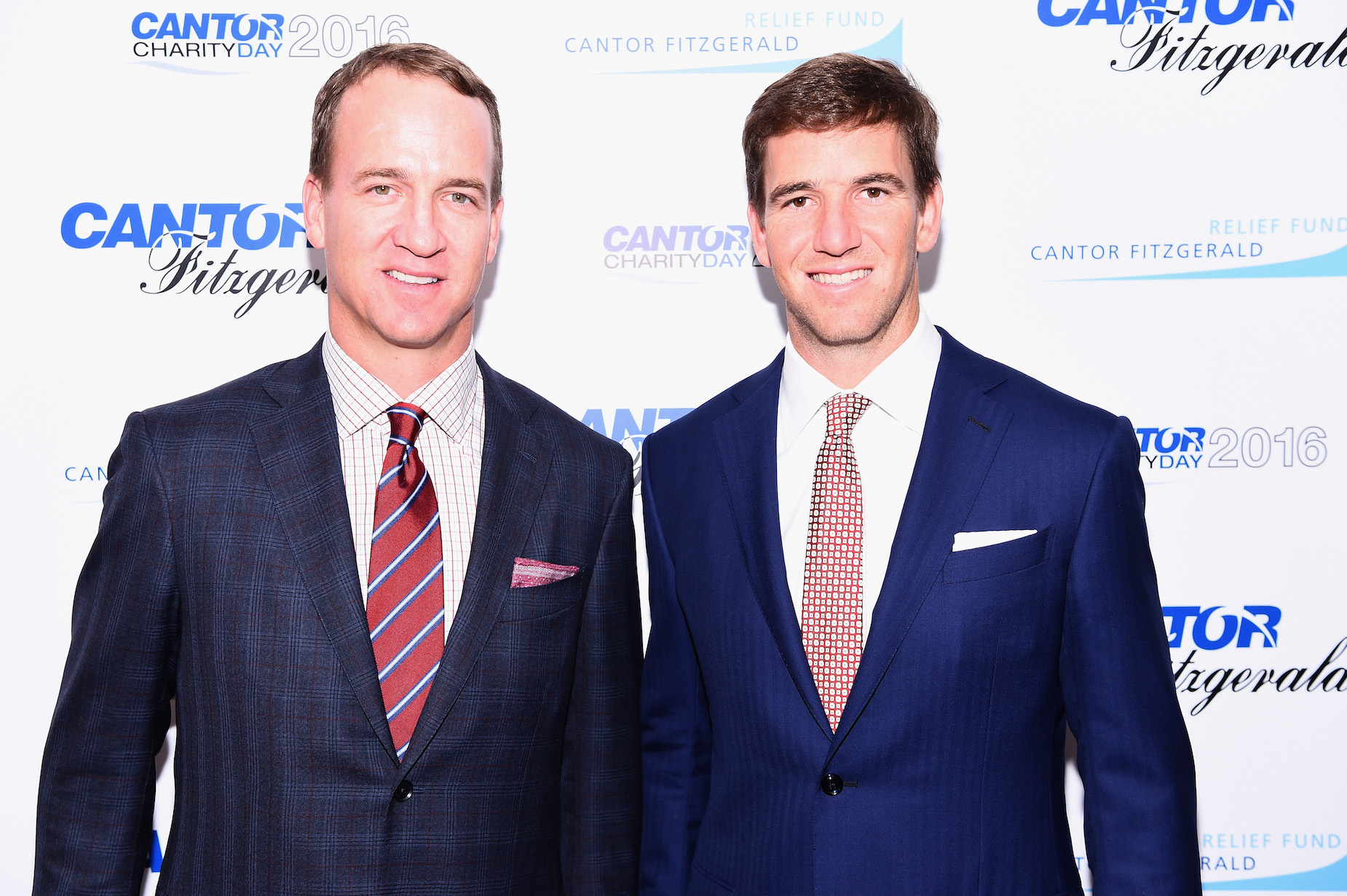 What Is Eli Manning's Net Worth and How Does It Compare To His Brother Peyton's?
Peyton and Eli Manning both had impressive NFL careers, but which quarterback comes out on top from a net worth perspective?
While there have been plenty of famous families in the sports world, few have been more successful than the Mannings. Archie got the ball rolling in the 1970s; his sons Peyton and Eli then followed him onto the NFL stage. Together, the two brothers combined to win four Super Bowls and dominate the modern game.
Given that Peyton Manning reached the pros before his brother and, from a statistical perspective, was a better player, he usually steals the spotlight away from Eli. But how do the two Manning brothers stack up when it comes to their overall net worths?
Peyton Manning stands tall as one of the top quarterbacks in NFL history
When it comes to elite quarterbacks, Tom Brady usually steals most of the attention. Peyton Manning, however, also deserves a place near the top of the list.
After a strong high school career, Manning had his choice of college programs and decided to head to Tennessee and become a Volunteer. Despite starting out as the third quarterback on the depth chart, Peyton claimed the top job by the end of his freshman season; by the time his senior year concluded, he had thrown for 11,201 yards and 89 touchdowns.
While there was some debate between Manning and Ryan Leaf, the Indianapolis Colts eventually settled on the former quarterback, making him the first-overall pick of the 1998 NFL draft. Despite some growing pains in his rookie season, Peyton would grow into a legitimate star.
During his 17 seasons in the NFL, Manning became the living example of a 'perfect' quarterback; while he wasn't the most athletic man around, he could throw a football like no one else, dissect a defense at the line of scrimmage, and (eventually) win the big game. He eventually retired with 54,828 passing yards, 539 touchdowns, two Super Bowl titles, and 5 NFL MVP awards to his name.
Eli Manning became a star in his own right
Peyton didn't claim all of the family's football talent, though. His younger brother Eli also turned into a pretty capable quarterback in his own right.
Rather than following Peyton to the University of Tennesee, Eli played his college ball at his father's alma mater, Ole Miss. He claimed the starting job as a sophomore and, after three seasons in the top job, left campus with 10,286 passing yards and 84 touchdowns under his belt.
When the 2004 NFL draft rolled around, the San Diego Chargers selected Manning with the first-overall pick; the quarterback, however, was unwilling to sign with the team, so alternate arrangements had to be made. The Chargers traded Eli to the New York Giants, receiving Philip Rivers and some draft picks in return. That deal, of course, ended up changing modern NFL history.
Manning spent 16 seasons in the Big Apple, leading the team to two Super Bowl titles. While his play wasn't quite as dominant as Peyton's, the quarterback still threw for 57,023 yards and 366 touchdowns.
Eli Manning has an impressive net worth, but it can't touch Peyton Manning's fortune
If you're a Super Bowl-winning quarterback, it's safe to assume that you're earning a nice chunk of change. That was certainly true when Peyton and Eli Manning were playing football.
According to Spotrac's contractual data, Peyton earned just under $248 million in raw salary during his time in the NFL; Eli earned a bit over $252 million. Despite that similarity, though, the two brothers are a bit farther apart when it comes to their overall net worths.
Based on CelebrityNetWorth's information, Eli Manning clocks in with a $150 million net worth. Peyton, likely due to his additional endorsements and media work, has an estimated $250 million fortune.
Older brothers, it seems, always find a way to get the last laugh.
Stats courtesy of Sports-Reference and Pro-Football-Reference