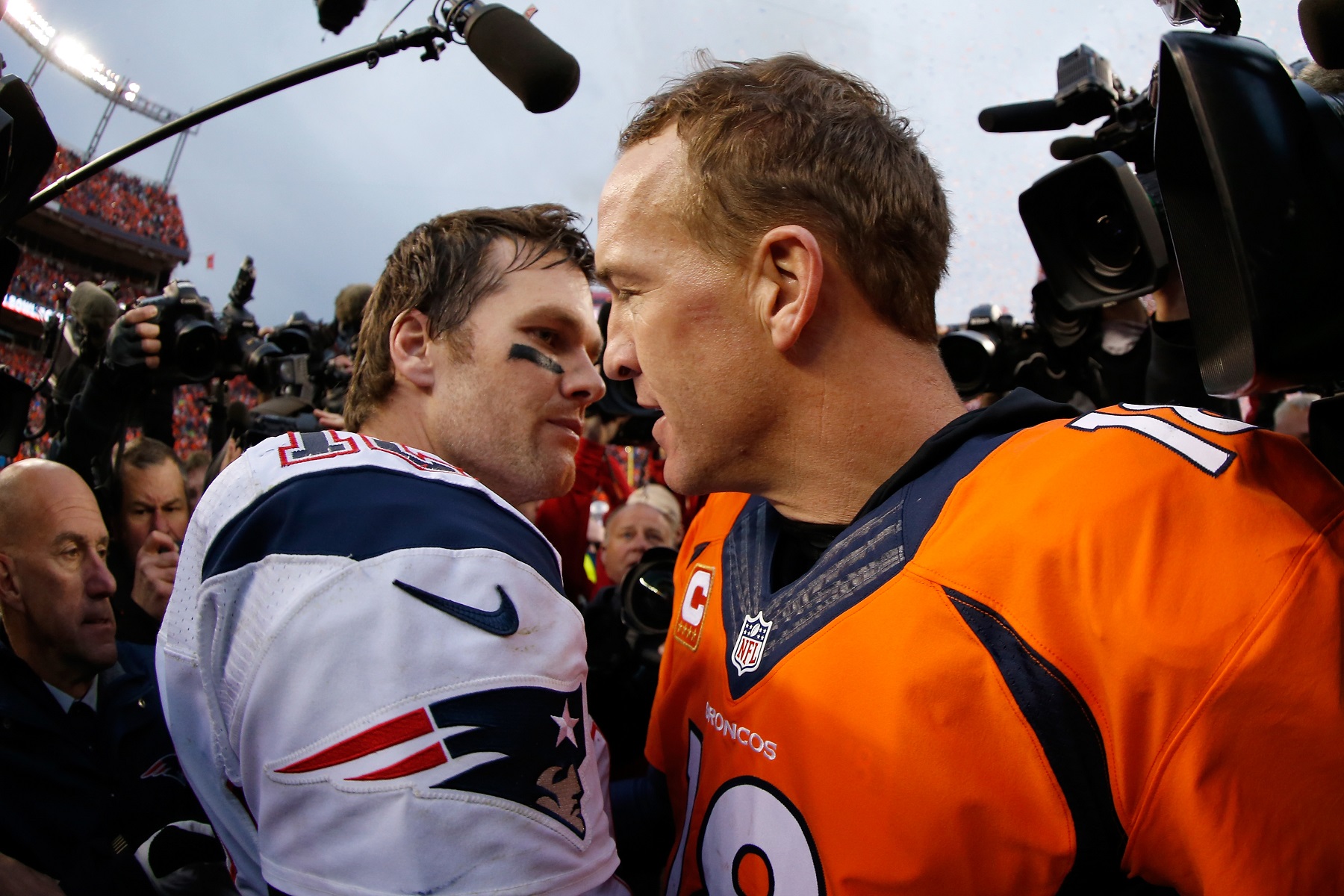 Peyton Manning Is Now Grilling Something Other Than Tom Brady
Retired NFL great Peyton Manning has moved on from roasting fellow QB Tom Brady and is now focused on grilling.
Retirement hasn't slowed Peyton Manning down much. Now out of the NFL for close to five years, the record-setting quarterback still shows up on TV and n public, remaining more popular than the signal-callers who've succeeded him with the Indianapolis Colts and Denver Broncos. And, naturally, he's still got that rivalry going with Tom Brady.
Peyton Manning and Tom Brady have a history
Tom Brady arrived in the NFL in 2000, two seasons after Peyton Manning made his debut. The quarterbacks were closely associated as the high-profile stars of AFC rivals. Brady won four of his six Super Bowl titles with the New England Patriots while they were in the league together. Manning picked up his two championships during that time.
The rivalry was hot at times, fueled in part by the Spygate scandal that engulfed the Patriots and suspicions of other chicanery. That would have included Deflategate in 2014, which resulted in the NFL suspending Brady for four games.
It led to Manning becoming so suspicious of Brady's Patriots that he would hold meetings in hallways during games at New England out of suspicion that the locker room might have been bugged. As the quarterback of the Denver Broncos, Manning once had the team's walk-through moved to deep inside a wooded area to keep it out of the site of potential Patriots spies.
Peyton Manning and Tom Brady have poked fun at each other
Even in retirement, Peyton Manning and Tom Brady have remained rivals of sorts, most recently this past May. Manning and Brady were on opposite teams in a televised golf event with Tiger Woods and Phil Mickelson.
In the run-up to the "The Match: Champions for Charity" held in Florida, Manning got the grilling off to a fast start:
"I'll be honest, I've never played Tom very well on his home turf. Maybe this is considered a neutral site," Manning said. "I would have liked to have this tournament in a place where they don't like Tom very much — Indianapolis, Denver, Boston after he betrayed them and broke their hearts. So, Palm Beach is probably the best we can do.
Brady got in a shot of his own. He said he "worried about them pumping crowd noise in there if he starts making putts like they used to at the RCA Dome."
The Manning family has taken up a new kind of grilling
Instead of roasting Tom Brady, Peyton Manning has turned his attention to grilling food – and it will be a good old-fashioned family cookout. Brothers Peyton, Eli, and Cooper Manning have just entered a deal with private-equity firm Brand Velocity Partners to become investors in BBQGuys.com and Blaze Outdoor Products. Family patriarch Archie Manning and Hall of Fame NFL stars LaDainian Tomlinson and Steve Hutchinson are also investors, The Advocate reported.
Blaze Outdoor Products sells built-in and freestanding patio grills and griddles as well as other outdoor refrigeration and kitchen systems.
Brand Velocity Partners bought the Baton Rouge, Louisiana, company in August and sees the Mannings, Tomlinson, and Hutchinson as keys to a major marketing push beginning next year. Russ Wheeler, the chief executive officer of BBQGuys, projects the company doubling its workforce "every couple of years" to meet increased demand.
BBQGuys reportedly posted $130 million in revenue last year.