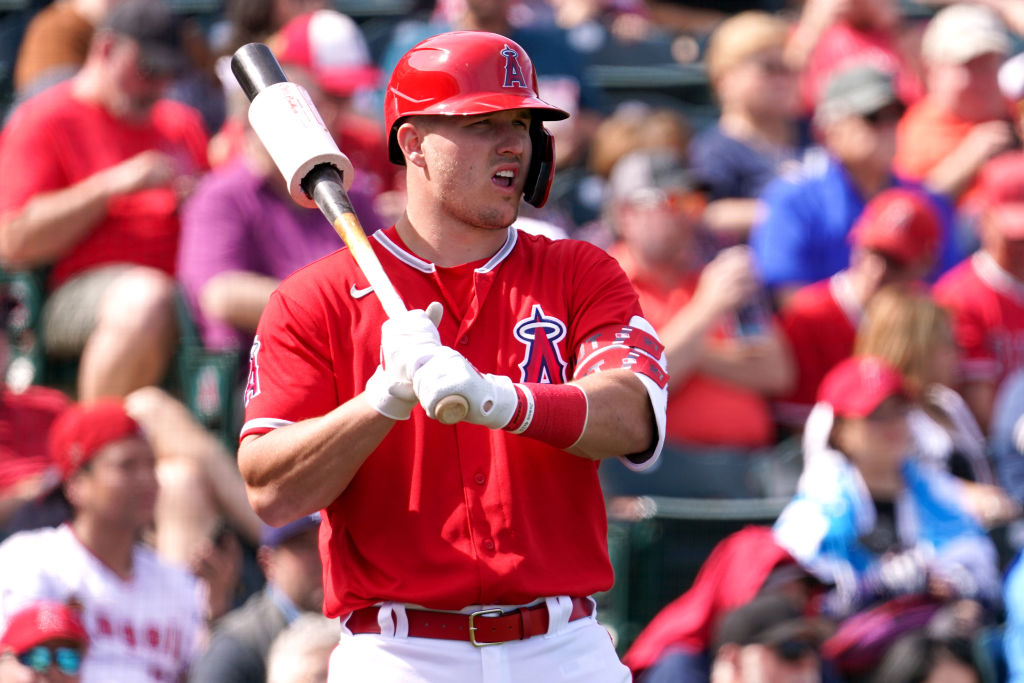 Tiger Woods and Phil Mickelson Could Try Some MLB Stars Next Time
Los Angeles Angels star Mike Trout has been known to crush some golf balls in between hammering home runs.
Everything about Tiger Woods and Phil Mickelson playing golf with Tom Brady and Peyton Manning worked out beautifully. Even playing in the rain worked to the advantage of the telecast, giving the foursome even more to banter about in between shots in "The Match: Champions for Charity," a fundraiser for COVID-19 relief.
Given all the positive feedback, it's all but certain that someone will pitch a sequel by the end of the year. And there may be more than one reboot if the pandemic continues to make mincemeat of the national sports schedule.
Should Tiger Woods and Phil Mickelson be replaced?
The match played Sunday at Medalist Golf Club in Hobe Sound, Florida, was already a sequel. Tiger Woods and Phil Mickelson played each other in a televised match in November 2018. Adding Tom Brady and Peyton Manning, rival quarterbacks for a time in the NFL, sweetened the television ratings pot.
Now that we've been there and done that, though, it's time to look for reboots that might work, starting with the pro golfers. Woods and Mickelson are huge names, but aren't the players that they once were – not that we're discounting Tiger's victory in the 2019 Masters or his No. 6 position in the world rankings at the end of last season.
The top five in the world at the end of 2019 were:
Jon Rahm
Justin Thomas
Dustin Johnson
Well, OK. So much for that idea. Koepka and McIlroy lead the list of men with outstanding credentials and some name recognition, but no one on the above list is going to reel in viewers like Tiger and Phil. As someone once said, if it ain't broke, don't fix it.
Baseball fans like golf, too
If Tiger Woods and Phil Mickelson need to stay onboard in future installments of these made-for-TV golf showdowns, there's no rule that says that the roster of sports celebrities can't change.
Baseball players are notorious for their love of golf, and the normal schedule for their sport is a nice fit since the MLB season is over for 20 of the 30 MLB teams right around the time the PGA Tour winds down. Once the World Series is over, just about everyone's schedule in both sports is wide open.
According to Golf.com, New York Mets outfielder Jeff McNeil is the cream of the golf-playing baseball crop with a 0.3 handicap rating. The Flying Squirrel, who turned 28 last month, doesn't have 200 major-league games under his belt yet but is a .321 hitter who swatted 23 home runs last season. McNeil only accepted a scholarship to play baseball at Long Beach State after no golf offers materialized.
More baseball options
Second on the Golf.com list is journeyman pitcher Tyler Clippard, now with the Minnesota Twins. Clippard shot a 72 from the back tees at Pebble Beach in 2015.
The two most recognizable names on the list of five are New York Yankees outfielder Aaron Hicks, a scratch golfer, and Houston Astros pitcher Zack Greinke, who isn't far behind Hicks in that respect.
The website said Hicks grew up playing the same course where Tiger Woods practiced and wanted to follow in his footsteps. Perhaps he should have hung in there instead of turning to baseball: As good as he is on the diamond, Hicks had made five holes-in-one by the time he was 15.
None of those baseball names carry enough weight to make drop everything to watch, but there's always Los Angeles Angels star Mike Trout: