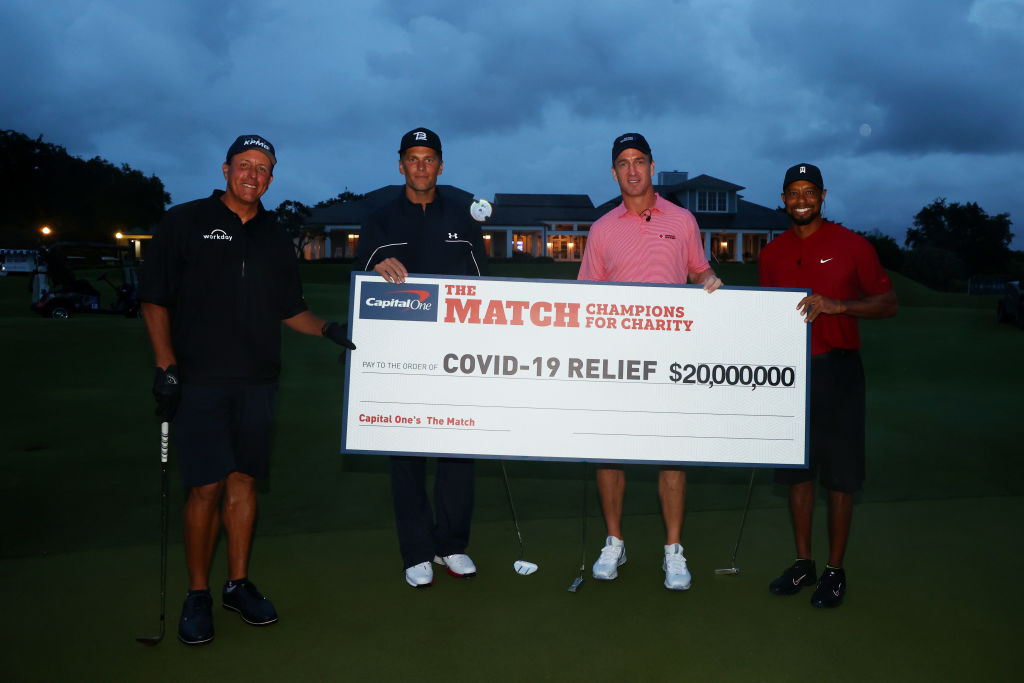 'The Match': The Best Shots and Moments From the Tiger Woods/Peyton Manning vs. Phil Mickelson/Tom Brady Showdown
A full recap of "The Match" featuring Tiger Woods and Peyton Manning taking on Phil Mickelson and Tom Brady for COVID-19 relief.
On a rainy Sunday afternoon at Medalist Golf Club in Hobe Sound, Florida, Tiger Woods and Peyton Manning defeated Phil Mickelson and Tom Brady in "The Match: Champions for Charity." And what an entertaining afternoon it was.
On a day that included some really good shots, some really bad shots, and certainly some hilarious but playful trash-talking, "The Match" was a fantastic success, raising millions of dollars for COVID-19 relief and giving fans all around the world some live action to watch, which is a pretty rare thing right now.
So let's take a quick look back at some of the best shots and moments from this two-on-two showdown.
Tiger Woods and Peyton Manning won the front nine but Tom Brady stole the show on the 7th hole
Peyton Manning got the trash-talking going on the practice range, telling Tom Brady that had he been given the opportunity to have a caddie, he would have brought his brother, Eli, or Nick Foles, both of whom famously defeated Brady in the Super Bowl. But then Manning decided on Bill Belichick, which might have been even funnier.
Outside of Tiger Woods, who striped his drive right down the middle on the opening hole (a common theme for the day), things didn't get off to a great start as Phil Mickelson, Tom Brady, and Peyton Manning all found trouble off the first tee, Manning's being so bad he had to take an unplayable lie and drop. But Woods hit a poor second and the teams tied with matching pars.
Phil Mickelson gave a great chipping lesson on the second hole, telling Justin Thomas exactly what he was going to do and then executing the shot to perfection. The teams again matched pars, keeping the score even.
The action picked up at the third as Tiger and Manning made birdie to take a 1-up lead but the real fun came from Tom Brady, who struggled on the par-5, finally proving he was human. He was all over the place here and social media (and maybe the writer of this article) jumped all over it.
Sorry, TB, had to do it. But I certainly wasn't the only one chiming in on Brady's struggles. Charles Barkley offered up a $50,000 donation on the par-3 fourth if Brady could hit the green, which he didn't. J.J. Watt jumped in, as did Brooks Koepka, who offered up $100,000 if TB could make a par on the front nine.
Peyton Manning did find the green at No. 4 and holed the birdie putt to give his team a 2-up lead.
The teams matched bogeys on the fifth hole, a very interesting hole in which each player had to play the entire hole using just one club. The hole also brought some great trash-talk as Tiger trolled Mickelson about never winning the U.S. Open.
Fantastic on the par-3s all day long, Manning made par at the sixth, giving him a birdie as this was one of the holes in which he and Brady got a stroke, giving his team a 3-up lead.
Fireworks came at the par-5 seventh. After again struggling off the tee, Brady was hitting his fourth shot from the fairway and catching all kinds of flack from Charles Barkley. But Brady shut him up pretty quickly, draining the shot and setting the internet on fire.
It was going to be hard to top that so the teams seemed to decide to just match ho-hum pars on the next two holes, giving Tiger Woods and Peyton Manning a three-up lead heading into the final nine. But Justin Thomas brought the entertainment at the ninth, sliding in a little dig at Charles Barkley.
Phil Mickelson and Tom Brady made a match of it but Tiger and Peyton hung on for the 1-up win
Switching from best ball to a modified alternate-shot format for the final nine, Phil Mickelson and Tom Brady certainly did their best to come back but came up just short.
After both teams made par at the 10th, Phil Mickelson reached the 330-yard, par-4 11th off the tee, giving Brady a look at eagle, which he rolled in to cut into the lead, which brought a hilarious tweet from Nick Foles.
While certainly a fun match for charity, these are still four guys that always want to win and things got competitive down the stretch as everyone got a little more serious.
At the 12th, Brady lipped out a putt that would have cut even further into the lead. Two holes later, Manning missed an easy par putt to cut the lead to 1-up. The heavy rain returned around this point, which always has to bring a Caddyshack quote and Eli Manning took care of that for us.
Phil Mickelson drained a long par putt on the 15th to keep his team within one hole and everyone but Tiger hit impressive tee shots at the par-3 16th. I mean, he still found the green but he was the furthest from the hole at about 40 feet. Mickelson hit his to about 10 feet. Brady was about eight feet from the hole but Peyton Manning nearly aced the hole, his ball coming to rest about 17 inches from the cup. And all of this happened as Russell Wilson was on commentary donating $100,000 for every shot hit within 12 feet. Awesome.
Both teams birdied as Tiger and Manning maintained their 1-up lead with two holes to play. With darkness setting in, both teams made five at the par-5 17th and Woods and Manning held on for a 1-up victory with a par at the 18th.
While this was all for charity, it must be noted how great Tiger Woods looked in this match. After dropping out of multiple events before the PGA Tour shut down in March due to a sore back, Woods looked very strong here. He drove the ball exceptionally well and looks ready to get back to work. Very encouraging.
How much money did "The Match" raise for COVID-19 relief?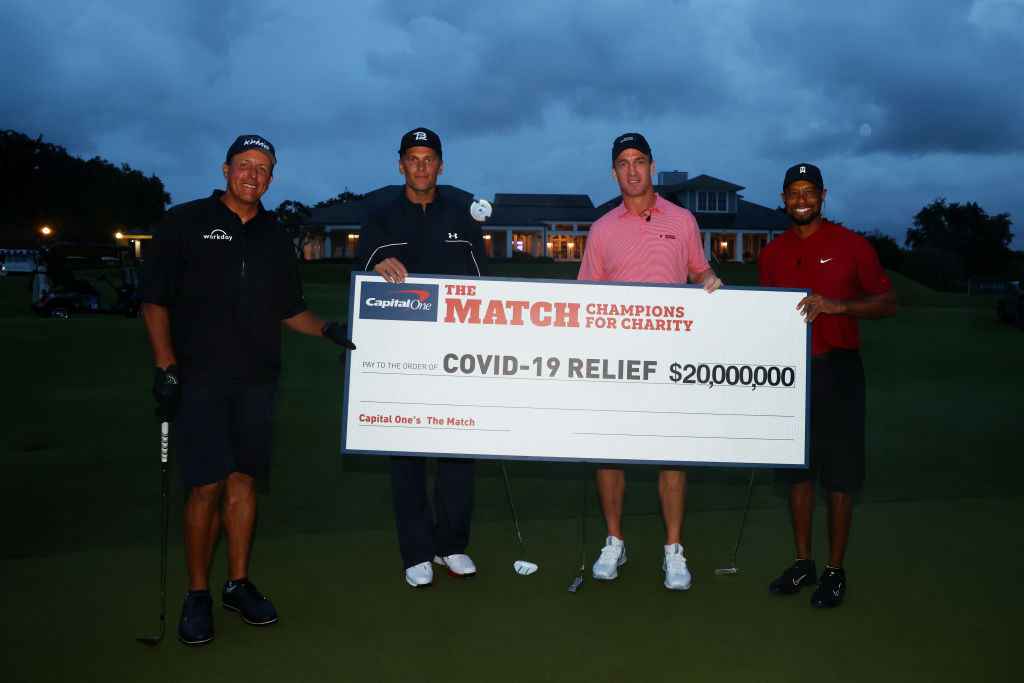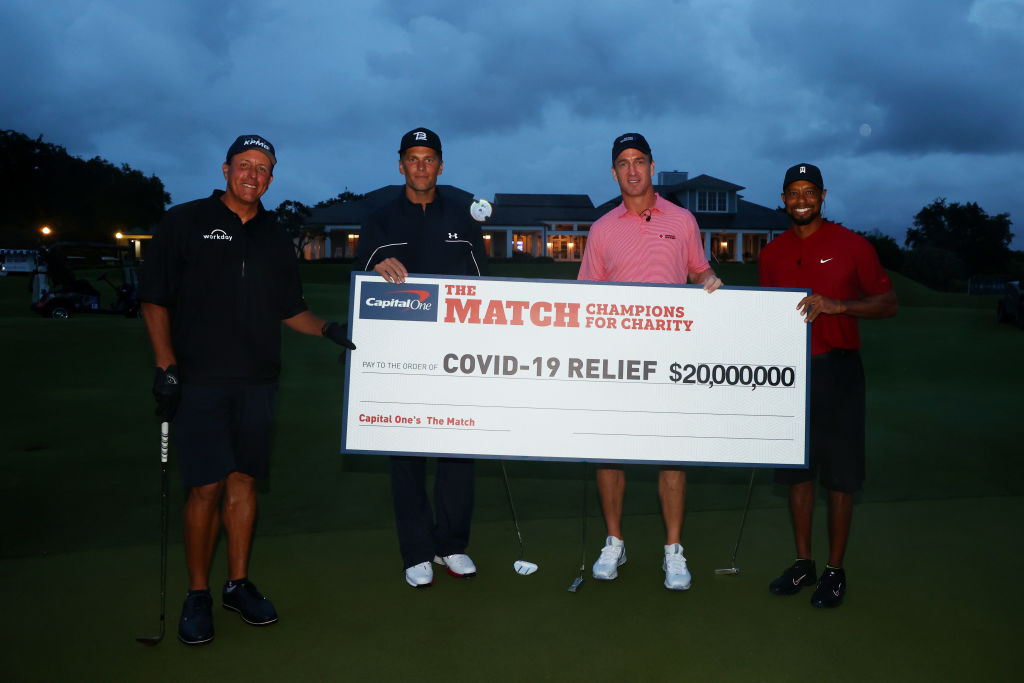 In total, "The Match" raised $19,729,106 and Turner Sports kicked in a little extra at the end to take the final total to a cool $20 million. It was a great day full of solid golf and hilarious exchanges and it was all for a great cause. The PGA Tour returns in a few weeks and this did nothing but build excitement for more live golf. What a fantastic day.