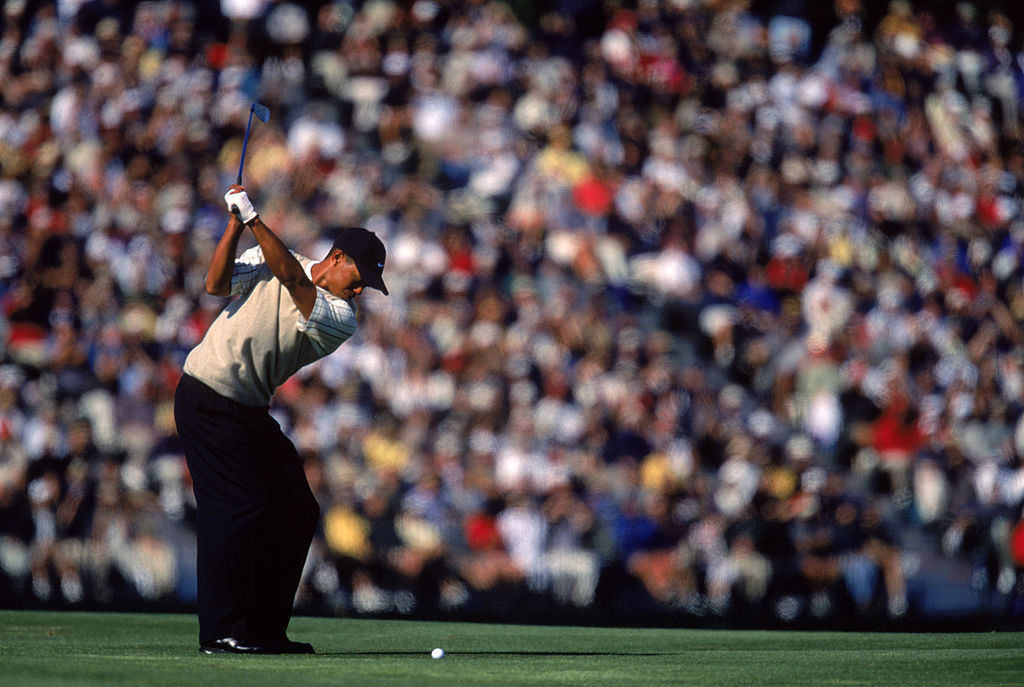 Tiger Woods Almost Ran Out of Golf Balls During His Record-Breaking Performance at the 2000 U.S. Open
A look back at when Tiger Woods almost ran out of golf balls on the way to his historic win at the 2000 U.S. Open at Pebble Beach.
At the 2000 U.S. Open at Pebble Beach, Tiger Woods put on a show for the ages, a performance Phil Mickelson would later call the greatest in history. In his 100th tournament as a professional, Woods dominated the 100th edition of the U.S. Open, winning by a record 15 shots. But the record-breaking victory almost never happened as Woods nearly ran out of balls during the second round.
Tiger Woods played just 12 holes in the second round due to weather delays
Following a first-round 65, which gave him a one-shot lead over Miguel Angel Jimenez, Tiger Woods began to pull away from the pack on day two. However, as weather played a major factor at the 2000 U.S. Open, Woods was only able to complete 12 holes of his second round on Friday, closing his day with a 30-foot birdie that sent the crowd into a frenzy as he gave his signature fist pump.
Despite the long birdie to close his day, Tiger wasn't happy with how he'd putted that day and decided to practice in his hotel room, which could have led to what would have been the most talked-about DQ in the history of the sport.
Tiger Woods almost ran out of golf balls finishing his second round
After playing just 12 holes on Friday, Tiger Woods was set to play the final six holes of his second round early Saturday morning. However, disaster nearly struck, as Tiger once told "Golf Digest."
"I didn't finish the night before until around 9. I hadn't putted well that day, so I took three balls out of my bag and putted on the hotel-room carpet. I normally take nine to 12 balls to the course, but I only had seven left—I probably scuffed up a couple and gave them to kids. I left the three balls on the carpet; now I've only got four balls when I get to the course."

Tiger Woods
At the time unaware that he only had four balls in his bag, Tiger gave away two more to kids when he arrived at Pebble Beach on Saturday morning, leaving just two in his bag for the remaining six holes of his second round. As anyone who has ever seen Pebble Beach knows, it's an easy place to lose a golf ball…you know, with the ocean surroundings and all. But Tiger stayed dry through his first five holes of the day. However, he pulled his drive into Carmel Bay on the 18th, leaving just one ball. His longtime caddie, Steve Williams, tried to get Woods to hit iron on his second tee shot, but Tiger wasn't having it.
"Stevie said, 'I'd like for you to hit an iron, just to get it into play. But I was swinging it so well, so I went with the driver. Obviously I didn't know the complete situation: The only ball I had left was the one I teed up.

"I would have been disqualified with no balls. If you run out of balls, you're out."

Tiger Woods
Actually, had he dipped that second tee shot into the Pacific, Tiger could have borrowed a ball from one of his playing partners, provided that it was the same type of ball. However, Woods had debuted a new ball that week, the Nike Tour Accuracy, that had just been manufactured so the likelihood of anyone else having it was slim-to-none. He could have had Williams go back to the hotel to get more but that would have brought penalty strokes into play. But it didn't matter anyway. Tiger put his second tee shot in play and still made bogey to complete a 2-under round of 69.
Following the near-mishap, he cruised to a 15-shot victory
Following what could have been a disaster, Tiger Woods cruised home and was the only player to finish under par that week. He shot a third-round 71 to open up a 10-shot lead heading into the final round and closed things out with a 4-under 67 to win by 15 strokes, the largest margin of victory in major championship history, eclipsing Tom Morris' 13-shot victory at The Open Championship in 1862. Yes, you read that right.
It's still unclear how Tiger Woods thought he wasn't putting well as he didn't have a single three-putt in the tournament, which is nearly impossible to do at a U.S. Open. But that's prime Tiger. Woods would go on to win the next three major championships, likely with plenty of golf balls in the bag for each.