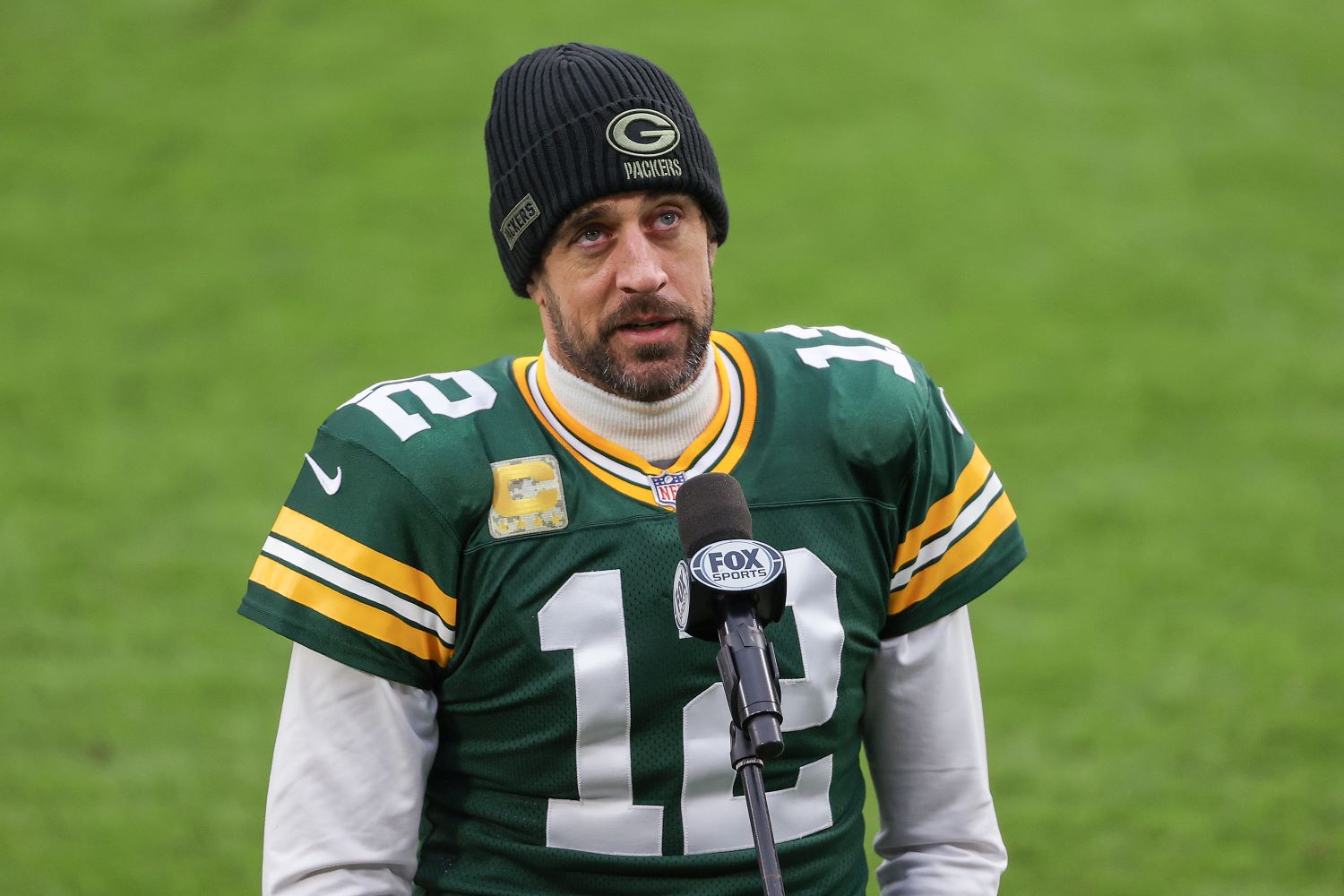 Aaron Rodgers Has Backed the Packers Into a $74 Million Corner
Despite coming off another crushing NFC championship loss, Aaron Rodgers somehow wants the Green Bay Packers to give him a new contract.
Right before the 2018 season started, the Green Bay Packers made Aaron Rodgers the highest-paid player in NFL history.
Fast forward to January 2021 and the franchise suddenly has a $74 million decision to make.
After watching Tom Brady and the Tampa Bay Buccaneers leave Lambeau Field as NFC champions, Rodgers has reportedly backed his team into one expensive corner. But will that lead to another monster payday for the aging quarterback?
An uncertain future
After suffering yet another NFC championship loss, Aaron Rodgers sounded less than optimistic about his future with the Packers in his post-game press conference.
"A lot of guys' futures, they're uncertain—myself included," he said after his team's latest playoff defeat. "That's what's sad about it most. Obviously there's going to be an end to it at some point, whether we make it past this or not. Just the uncertainty is tough and the finality of it all."
Despite coming off an MVP-caliber season, his comments make total sense. After all, Rodgers watched the Packers draft his potential successor in April.
And even if Jordan Love eventually becomes a starting quarterback, that doesn't change the fact that Green Bay compromised its relationship with Rodgers by using a first-round pick on his possible replacement. Plus, the Packers could have devoted their top selection on another weapon or offensive lineman to help the future Hall of Famer, who got sacked four times on Sunday.
Instead, Green Bay took Love, who didn't play a single snap as a rookie. Obviously, the franchise didn't draft him to remain on the bench forever. So at some point, the Packers must make a decision about how to transition from Rodgers to his young understudy.
Aaron Rodgers has backed Green Bay into a $74 million corner
With rumors swirling about his future in Green Bay, Aaron Rodgers has added another layer to a story that seems to grow more legs by the minute.
In fact, he's backed the Packers into a $74 million corner.
Late Monday night, Mike Florio of Pro Football Talk reported that the 37-year-old wants a new contract. The two-time NFL MVP signed a four-year, $134 million deal right in August 2018. His record-setting extension included a $57.5 million signing bonus.
In 2020, Rodgers made $21.55 million, but he carried a cap hit of almost $38 million.
Even though he scored a massive raise just a few years ago, the future Hall of Famer apparently isn't interested in honoring his end of the deal.
Set to make $23.22 million in 2021, and $25.5 million in 2022 and 2023, Rodgers stands to collect just north of $74 million over the next three seasons. But based on Florio's report, the Packers will have to pay up to keep their top star happy.
Should the Packers pay their star quarterback…again?
When push comes to shove, will Aaron Rodgers get a new contract from the only NFL team he's ever played for?
On one hand, it's easy to see why he wants a raise. He just put together one of the most dominant seasons of his Canton-worthy career. Barring a major injury, he should easily play into his 40s. And based on the recent deals signed by other quarterbacks, Rodgers probably does deserve more money.
Still, it's tough to see Green Bay ripping up his contract in order to pay him again. The organization traded up to draft Love. Why would the Packers invest more money into Rodgers after investing a premium draft pick on someone who plays the same position?
Does Green Bay feel pressured enough to turn that $74 million figure into something closer to $100 million? Or will the Packers stand their ground and risk losing one of the greatest players in franchise history?
It's not even February yet, but the temperature is rising in Green Bay. Let's see if this situation boils over to the point that Rodgers finds himself playing for a new NFL team in 2021.
All contract data courtesy of Spotrac. All statistics courtesy of Pro Football Reference.