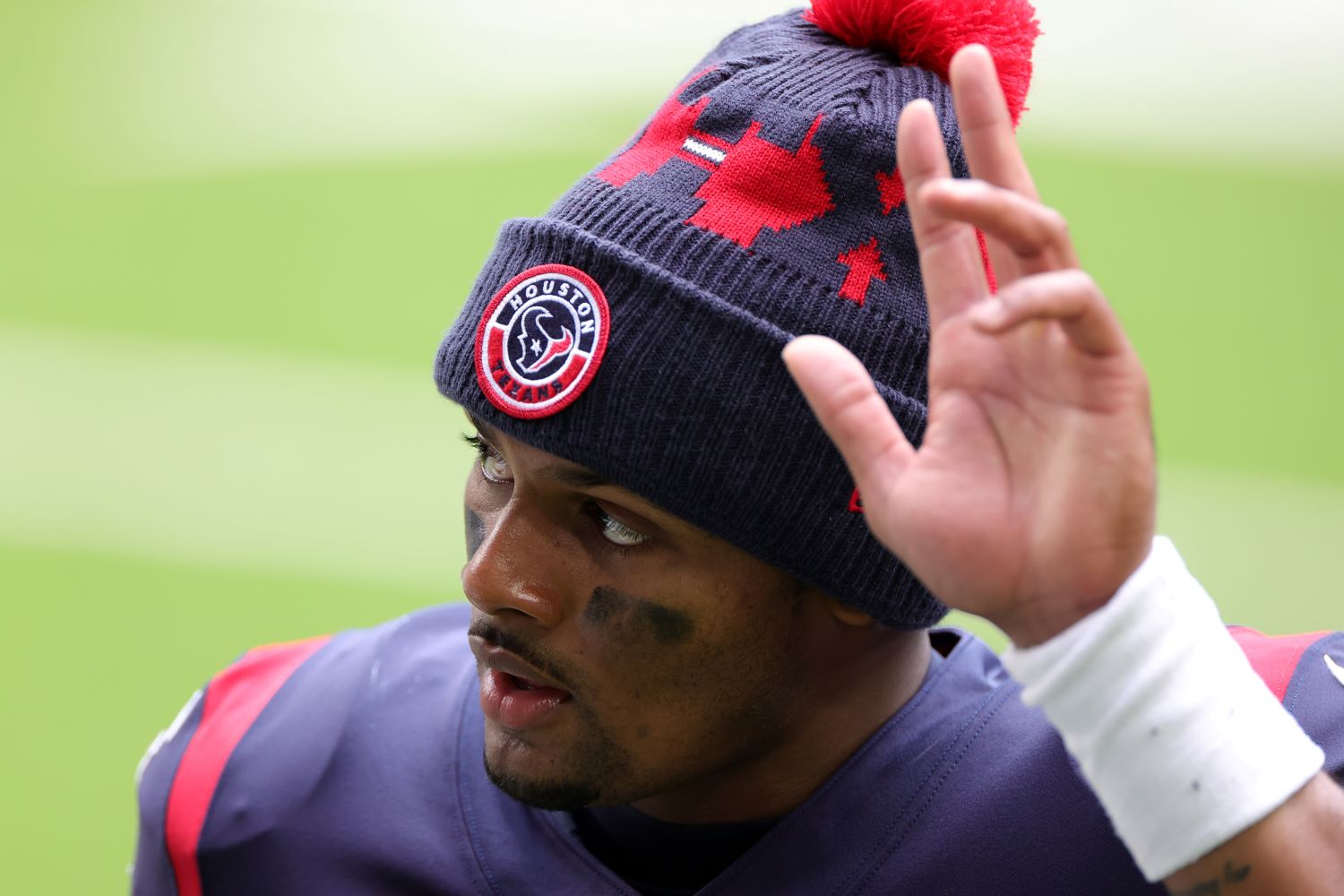 The Latest Report on Deshaun Watson Should Terrify Houston Texans Fans
The latest report on star QB Deshaun Watson should have Houston Texans fans terrified about his future with the AFC South franchise.
As the Houston Texans continue to interview candidates for their head coach vacancy, they must also figure out a way to fix their fractured relationship with Deshaun Watson.
However, the chances of that happening fade with each passing day.
In fact, the latest report on the superstar quarterback should absolutely terrify fans of the AFC South franchise. Because barring a complete 180, one of the NFL's most talented signal-callers will no longer call Houston home.
Houston has a huge problem on its hands
Instead of making Deshaun Watson happy, the Texans have managed to do just about everything possible to ruin their relationship with their franchise quarterback.
Beyond all the bungled personnel decisions made by former head coach/general manager Bill O'Brien, the franchise has inflicted further damage this offseason with its refusal to truly respect Watson's opinion.
By essentially ignoring their star player during their pursuit of GM and head coach candidates, the Texans essentially sealed their own fate.
Rather than using the offseason to build around one of the league's most talented quarterbacks, Houston has to accept that Watson may have already thrown his final pass as a member of the Texans.
Stunningly, new general manager Nick Caserio's first major move could be trading away the most valuable commodity in pro sports.
The latest report on Deshaun Watson should terrify Texans fans
With rumors swirling about possible suitors for the three-time Pro Bowler, the Texans still haven't hired a head coach. While some might say that the lack of movement on that front could be related to trying to appease Deshaun Watson with a candidate of his liking, the fact remains that Houston has dragged its feet throughout the entire process.
And if the Texans think that landing a specific coach can save them from having to get rid of their star quarterback, they're dead wrong.
On ESPN's Postseason NFL Countdown, Chris Mortenson reported that Watson is expected to still want out of Houston no matter who the Texans hire as their next head coach.
Obviously, that represents a brutal blow to a fanbase that has to be frustrated with how the situation has played out. Some NFL teams spend years searching for a franchise quarterback. Yet, even with one already in place, the Texans may soon hit the reset button at that position because of their own doing.
For Houston fans, Mortenson's update should be absolutely terrifying. After all, trading away a proven star for draft picks represents a massive risk. Watson has already established a reputation as an elite player, and he may even have untapped upside. Getting rid of him and having to develop another quarterback will only set the franchise back in its quest to win a Super Bowl title.
But if Houston is forced to do the unthinkable, can it get something close to fair value for Watson?
Which NFL team can offer the best trade package for the star quarterback?
At this point, the Texans need to start planning for life without Deshaun Watson. But the list of NFL teams that can make a reasonable offer for the star quarterback appears slim.
The No. 1 candidate to land the former Clemson star has to be the Miami Dolphins. Sure, they just drafted Tua Tagovailoa with the fifth overall pick. But nobody knows whether the southpaw signal-caller will become a top-end starting quarterback. Miami has ample draft capita from the Laremy Tunsil trade to add to a package centered around Nick Saban's former quarterback.
The Dolphins would instantly cement themselves as one of the top teams in the AFC. The Texans would receive a high-upside prospect and plenty of early-round picks that can be used to rebuild a talent-depleted roster.
On the other hand, the Texans could also look to the New York Jets as a potential trade partner. Could Sam Darnold, the No. 2 overall pick, and a few more draft choices sway Houston to send Watson to the Dolphins' AFC East foe?
And while the New England Patriots seem like a picture-perfect landing spot given their massive need for a franchise QB, they simply don't have the ammunition to make a competitive offer for Watson.
Ultimately, it will be interesting to see which NFL team entices the Texans enough to trade away the best player in franchise history not named J.J. Watt.
All statistics courtesy of Pro Football Reference.