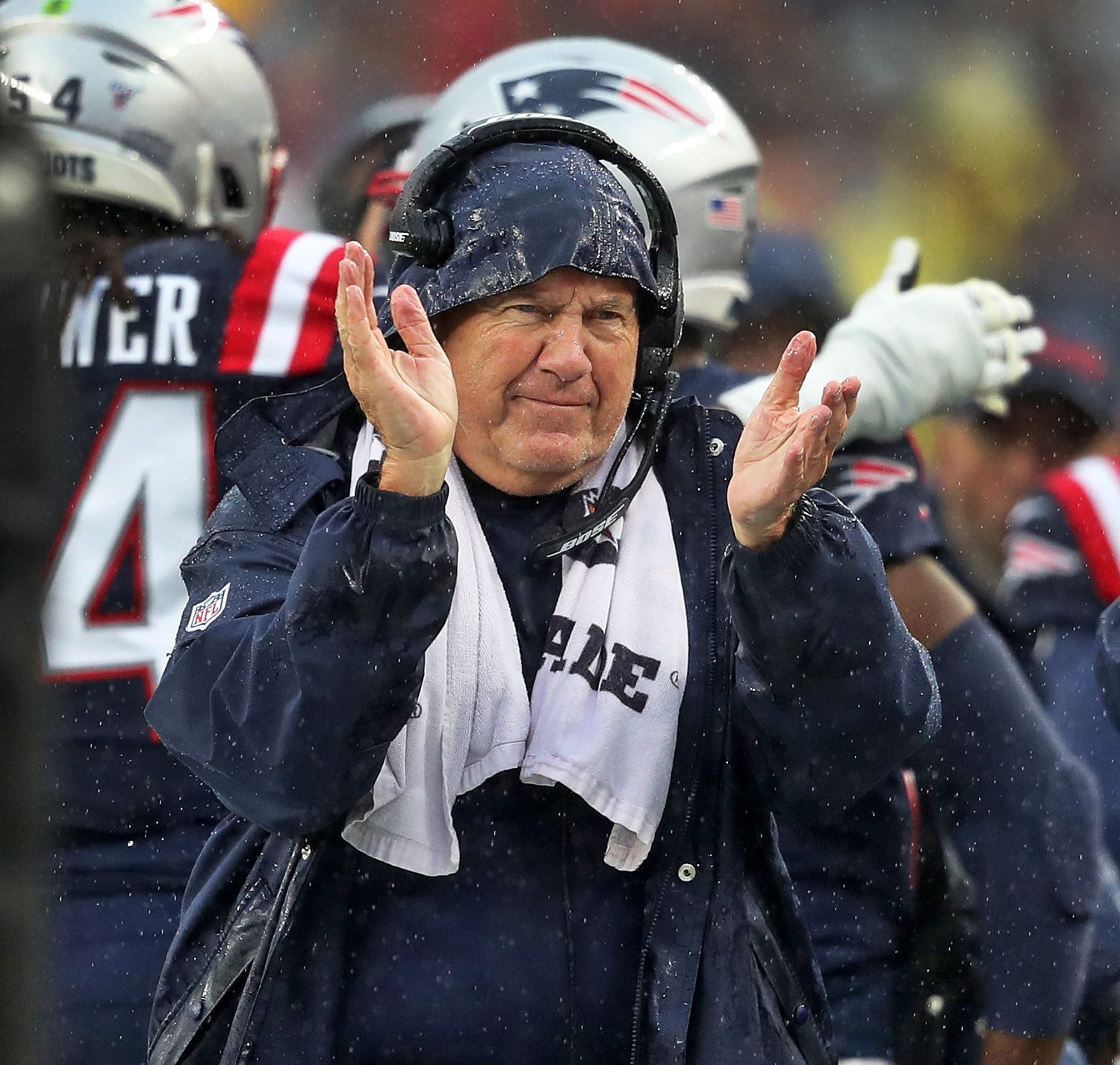 New England Patriots Fans Finally Have a Reason to Feel Optimistic About the Future of the Franchise Thanks to Devin McCourty's Major News
Patriots fans finally have a reason to feel optimistic about the future of the franchise, but Bill Belichick still has plenty of work to do.
Without Tom Brady as his quarterback, Bill Belichick watched the New England Patriots go from a dominant 12-4 team to a disappointing 7-9 squad. Of course, the greatest quarterback of all time wasn't the only player missing from the 2019 roster.
Because of the COVID-19 pandemic, the Patriots had more players opt-out of the season than any other NFL team. Losing key veterans like Dont'a Hightower and Patrick Chung certainly contributed to New England's first losing season since 2000.
However, with the future of the franchise hanging in the balance, Patriots fans finally have a reason to feel optimistic about what's to come.
An unfamiliar feeling in New England
For nearly two decades, the Patriots owned the rest of the AFC. Yet, they looked quite different in 2020. And it didn't just have to do with the fact that Cam Newton replaced the GOAT as the team's starting quarterback.
Even though the former Carolina Panthers star clearly did not live up to expectations, he wasn't even the biggest problem in Foxborough.
After all, did anyone expect Newton to succeed with N'Keal Harry, Jakobi Meyers, and Damiere Byrd as his top weapons?
New England's glaring lack of talent at wide receiver and tight end got exposed throughout the year. Defenses did not have to respect the pass, which only made life more difficult for whoever carried the ball.
Plus, the defense fell off dramatically from its historic 2019 level. Without Hightower and Chung patrolling the field, the Patriots routinely got ran over. And despite having arguably the most talented secondary in the NFL, New England struggled to stop the pass due largely to a pitiful pass rush.
With so many holes to fill, Bill Belichick clearly has a long list of needs to address in what will be the most pivotal offseason in the history of the franchise.
Patriots fans finally have a reason to feel optimistic about the future of the franchise
New England had a league-high eight players opt-out of the 2020 NFL season. Naturally, that has left many to speculate as to whether aging veterans like Hightower, Chung, and Marcus Cannon will return for the 2021 season.
Thanks to Devin McCourty, Patriots fans finally have a reason to feel optimistic about the future of the franchise. Because if his expectation holds true, every one of those players who sat out last season will be back in Foxborough.
"From my understanding, they'll all be back," McCourty said during a recent podcast interview with Tom Curran. "B. Bolden, High, Chung. So, I can't wait. Those are my guys – Cannon. I just can't wait to be back around those guys. Even outside of football, seeing them every day, seeing their nice faces."
While it remains to be seen whether all eight will actually suit up next season, McCourty certainly sounds confident about the chances of that happening. And considering he's served as a team captain for years, it seems safe to assume that he has a fairly accurate pulse on what's going on with his teammates.
So for Patriots fans worried about the future of the AFC East franchise, the fact that battle-tested, championship-winning veterans like Hightower and Chung will rejoin the team represents a major reason for optimism.
But even with eight players expected to return, Bill Belichick still faces a significant challenge to re-tool a roster that has obvious deficiencies at critical positions.
Expect Bill Belichick to make significant changes to rebuild a depleted roster
In order for the Patriots to climb back into the playoff hunt, they have to figure out the quarterback spot. Will Cam Newton get a second chance to prove himself? Or did his underwhelming (to put it mildly) first season in Foxborough ruin his chances of a return?
New England should have a number of different options on the table. A trade for Jimmy Garoppolo seems feasible, if not probable. Bill Belichick could also use the 15th overall pick on a signal-caller. Alabama's Mac Jones and Florida's Kyle Trask should be available when the Patriots come on the clock.
Beyond the QB position, the Patriots desperately need starting-caliber weapons at receiver and tight end. Luckily for whoever lines up under center, New England has ample cap space to make a few free-agent splashes to upgrade the offense significantly.
And on the other side of the ball, the Patriots have to get bigger and faster up front. Given his roots, don't be surprised if Belichick devotes an early-round pick on an outside linebacker or defensive lineman. An improved pass rush will only help a secondary that will likely lose Stephon Gilmore this offseason via a trade.
Ultimately, New England's 2021 roster will assuredly look much different than the 2020 version. But with some key veterans expected to return after sitting out the season, Patriots fans finally have a reason to feel optimistic about the future of a franchise that won six Super Bowl titles between 2001-2018.
Like Sportscasting on Facebook. Follow us on Twitter @sportscasting19.