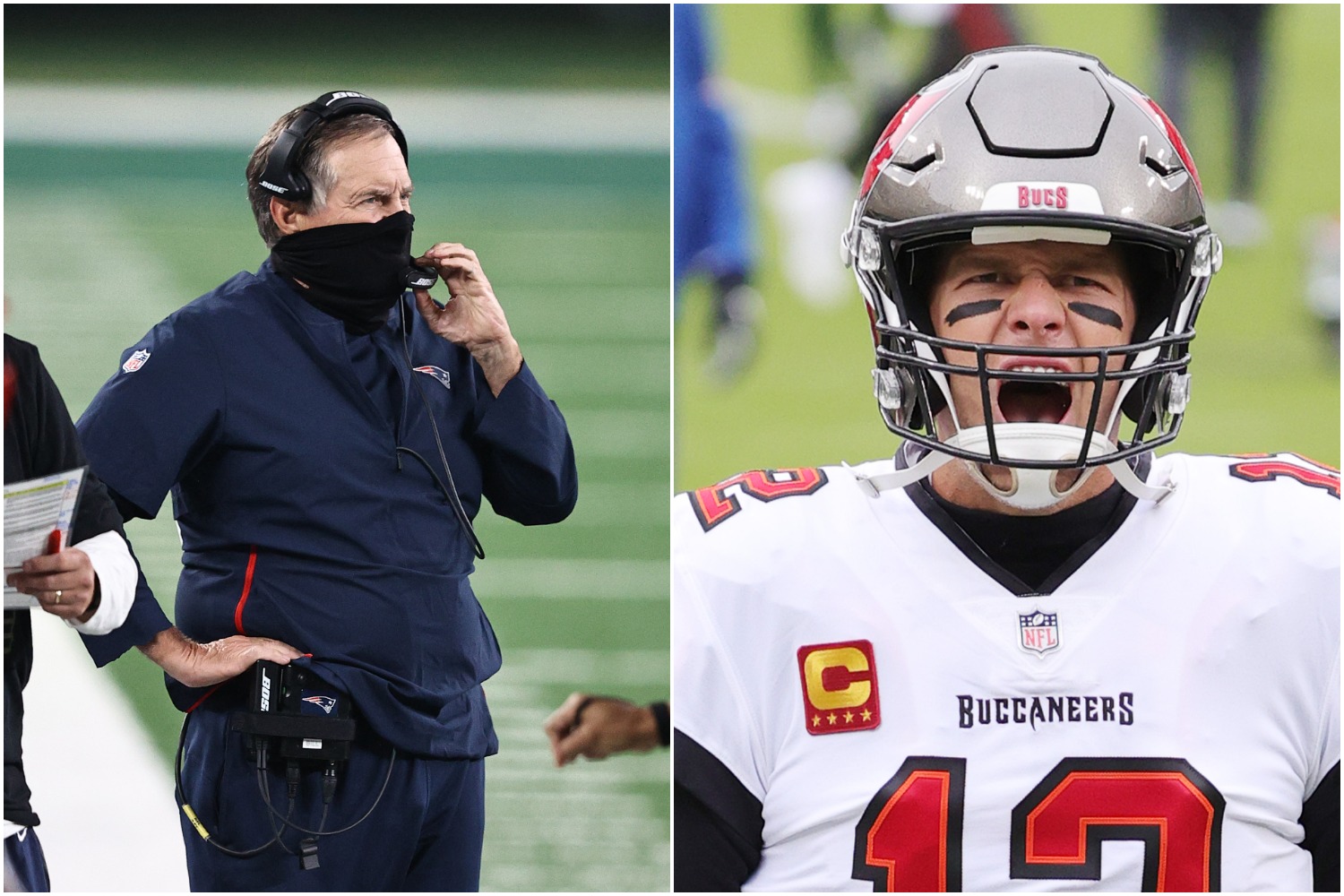 Tom Brady Sends Strong Message to Bill Belichick as He Prepares to Embarrass Him in the Most Brutal Way Possible
Tom Brady sent a strong message to Bill Belichick as the legendary quarterback prepares to win Super Bowl 55 with the Tampa Bay Buccaneers.
In his first season without Tom Brady as his starting quarterback, Bill Belichick suffered his first losing season…since before Brady was his starting quarterback. The downgrade from the six-time Super Bowl winner to a washed-up version of Cam Newton resulted in the New England Patriots missing the playoffs for the first time in more than a decade.
Meanwhile, Brady helped the Tampa Bay Buccaneers reach the postseason for the first time since the Patriots finished one game shy of a perfect 19-0 record.
With Super Bowl 55 inching closer, Brady spoke to the media on Monday. And in doing so, he sent a strong message to his former head coach. But while the future Hall of Famer delivered plenty of praise for the man who took a chance on him in the sixth round of the 2000 NFL draft, that doesn't change the fact that Brady is preparing to embarrass Belichick in the most brutal way possible.
Bill Belichick looks foolish for doubting the greatest quarterback of all time
Based on what he accomplished in New England, Tom Brady deserved a long-term deal from the organization that drafted him with the 199th overall pick.
Yet, even after the clutch quarterback staged the greatest comeback in Super Bowl history, Bill Belichick refused to give in on Brady's contract. A record-setting performance against the Philadelphia Eagles in Super Bowl 52 didn't change that, either.
Ultimately, the relationship between the two NFL legends got icy. And Brady definitely wasn't happy about the lack of weapons he had during his final years in New England.
However, leaving the Patriots hasn't stopped Brady from winning. Ironically, it was New England who suddenly forgot how to defeat opponents on Sundays this season.
Newton, who Belichick stuck with all season, only threw eight passing touchdowns. His inability to run the offense with any semblance of consistency played a significant role in the Patriots finishing the year with an uncharacteristic 7-9 record.
Brady, on the other hand, threw for 4,633 yards and 40 touchdowns in his age-43 season. His strong bounce-back campaign could even lead to a contract extension from the Bucs.
And in unsurprising fashion, his arrival transformed Tampa into a playoff team. Thanks to some questionable decisions by the Green Bay Packers at the end of the NFC championship game, the Buccaneers earned a spot in Super Bowl 55.
Tom Brady sends a strong message to his former head coach
The idea of Tom Brady playing in the Super Bowl with a different head coach seems almost surreal. Yet, the aging quarterback is one game away from winning his seventh ring.
During his media availability on Monday, the four-time Super Bowl MVP was asked if he had a message for Bill Belichick. And in true TB12 fashion, he responded with strong praise for a man who obviously played a major role in helping him become an NFL icon himself.
"I have a great relationship with him. Again, I'm just incredibly grateful for what he's mean in my life as a coach," Brady said. "He was everything you could ask for as a player. I had two incredible decades there and my football journey took me to a different place."
He further added, "I certainly could never have accomplished the things in my career without his support and his teaching. He's an incredible coach and mentor to me. I've had a lot of those throughout my career, but obviously he's at the top of the list."
On the surface, Brady's message shows tremendous respect for a coach who will also retire as the GOAT. In reality, though, his words don't change the fact that he stands one game away from embarrassing Belichick in the most brutal way possible.
Will Brady embarrass his former head coach by winning Super Bowl 55?
The whole Belichick vs. Brady debate might come to a swift end in a few days. Because if the Buccaneers find a way to beat the Kansas City Chiefs in Super Bowl 55, that will put to rest any discussion about the quarterback's ability to win outside of New England.
For Brady, walking away from the Patriots represented a big risk. After all, leaving behind all those years of experience and relationships put him in a position to have to start from scratch. And some wondered if he could continue playing at a high level without the infrastructure and strong coaching in Foxborough.
Obviously, a change of scenery did nothing to stop Brady from continuing to do what he does best. Once again, he has put himself in a position to hoist the Lombardi Trophy. This time, however, he will have Bruce Arians as his head coach.
For Belichick, watching Brady win a title in his first season without him will be a brutally embarrassing blow to his ego and legacy. Instead of extending Brady's contract years ago, he let him walk in free agency. In response, he foolishly gambled on Newton and paid dearly for it. And after missing out on Matthew Stafford—who reportedly had no interest in coming to New England—the Patriots do not have a clear route to find a franchise quarterback.
As Belichick tries to rebuild New England's roster just to get back to contending for a playoff spot, the quarterback he doubted has a few more days of prep time to get ready to deal a harsh dose of karma to his former boss.
But it didn't have to be this way.
Unfortunately for Bill Belichick, he's about to pay a brutally embarrassing price for failing to have faith in Tom Brady's ability to play until he says he's done.
All statistics courtesy of Pro Football Reference.