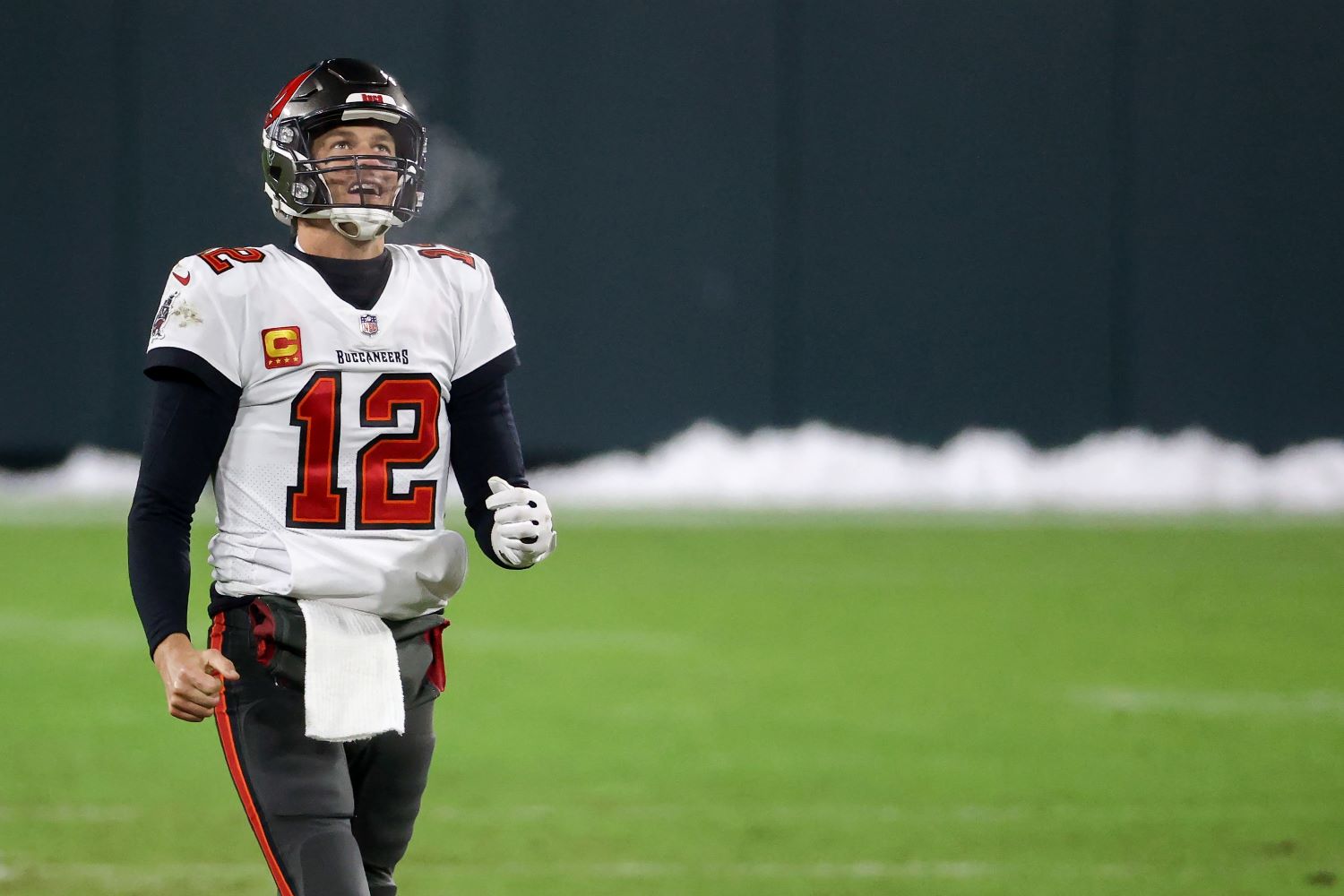 Tom Brady's Resurgent Season Has Forced Him to Reconsider His NFL Future
Although he has always said his goal is to play until he's 45, Tom Brady has been forced to reconsider that plan thanks to his stellar season.
Bill Belichick obviously had reservations about whether Tom Brady could continue playing at a high level into his 40s. After all, the New England Patriots head coach refused to give the greatest quarterback of all time the long-term contract he earned by leading the franchise to six Super Bowl titles.
Of course, Brady's final season in Foxborough didn't exactly do him any favors. But after watching his numbers tumble due largely to a lack of adequate weapons, the 43-year-old has stormed back to remind the rest of the NFL why he has no equal.
And if he maintains his 2020 pace moving forward, don't expect to hear a retirement announcement from the four-time Super Bowl MVP anytime soon. Because thanks to his resurgent season with the Tampa Bay Buccaneers, Brady has been forced to reconsider his NFL future.
Tom Brady couldn't convince the Patriots to make a long-term investment in his career
For nearly 20 years, the Patriots enjoyed continuity at the most important position in pro sports. However, Tom Brady had to worry about his long-term job security when New England selected Jimmy Garoppolo in the second round of the 2014 NFL draft.
The year prior, a 36-year-old version of TB12 labored through one of the least effective seasons of his career. A lack of weapons and sound protection up front played a factor in his ugly stat line. Still, Brady's lackluster 2013 season, combined with his age and contract situation, gave Belichick a reason to draft his possible successor.
Yet, Garoppolo's arrival only motivated the former sixth-round pick to re-dedicate himself to his craft. Taking his body more seriously than ever, Brady somehow got even better after his potential replacement came on board.
After coming up short against the New York Giants on two occasions, Brady finally tasted championship glory again when he led the Patriots to a hard-fought victory against the Seattle Seahawks in Super Bowl 49. Two years later, he staged the greatest comeback in Super Bowl history against the high-powered Atlanta Falcons.
Given his accomplishments and the fact he repeatedly stated that he planned to play until age 45, that should have made it easy for the Patriots to lock Brady up to an extension that would have ensured he finished his career in New England.
But that never happened.
Instead, after winning another Super Bowl ring in 2018, Brady suffered from a poor supporting cast in 2019 and proceeded to take his talents to Tampa.
Bouncing back with the Buccaneers
In his age-42 season, Tom Brady posted some of the worst numbers of his legendary NFL career. He completed just 60.8% of his passes. His 24 passing touchdowns represented his lowest total since 2006. And his 6.6 yards-per-attempt average was his second-worst mark since he became a full-time starter in 2001.
Still, that didn't stop the Buccaneers from signing the Patriots icon to a two-year, $50 million contract.
So far, that investment has looked like a bargain.
At 43 years old, Brady stunningly threw 40 touchdown passes. Prior to the 2020 season, he only hit that mark once…when he led the league with 50 touchdowns in 2007. He also threw for 4,633 yards, his highest total since 2015.
Though he certainly had some forgettable moments, Brady's overall play and leadership helped turn the Bucs into one of the most dangerous teams in football. And now, the perennial NFC South bottom-dweller stands one game away from hoisting the Lombardi Trophy for the first time since 2002.
And Brady's resurgent season hasn't just transformed the culture in Tampa.
It's also forced him to reconsider his NFL future.
Brady's resurgent season has forced him to reconsider his NFL future
Over the years, Tom Brady has made it clear that his goal is to play in the NFL until he's 45.
On Monday, the future Hall of Famer was asked whether he'd be open to playing beyond that age if he keeps playing like he did during his impressive first season with the Buccaneers.
"Definitely. I'd definitely consider that," Brady said, per ESPN. "It's a physical sport. Just the perspective I have on that is you never know when that moment is. Just because it's a contact sport. There's a lot of training that goes into it. And it has to be 100 percent commitment from myself to keep doing it."
The TB12 Method may help the aging NFL star stay game-ready for now, but that doesn't mean Brady hasn't thought about his football mortality. After all, even elite athletes have to accept that they cannot compete at the same level forever.
"When I put it all out there, [when] I feel like I can't do it anymore, I don't feel like I can commit to the team in the way that the team needs me, then I think that's when it's probably time to walk away," the Buccaneers QB said.
All statistics courtesy of Pro Football Reference.