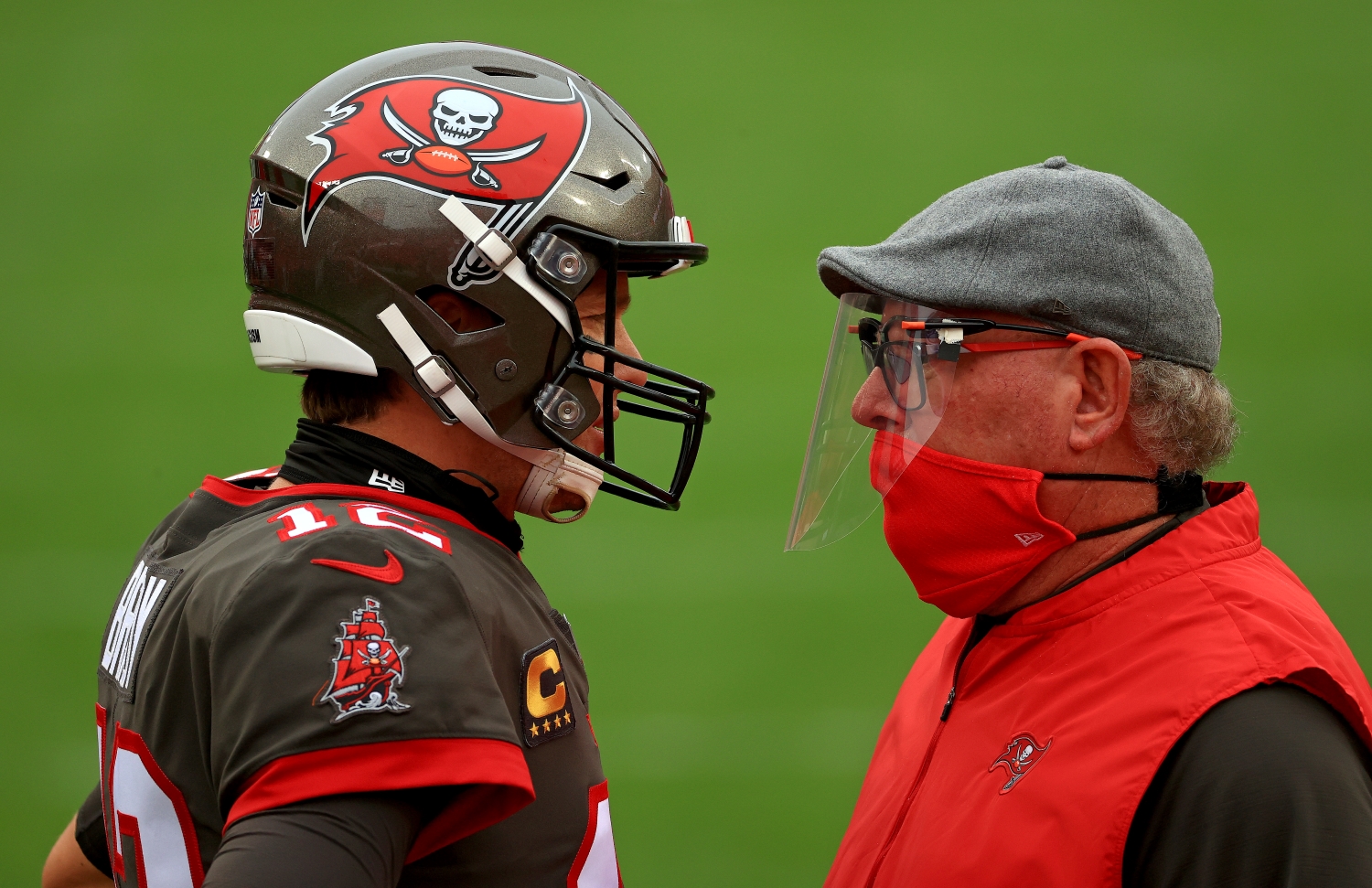 Bruce Arians Has a Simple But Painful Plan to Prevent Tom Brady and the Buccaneers From Suffering a Super Bowl Hangover
Tom Brady and his Buccaneers teammates should be prepared for a brutal summer with head coach Bruce Arians.
Tom Brady wasted no time proving he can win a Super Bowl without Bill Belichick. But after hoisting the Lombardi Trophy for the first time as a member of the Tampa Bay Buccaneers, the legendary quarterback faces long odds of capturing back-to-back titles under a head coach who just won his first.
Even though he has a roster brimming with talent, Bruce Arians refuses to let complacency enter the equation down in Florida. And the 68-year-old has a simple (but painful) plan to prevent Brady and the Buccaneers from suffering a Super Bowl hangover.
The Buccaneers will try to avoid becoming the latest NFL team to fall off after winning a title
Winning a Super Bowl represents a truly historic achievement for any NFL team. However, several champions from the last decade experienced a dramatic drop-off after reaching the top of the mountain.
In 2013, the Baltimore Ravens went 8-8 the year after they defeated the San Francisco 49ers for the Lombardi Trophy.
After capturing a title in 2015, the Denver Broncos fell to 9-7 and failed to earn a postseason berth. They have posted a losing record for four straight years. And the team they defeated—the Carolina Panthers—has also suffered a serious decline.
Of course, the Philadelphia Eagles stand out as the most brutal example of a team that suffered a serious Super Bowl hangover. Since getting the best of Brady in 2017, they have fired their head coach and traded their supposed franchise quarterback.
And let's not ignore how the Atlanta Falcons and the LA Rams have regressed since suffering losses in the Super Bowl.
The Falcons recently bottomed out at 4-12 after going 7-9 in back-to-back seasons. Meanwhile, Sean McVay's team went from representing the NFC to missing the playoffs entirely. And after experiencing an early postseason exit, the Rams decided to trade their franchise quarterback just a few weeks later.
Bruce Arians has a painful plan to prevent a Super Bowl hangover in Tampa
Thanks to the steady play and strong leadership from their new quarterback, the Buccaneers blazed through the postseason and won Super Bowl 55 by a final score of 31-9. And after bringing back their entire starting lineup on both sides of the ball, they certainly look like a major threat to win back-to-back titles.
Just don't expect Bruce Arians to start singing his players' praises when they come back to work. In fact, Tom Brady and his teammates are in line for a much rougher return to the office.
"Our guys know the message. Again, the leadership, Shaq's [Barrett] already said it. He's hungry as hell," Arians said during his appearance on the Loose Cannons Podcast. "When our guys come back, that's my job. I'm gonna beat the sh*t out of them. We're going back to basics, and we're going to have one hell of a training camp and know what our foundation is."
Of course, dealing with a grueling work environment won't be anything new for Brady or longtime pal Rob Gronkowski. After all, they dealt with years of taxing practices under the watchful eye of Bill Belichick.
But it's clear Arians has no intention of letting his team get too comfortable. And even if that means Buccaneers players will have to push through the physical pain and mental toll of a tough training camp, that should only further cement the new culture that exists in Tampa.
Tom Brady has an excellent chance to add the final touch to his Hall of Fame resume
By retaining all 22 of their starters from last year's squad, the Buccaneers possess the pieces to win another Super Bowl title. And when you look at their schedule, it actually doesn't seem unreasonable that Tom Brady could add the final touch to his Hall of Fame resume.
Based on Tampa's upcoming slate of opponents, it's entirely possible the reigning champions will finish the 2021 season without a single loss. Bruce Arians' team will square off against the following franchises this year:
Falcons
Panthers
Saints
Patriots
Bills
Dolphins
Jets
Eagles
Cowboys
Giants
Washington
Bears
Rams
Considering nearly all of their opponents will feature new starting quarterbacks, the Buccaneers already have a major leg up on their competition. And with a star-studded roster fully intact, they have more than enough talent to run the table.
If that occurs, then maybe Tom Brady will finally decide it's time to hang up his helmet and shoulder pads for good.
All statistics courtesy of Pro Football Reference.