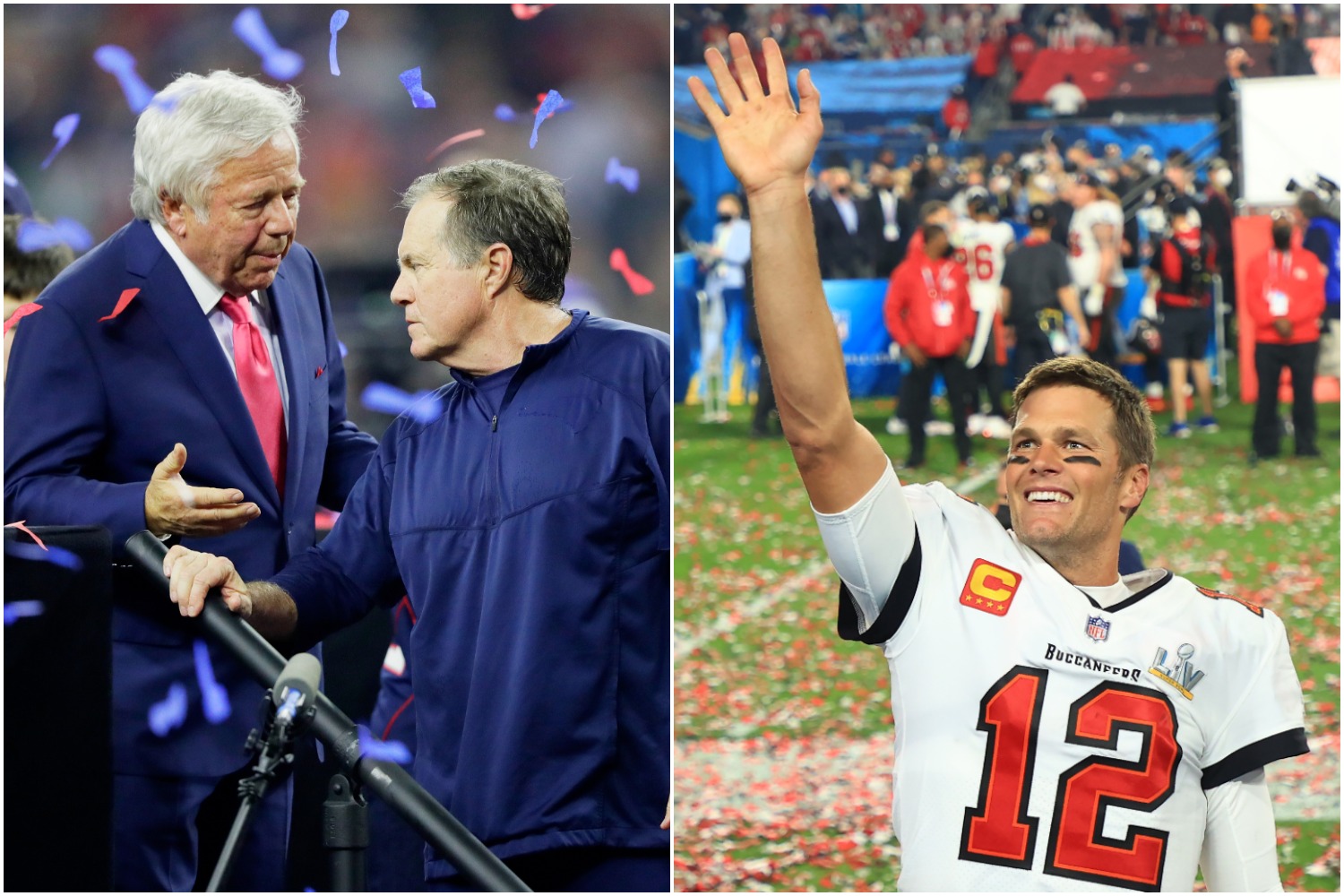 Tom Brady Left Bill Belichick a Cold Reminder of His True Value by Earning a Painfully Ironic Amount of Money This Season
Tom Brady left Bill Belichick a cold reminder of his true value by earning a painfully ironic amount of money in his first season in Tampa.
Bill Belichick didn't believe Tom Brady deserved to remain the starting quarterback of the New England Patriots for the rest of his NFL career.
At least, not at his price.
But in his first season playing for another franchise, the 43-year-old quarterback promptly led his new team to a Super Bowl title.
And in doing so, the new face of the Tampa Bay Buccaneers earned a painfully ironic amount of money that serves as a cold reminder to his old boss that he should have paid up to keep the GOAT in Foxborough.
Bill Belichick reverted back to his old self without Tom Brady around
In his first season as head coach of the Patriots, Bill Belichick went 5-11. But thanks to a fortuitous hit by Mo Lewis, a young, unproven version of Tom Brady took over as New England's starting quarterback during the 2001 season.
He quickly led the team to the first Super Bowl title in franchise history.
Of course, he collected a few more rings and made more than $230 million during his incredible career with the Patriots.
However, even though Brady proved he could still play at a high level in recent years, he never got the contract extension he desired. Belichick's cold, calculated method of doing business didn't even allow for wriggle room for the greatest quarterback of all time.
Instead of locking Brady up to a long-term deal after he won his fifth ring, the architect of the most successful dynasty in pro sports forced his quarterback to settle for added contract incentives. Of course, due to a lack of adequate weapons, Brady failed to hit those performance marks.
Finally given a chance to choose his own fate, he signed a two-year, $50 million contract with the Buccaneers. Belichick's laughable attempt to replace Brady with Cam Newton ended with New England posting a losing record for the first time since 2000…the year Brady arrived as a sixth-round pick out of the University of Michigan.
TB12 left a cold reminder for his former boss by earning a painfully ironic amount of money this season
Although the regular season featured some less-than-ideal moments, Tom Brady and the Buccaneers completed their mission of winning a Super Bowl title by taking down the Kansas City Chiefs on Sunday. And in doing so, the GOAT ensured that his total payday for the 2020 season will have a particularly chilling meaning for Bill Belichick.
By securing a $500,000 bonus for winning a championship, Brady pushed his final 2020 earnings to $28.375 million. That figure includes a $15 million base salary and a $10 million roster bonus. By hitting various incentives laced into his two-year contract, he upped that final figure to $28.3 million.
For Belichick, that number serves as a cold reminder of Brady's true value.
In a painfully ironic twist of fate, the star quarterback's total earnings coincide with one of the most memorable games in NFL history. And it shouldn't take long for fans of Robert Kraft's franchise to realize the connection.
Before James White plunged over the goal line for the game-winning touchdown in overtime, the Patriots had to claw back from a substantial deficit to topple the Falcons in Super Bowl 51.
In fact, at one point in the game, New England trailed Atlanta by a score of 28-3.
However, thanks to some well-timed plays on defense, and some fourth-quarter and overtime magic from Brady and the offense, the Patriots emerged victorious.
Somehow, he managed to leave a cold reminder of that otherwise glorious day by earning $28.3 million just a few years removed from leading the Patriots back from a historic 28-3 deficit.
And he could add even more money to his bloated bank account in short order.
What does the future hold for the Buccaneers and their star quarterback?
Unlike Bill Belichick, Buccaneers GM Jason Licht doesn't seem to have a problem with the idea of extending Tom Brady's contract.
Based on the talk at Tampa's Super Bowl victory parade, it sure sounds like the reigning champions plan on competing for multiple titles with TB12 under center.
Given his incredible performance in his age-43 campaign, it wouldn't be shocking to see Brady extend his stay with the NFC South franchise. Licht can tack on another year or two to Brady's existing deal to ensure the team enjoys continuity at the most important position in pro sports.
As for Bill Belichick?
He better find a new quarterback…fast.
Because if the Patriots fail to take a step forward in 2021, they could be looking for a new coach, too.
All contract data courtesy of Spotrac. All statistics courtesy of Pro Football Reference.