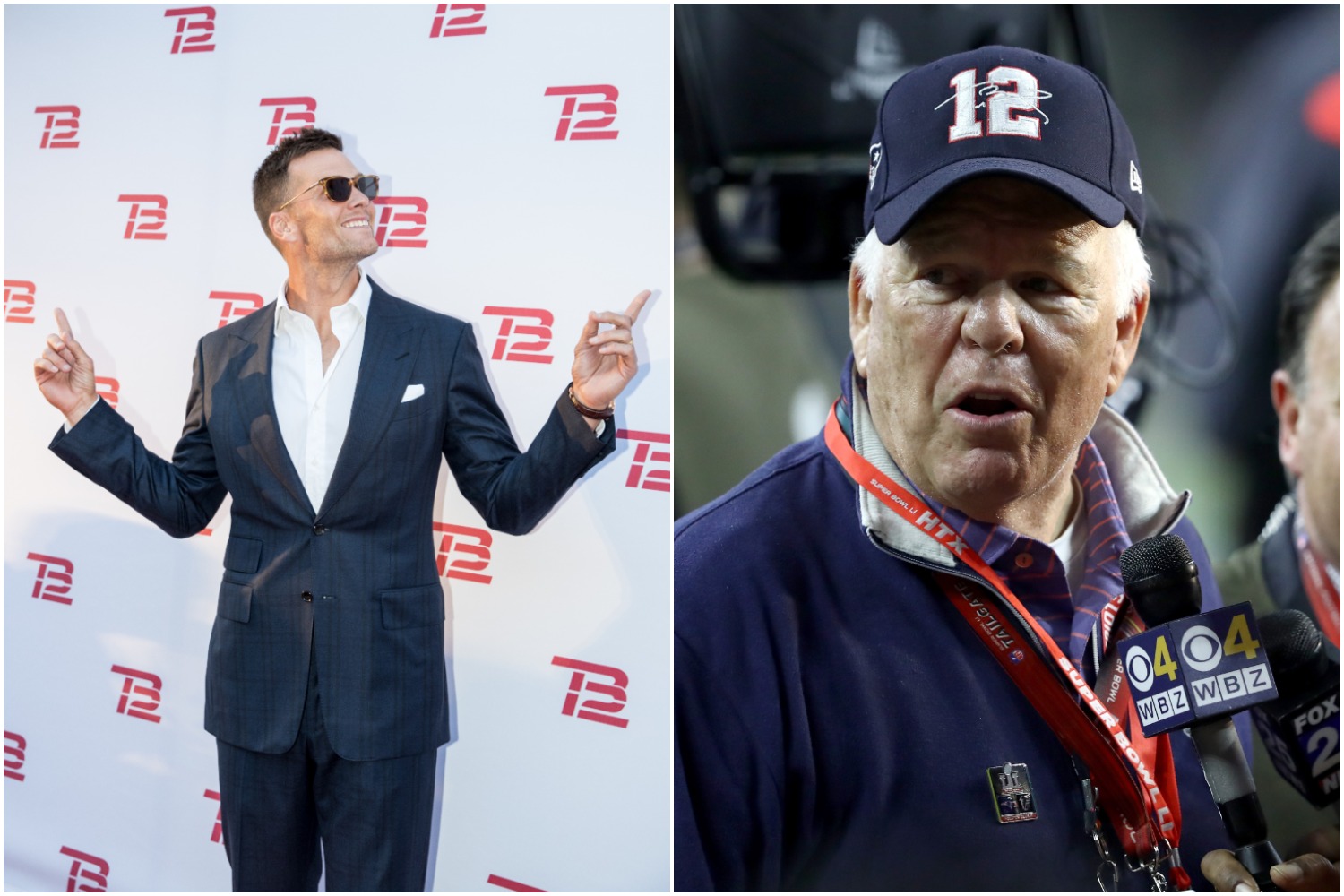 Tom Brady Gets Exposed by His Dad For Taking 45 Pills a Day and Still Not Following a Simple Piece of Health Advice
Although he admitted his legendary son takes 45 pills a day, Tom Brady Sr. still has a major reason to worry about Tom Brady's health.
Tom Brady has built a multi-million dollar health and fitness brand during the course of his legendary NFL career. And thanks to his dedication to his body, the ageless quarterback just led the Tampa Bay Buccaneers to their first Super Bowl title in nearly two decades.
Even though Brady focuses on fueling his body with specific foods and supplements, that hasn't stopped his father from expressing a major concern about his son's health.
And considering the journey Tom Brady Sr. went through last fall, it seems quite perplexing that the greatest quarterback of all time still hasn't taken up his dad's advice on an in issue that hits particularly close to home for the Brady family.
Tom Brady has achieved unprecedented success using the TB12 Method
Take a look at Tom Brady at the 2000 NFL scouting combine and you instantly realize why he fell to the sixth round. Based purely on his measurables and body composition, he certainly didn't give off the impression that he would ever become a starting NFL quarterback, let alone the greatest of all time.
Obviously, whatever he ate during his youth didn't stop him from winning three Super Bowl titles within his first five years in the league. Still, as his age (and win total) climbed, he faced the reality that he needed to take better care of his body in order to extend his NFL career.
Brady teamed up with Alex Guerrero, whose questionable past did little to dissuade the star quarterback from following his trainer's dietary and workout advice with an obsessive passion.
While most NFL players focus on building strength through traditional weight-lifting methods, the TB12 Method relies on "pliability" and a strict diet that most people wouldn't dare to try.
Whether Guerrero's magical formula explains Brady's unprecedented success remains up for debate. What can't be argued, however, is that the future Hall of Famer has managed to improve with age. And after adding a seventh Super Bowl ring to his collection on Sunday, the Buccaneers QB only further cemented his case as the GOAT.
A scary COVID-19 experience for the Brady family
Tom Brady and the rest of his NFL peers faced an unexpected foe this season: COVID-19.
While the legendary quarterback never tested positive for the coronavirus, his parents weren't so lucky. In fact, Tom Brady Sr. suffered a near-fatal outcome during his battle with COVID-19.
Two weeks before Super Bowl 55, the NFL star's father conducted an interview with ESPN's Mike Greenberg to discuss a scary situation that occurred during the early portion of the 2020 season.
"We've never missed a game at Michigan or New England or wherever," Brady Sr. said. "For the first two games when I was in the hospital, I didn't even care if they were playing — much less missing the game. It was a matter of life and death, just like anybody who goes to the hospital. That's serious stuff."
Although Galynn Brady previously had breast cancer, she did not have to remain hospitalized like her husband.
Still, given his parents' battle with the coronavirus, one would expect Tom Brady to take the associated health and safety protocols seriously. Apparently, though, the 43-year-old still has a tough time listening to his 76-year-old father's advice.
Tom Brady Sr. still has a reason to be concerned about his son's health
As evidenced by his strict diet, specific workout routines, and various recovery methods, Tom Brady definitely takes his health seriously.
But his father still has a major reason for concern about his son's well-being.
In an interview conducted prior to Super Bowl 55, Andrea Kramer spoke to Tom Brady Sr. and his wife about their battle with COVID-19, which occurred right when their son started a new chapter of his historic NFL career.
"I just wanted to survive," Brady's father said. "It's serious. If we're not wearing masks, we're really missing the point."
After Kramer pointed out that the NFL star often doesn't have a protective mask on, she asked Brady Sr. whether he talks about that topic with his son.
"Yes. You know what? He's 43 years of age. We keep harping on it," he told the NFL Network reporter.
Apparently, though, Brady Jr. thinks his daily supplement regiment can work serious wonders.
"Frankly, he thinks his body with—he probably takes 45 pills a day," Brady Sr. explained. "So far, God willing, he's still healthy. But the answer is yes, we do."
That mix of 45 pills may have kept the NFL legend healthy for his age-43 season, but it certainly would be smart for Brady to heed his dad's advice in terms of wearing a mask more often.
Then again, given the fact he's defeated Father Time, perhaps the TB12 Method will continue to keep Tom Brady injury- and COVID-free, too.
Like Sportscasting on Facebook. Follow us on Twitter @sportscasting19.