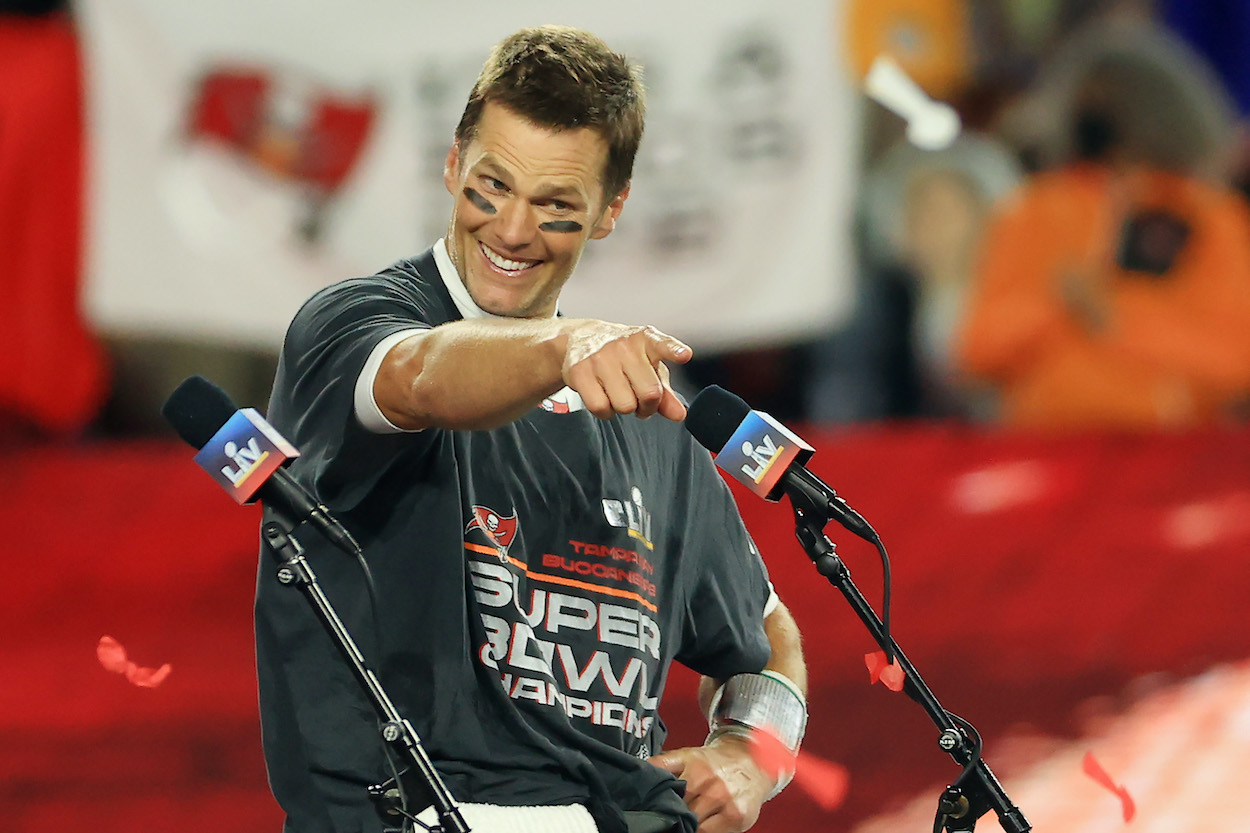 Tom Brady Formulated a Diabolical Plan to Rig the Super Bowl for $1.8 Million
Before Super Bowl 55, Tom Brady jokingly hatched a plan with his quarterbacks coach to profit nearly $2 million on his rushing prop bet.
There's a degenerate gambler in all of us. Yes, even in Tom Brady.
Before Super Bowl 55 between the Tampa Bay Buccaneers and the Kansas City Chiefs, Brady was parsing through the big game prop bets and noticed one he could take advantage of. The future Hall-of-Fame quarterback then hatched a diabolical plan to rig the prop and profit a cool $1.8 million with help from his quarterbacks coach, Clyde Christensen. Thankfully for Brady and Christensen, though, they didn't go through with the plot.
Tom Brady's Super Bowl rushing prop was set at 0.5 yards
It's no secret Tom Brady isn't exactly a mobile quarterback. And at 43 years old, he can't be taking hits from some of the biggest and baddest dudes on the planet, especially in the Super Bowl.
In his 19 games played before Super Bowl 55 this season, Brady recorded positive rushing yards in just five of them. But there's always a chance Brady could use his patented QB sneak to gain a yard or two throughout the game, so sportsbooks opened his rushing yards prop at 0.5 yards for the Super Bowl.
The odds for the over 0.5 yards could be found as high as +180, meaning a $100 bet on the over would net $180 if Brady finished the game with at least one rushing yard. Brady was made aware of the prop prior to the game, and he approached his quarterbacks coach with a foolproof plan to make a quick buck.
Tom Brady formulated a plan to rig the Super Bowl for $1.8 million
It turns out Tom Brady is a betting man when he's not winning Super Bowls seemingly every season. Buccaneers quarterbacks coach Clyde Christensen appeared on Monday's episode of The Pat McAfee Show and revealed the get-rich-quick scheme Brady wanted to draw up for Super Bowl 55.
"I'll give you one funny story from our last quarterback meeting," Christensen said. "We walk in and Brady goes, 'Hey, I got an idea. There's a half-yard Over/Under for me rushing for half a yard in the Super Bowl. Here's what I'm saying: We all put in $1 million and the first time they're in two three-techniques, I'm going to gain six and we're going to sit on that thing and protect it the rest of the way and we're going to fund our offseason.'" 
If Brady and Christensen had gone through with the plan, they could've profited $1.8 million on the prop bet.
Clyde Christensen talked Tom Brady out of a costly decision
Brady and Christensen could've made a killing by rigging the QB's rushing prop, but it would've cost them even more had they been caught by the NFL. The last player who was caught gambling on NFL games was Josh Shaw of the Arizona Cardinals, and he was suspended 21 games by the league in 2019.
"I go, 'You can't.' He goes, 'I promise you if we have a million on it, I will not get sacked. We will not lose the money,'" Christensen continued. "We didn't do it, FYI, for the record for the IRS and NFL. It was just a joke. He was funny because he knew someone had told him, 'Hey, there's an Over/Under for you rushing for a half-yard in the Super Bowl.' The quarterbacks all talked about it, 'Hey, we may all throw some money in there and see if we can pay for a nice vacation or something.'"
Who knew Tom Brady was a secret degenerate?