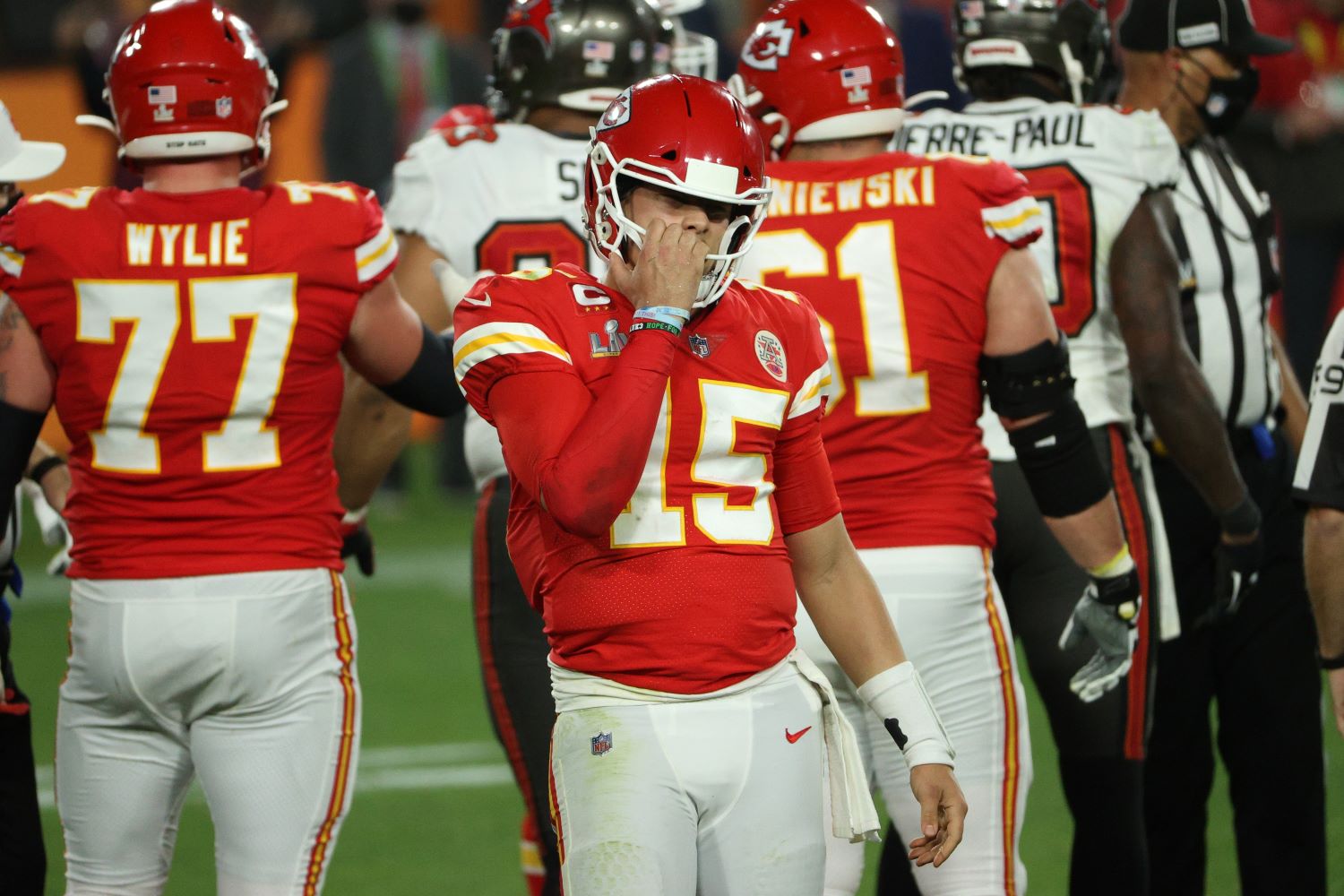 Patrick Mahomes Surprisingly Put His Own Teammates on Blast After the Chiefs' Brutal Super Bowl Loss
After suffering a painful Super Bowl experience, Patrick Mahomes made a surprising public admission about his Kansas City Chiefs teammates.
Patrick Mahomes looked like a mere mortal rather than a football god in Super Bowl 55. However, the Kansas City Chiefs superstar didn't exactly get a ton of help from his teammates against the Tampa Bay Buccaneers.
After all, those who tuned in to watch the star-studded affair saw Mahomes constantly scrambling for his life as Jason Pierre-Paul, Shaquil Barrett, Ndamukong Suh, and the rest of Tampa's terrifying defense tried to bring him to the ground.
While the NFL star deserves credit for his effort and willingness to absorb brutal blows all night, he didn't exactly do himself any favors after the game. Because following his painful night at Raymond James Stadium, Mahomes made a surprising public admission that might have ruffled some feathers in Kansas City.
Patrick Mahomes had a frustrating Super Bowl experience
Coming into Super Bowl 55, Patrick Mahomes already had a nagging turf toe injury to deal with. Unfortunately for the electrifying quarterback, he spent most of his night running around on that ailing foot trying to escape the clutches of Buccaneers defenders.
Kansas City's offensive line completely crumbled against Tampa's talented front seven. Without Eric Fisher and Mitchell Schwartz entrenched at the two tackle spots, Mahomes faced consistent pressure that often resulted in him ending up on the ground. In fact, no quarterback in Super Bowl history ever got pressured as much as the 25-year-old did on Sunday.
In the end, Mahomes' stat line looked nothing like what we've come to expect from a player who's already thrown 114 touchdowns in 46 regular-season games.
His second Super Bowl trip ended with 270 passing yards, zero touchdowns, and two interceptions. Mahomes completed just 53% of his attempts, got sacked three times, and finished the night with a career-worst quarterback rating of 52.3.
Of course, it didn't help that his receivers committed several costly drops. And the Chiefs' injury-ravaged offensive line didn't put up much of a fight in the biggest game of the season. Still, as the face of the team, Mahomes took plenty of criticism (warranted or not) for the fact the Chiefs failed to score a single touchdown in the Super Bowl.
The Chiefs star made a surprising public admission after losing to the Buccaneers
In reality, Patrick Mahomes made the game "closer" than it should have been. After all, he ran for nearly 500 yards while scrambling to find an open receiver. That effort, however, did not translate to points on the scoreboard.
Following his team's brutal Super Bowl loss, the Chiefs' most important player made a surprising public admission that didn't exactly paint himself in the best light.
Because in most cases, franchise quarterbacks never call out their teammates. Yet, after acknowledging that "we weren't on the same page as an offense" and that he did not get the ball out on time, Mahomes raised a few eyebrows by directly calling out his supporting cast.
"The receivers were running routes not exactly where I thought they were going to be at," he said during his post-game press conference. "The offensive line, they were good sometimes, and sometimes they let guys through."
By placing some of the blame on his receivers and the offensive line, Mahomes certainly took an unexpected approach to handling a rare case of defeat. He may not have followed the typical route of not calling out his teammates, but at the same time, his assessment holds true.
Ultimately, Mahomes' supporting cast let him down in the biggest game of the year. So if Kansas City plans on playing in the Super Bowl for a third time in as many seasons, general manager Brett Veach has to take care of some important business during the next few months.
What should be on Kansas City's to-do list this offseason?
With Patrick Mahomes set to miss significant time as he recovers from surgery on his troublesome toe, the Chiefs won't have their star quarterback available for the majority of the offseason program.
But for his sake, he better hope the team makes some improvements by the time he returns.
As the Buccaneers showed in Super Bowl 55, the Chiefs need to fix their offensive line. Fisher's devastating Achilles injury could force Kansas City to think long and hard about using its first-round pick on the tackle spot. Plus, centers Austin Reiter and Daniel Kilgore are part of a sizable crop of impending free agents who need new deals to remain in Kansas City.
Beyond their offensive line, the Chiefs would do well to upgrade their front seven. Chris Jones and Frank Clark—two highly-paid defensive linemen—combined for just 13.5 sacks and 43 quarterback hits. Not a single other defensive player totaled more than three sacks.
Plus, the team could use an infusion of talent at linebacker. Veterans Damien Wilson and Anthony Hitchens don't provide any special play-making ability. And considering 2020 second-round pick Willie Gay recently underwent meniscus surgery, that makes the position an even bigger priority.
At the end of the day, though, a healthy version of Patrick Mahomes gives the Chiefs a great chance to win on Sundays.
But as we just saw in Super Bowl 55, if he doesn't have adequate protection, even the most talented quarterback in NFL history can get held in check, too.
All statistics courtesy of Pro Football Reference.