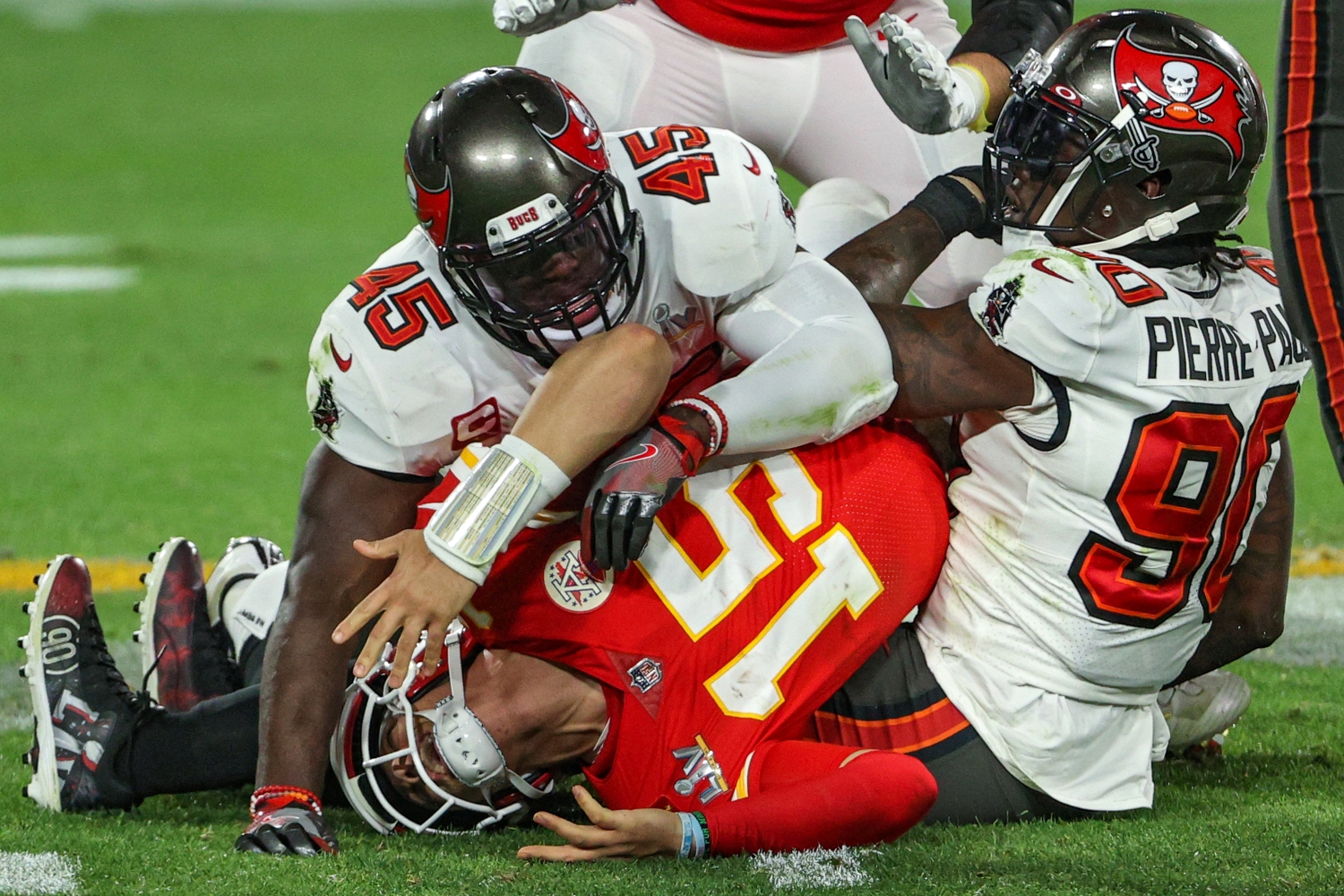 Patrick Mahomes Suffered Serious Damage in the Super Bowl That Will Sideline Him For Significant Time
Patrick Mahomes suffered even more damage to his injured toe in the Super Bowl and will be out for a significant amount of time after surgery.
Patrick Mahomes experienced a rare moment of defeat on Sunday courtesy of Tom Brady and a fast, aggressive Tampa Bay Buccaneers defense. And while his incredible effort wouldn't have suggested so, the NFL star played the game at less than 100%.
Unfortunately for Mahomes and the Chiefs, the damage he suffered in Super Bowl 55 only made his existing toe injury worse. And after he goes under the knife on Wednesday, the superstar quarterback is set to miss significant time as his team tries to fix some critical roster holes this offseason.
Patrick Mahomes had a painful night in the biggest game of the 2020 NFL season
Patrick Mahomes didn't exactly have the easiest road this postseason. Against the Cleveland Browns, he took a nasty hit from linebacker Mack Wilson that knocked him out of the game.
And while he managed to lead the Chiefs to a victory against the Buffalo Bills in the AFC championship, the uber-talented signal-caller still had to deal with a nagging turf toe injury. His health status for the Super Bowl remained a storyline leading right up to kickoff.
On the surface, his ailing foot didn't appear to limit him. After all, he ran for nearly 500 yards while scrambling to find open receivers.
Still, his inspiring effort did little to change the outcome of Tom Brady's 10th trip to the Super Bowl.
While the GOAT played an efficient game, it was the Buccaneers' defense that stole the show. Tampa's terrifying front seven thoroughly dominated an undermanned offensive line that lost Eric Fisher to a torn Achilles in the AFC title game. His absence forced veteran Mike Remmers into the lineup.
Let's just say that experiment did not go well.
Mahomes threw two interceptions and zero touchdowns in the 31-9 loss to the Bucs. He got sacked three times and faced more pressure than any quarterback in Super Bowl history. Many of those pressures resulted in the quarterback absorbing brutal blows from Bucs defenders, including Ndamukong Suh and Jason Pierre-Paul.
The Chiefs star suffered serious damage in the Super Bowl that will sideline him for significant time
Although the Chiefs attempted to make Patrick Mahomes' injury seem less severe, the truth became much clearer on Tuesday.
The NFL Network's Ian Rapoport reported via Twitter that the 25-year-old quarterback will undergo surgery on Wednesday to repair a torn plantar plate in his foot. Mahomes faces a lengthy rehab journey as he recovers from turf toe surgery that will be performed by Green Bay-based foot specialist Dr. Robert Anderson. He's expected to miss all of the offseason but will return for training camp.
Kansas City's most important player downplayed the impact of his injury in the playoffs. However, Stephania Bell, a physical therapist and injury analyst for ESPN, provided some more context about the situation.
"We can infer there was more significant damage that resulted in some instability because Mahomes is having surgery," said Bell, per Adam Teicher of ESPN. "But as far as the extent of what tissue is damaged, we don't know and the surgeon likely won't know until he can go in and take a look at it."
She also added that it typically takes a month without weight bearing before a patient will progress to wearing a walking boot.
"Assuming no surprises or setbacks, I expect him to be ready to go for the start of the season," Bell said.
While Mahomes should make a full recovery, this represents a fairly significant setback for both the individual and the team. If he can't return until training camp, that will certainly impact what the Chiefs can work on during the offseason.
And for a team that should have plenty of motivation to avenge its Super Bowl loss, there's plenty of work to do as the NFL's biggest star prepares to spend the next few months sidelined after surgery.
How will the Chiefs attack the offseason with their star quarterback on the mend?
There's no doubt that Kansas City should contend for the AFC crown again in 2021. After all, when you have an offense that features Patrick Mahomes, Travis Kelce, and Tyreek Hill, you have a chance to beat pretty much any team.
Still, the Chiefs cannot afford to just run it back with the same roster.
And looking at their impending free agents, general manager Brett Veach will have some tough decisions to make.
Will Sammy Watkins somehow stick around for another year or two after a lackluster campaign? Does Demarcus Robinson want to remain in the best offense in the league as a secondary option, or will he look for a more prominent role elsewhere?
Both Austin Reiter and Daniel Kilgore will hit free agency, which means the Chiefs could be in the market for a new starting center.
Starting corner Bashaud Breeland could command a solid contract on the open market after a solid season in which he allowed only 30 receptions. Veteran safety Daniel Sorenson is also a free agent in need of a new deal.
Most importantly, though, the Chiefs have to improve their offensive line. And considering Fisher tore his Achilles a few weeks ago, that could make tackle their No. 1 priority.
And with Patrick Mahomes coming off a surgery of his own, that only increases the need for better protection in Kansas City.
Like Sportscasting on Facebook. Follow us on Twitter @sportscasting19.