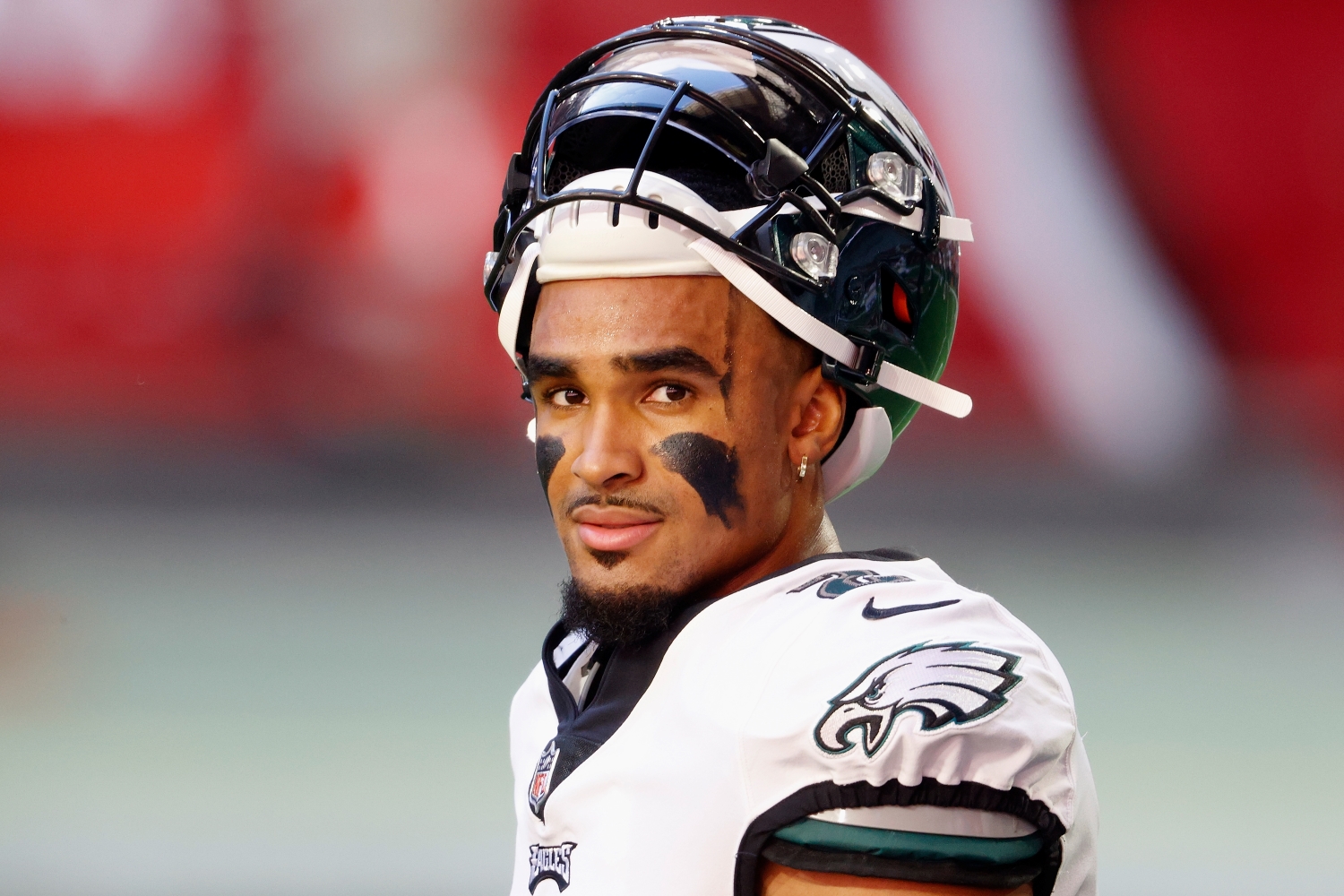 Jalen Hurts Has Convinced Eagles Owner Jeffrey Lurie to Abandon a Core Business Concept That Could Lead to Disaster in Philadelphia
If Jalen Hurts doesn't live up to the hype, Eagles owner Jeffrey Lurie will look completely foolish for abandoning a core business concept.
Even though Jalen Hurts has only thrown 148 passes as an NFL quarterback, he apparently has convinced Philadelphia Eagles owner Jeffrey Lurie to abandon a core business concept that smart teams always follow.
And by giving his employees a directive on what to do at the most important position in sports, he simultaneously put the future of his franchise at risk.
The Eagles must make several difficult roster decisions this offseason
Not long ago, Eagles fans dreamed of winning multiple Super Bowl titles with Carson Wentz and Zach Ertz as the team's leading stars. Yet, Philadelphia's magical 2017 season now seems like a distant memory.
After all, the Eagles officially gave up on the Wentz experiment last month by trading the 28-year-old to the Indianapolis Colts. The former No. 2 overall pick lost his starting job to Jalen Hurts last year and will now try to resurrect his career under former offensive coordinator Frank Reich.
Meanwhile, Ertz looks like a prime trade candidate. The veteran tight end wants a new contract, but the Eagles do not appear poised to make that happen.
Philadelphia also faces a number of critical decisions at key positions.
Will Brandon Brooks remain in Philadelphia under the terms of his current deal? The Pro Bowl guard missed the entire 2020 season with a torn Achilles and will count $14.55 million against the cap this year.
Could the Eagles ask longtime leaders Lane Johnson and Fletcher Cox to restructure their deals to free up cap space? That certainly seems realistic given Philadelphia's dire financial situation.
Needless to say, general manager Howie Roseman must make a number of tough choices this offseason as he tries to rebuild a team that just went 4-11-1.
Jalen Hurts has convinced Jeffrey Lurie to abandon a core business concept that could lead to disaster
While the Eagles clearly have a ton of work to do on both sides of the ball, it doesn't sound like they will invest much in the quarterback position. Because according to ESPN's Chris Mortenson, Jeffrey Lurie has made it clear how he wants his money and resources spent over the ensuing months.
And it sure sounds like Jalen Hurts has convinced the Eagles owner to abandon a core business concept that could lead to disaster in The City of Brotherly Love.
"I would not report the Eagles have internal unanimity on Hurts as QB1 but sources say the boss, Jeffrey Lurie, has instructed his group to prioritize making Hurts successful in 2021 as opposed to creating a true competition," Mortenson tweeted Monday morning.
Of course, that would run counter to a previous report from Mortenson and Adam Schefter that the Eagles intend to bring in competition for the former University of Oklahoma star.
Apparently, though, Philadelphia won't follow through on that plan. Instead, a quarterback who completed just 52% of his passes and went 1-3 as a starter won't face competition for his job.
That strategy certainly doesn't seem to align with what successful businesses (and NFL teams) do. Rather than investing in another signal-caller who could compete with Hurts for the QB1 role, the Eagles will apparently roll the dice on a player who didn't exactly prove he deserved to go 53rd overall in the 2020 NFL draft.
And if Lurie's employees remain loyal to his wishes, a disaster could eventually break out in Philadelphia.
Will Philadelphia regret trying to build around the former college football star?
On one hand, it makes sense for the Eagles to "prioritize" making Jalen Hurts successful. But what other route would an NFL team take with the most important position in sports? After all, shouldn't a franchise do everything possible to build a strong infrastructure to support whoever starts at quarterback?
While Lurie's directive is clearly a positive sign for Hurts' own future, that doesn't necessarily mean it will pay off for the Eagles.
If Philadelphia ignores the quarterback position and devotes its resources to upgrading the rest of the offense, that puts all the pressure on the second-year pro to step up fast. Hurts flashed potential in limited action, but it remains to be seen whether the 6-foot-1, 223-pounder can withstand the physical toll of starting on Sundays on a weekly basis. And he certainly needs to play the position at a much higher level than he did as a rookie.
But if Hurts fails to live up to expectations, that will lead to a disastrous outcome for the NFC East franchise. Because if prioritizing his success means tying up money on other positions, than the Eagles will find themselves in the unenviable spot of not having cap space and not having an answer at quarterback.
Philadelphia would have to hit the reset button again and start from the ground up. Maybe Lurie will ultimately realize bringing in competition for Hurts could bring out the best from the decorated collegiate signal-caller.
Then again, maybe he learned a lesson about adding a new face to the quarterback room last April.
And we all know how that story just ended.
All statistics courtesy of Pro Football Reference.