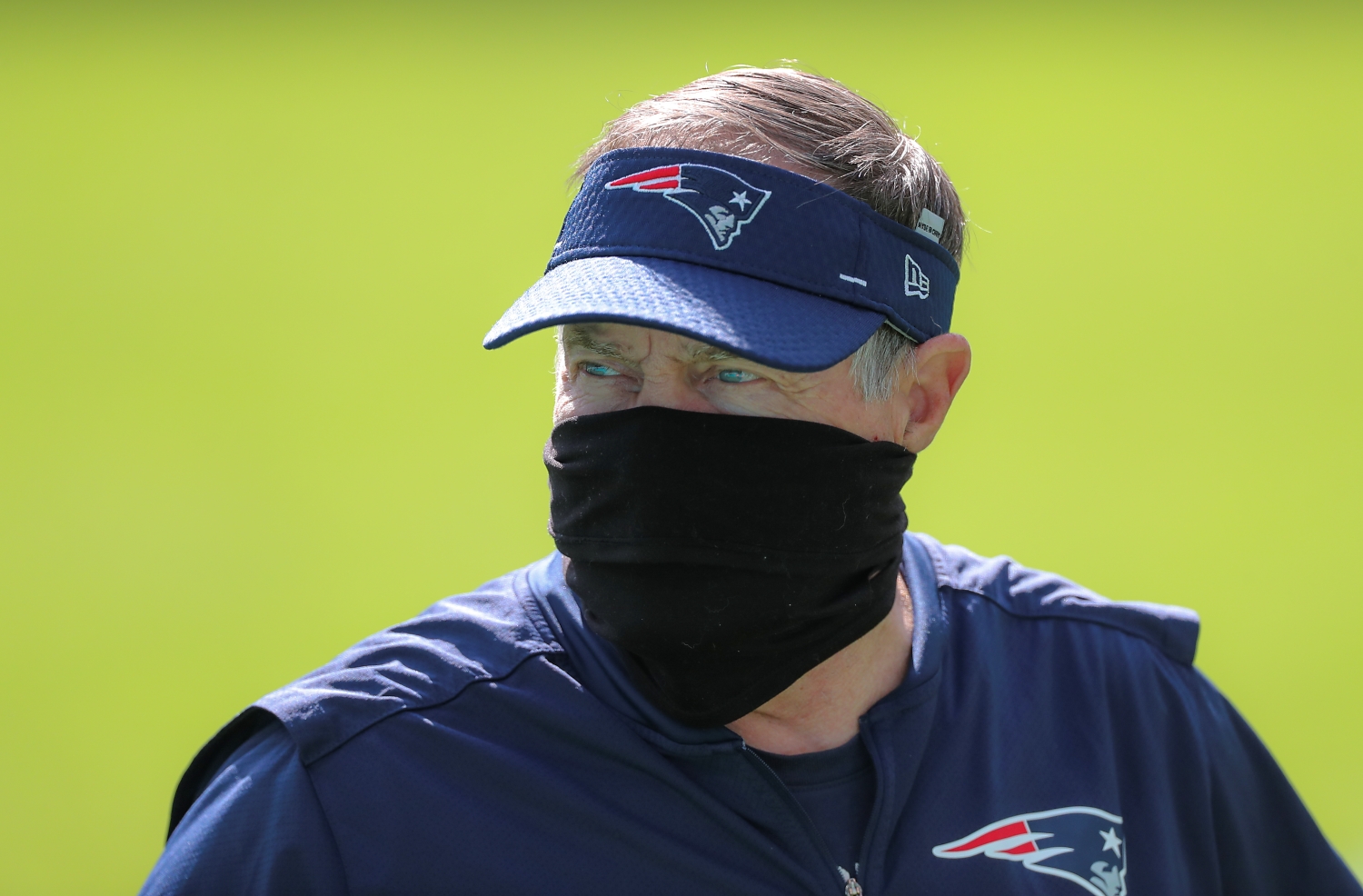 Bill Belichick Officially Has an Extra $23 Million in His Pocket to Help Propel the Patriots Back to the Top of the AFC East
By largely sitting out of free agency last offseason, Bill Belichick officially has an extra $24 million to spend to propel the Patriots back to the top of the AFC East.
Bill Belichick largely passed on free agency a year ago. Other than handing Joe Thuney nearly $15 million for another season of very good guard play, he played it safe in terms of handing out guaranteed money beyond 2020.
Luckily for New England Patriots fans, Belichick officially has an extra $23 million in his pocket to help propel the team back to the top of the AFC East. And if he invests wisely at key positions, the legendary NFL coach may just have a chance at winning a Super Bowl title without Tom Brady as his quarterback.
The Patriots desperately need an infusion of talent at multiple positions
After allowing the fewest points and yards in the NFL in 2019, the Patriots dropped to seventh and 15th, respectively, last season. Not having Dont'a Hightower and Patrick Chung available certainly hurt. However, New England's lack of young, impact players up front stung even worse.
With recent draft picks struggling to perform in prominent roles, Bill Belichick resorted to signing low-level free agents like Akeem Spence, Nick Thurman, and Tashawn Bower to fill holes.
Of course, those players didn't cost much. And while some of those new faces performed better than expected, the Patriots still got exposed as a slow defense that lacked size up front.
On the other side of the ball, New England was an unmitigated disaster. Cam Newton's impressive work ethic and positive demeanor couldn't overshadow his unimpressive game film and uninspiring numbers. The former Carolina Panthers star only threw eight touchdown passes in 15 starts.
However, Belichick didn't exactly set his new quarterback up for success. The Patriots' glaring lack of starting-caliber players at wide receiver and tight end showed up on a weekly basis. Former first-round pick N'Keal Harry averaged a paltry 9.4 yards per catch. Devin Asiasi and Dalton Keene combined for five catches after arriving as third-round picks in the 2020 NFL draft.
The Patriots clearly need better talent at key positions.
And they need help fast.
Bill Belichick officially has an extra $23 million in his pocket to quickly fix a flawed roster
Even though the Patriots lost a league-high eight players to the COVID-19 opt-out policy, Bill Belichick took an incredibly conservative approach to building the 2020 roster.
Perhaps the uncertainty of the coronavirus convinced him to play it safe. Or maybe his explanation that the Patriots "sold out" over the last few years actually has some element of truth to it. Ultimately, his method of conducting business has put New England in a fantastic position to make a quick turnaround.
On Thursday, ESPN's Field Yates tweeted the official amount of money each NFL team will carry over for the 2021 season. While Tom Brady's team has an adjustment amount of $-448,892, the Patriots fall on the opposite end of the spectrum.
Armed with an additional $23,312,547 in salary-cap space, Belichick has an opportunity to land instant-impact players in free agency. And with the cap expected to land somewhere in the range of $180 million, many teams will have to cut talented veterans to get their finances in order.
So who might Belichick target on the open market to help propel the Patriots back to the top of the AFC East?
New England can vault back to the top of the AFC East by investing wisely in free agency
With an extra $23 million in his pocket, Bill Belichick certainly has the financial flexibility to dramatically improve his team in a single offseason.
On offense, everything starts with finding a starting quarterback. That could entail signing Ryan Fitzpatrick as the bridge guy to a draft pick. Or perhaps the Patriots will indeed go after Marcus Mariota and give him a chance to resurrect his career.
But especially because of Belichick's poor track record in the draft, the bulk of New England's riches should go toward the skill positions. Luckily for the Patriots, a number of talented receivers and tight ends could hit the open market, including:
Allen Robinson, WR, Chicago Bears
Chris Godwin, WR, Tampa Bay Buccaneers
Kenny Golladay, WR, Detroit Lions
Will Fuller, WR, Houston Texans
Curtis Samuel, WR, Carolina Panthers
JuJu Smith-Schuster, WR, Pittsburgh Steelers
Corey Davis, WR, Tennessee Titans
Jonnu Smith, TE, Tennessee Titans
Hunter Henry, TE, LA Chargers
Gerald Everett, TE, LA Rams
If they land at least one of the top receivers available and a proven veteran tight end, that will give whoever lines up under center a much better chance of succeeding on Sundays. And if the Patriots take that route, they can invest their draft resources on a potential franchise quarterback and high-upside defensive linemen and linebackers.
But given his history of going bargain shopping, it will be interesting to see if Belichick changes his ways in the ensuing months.
If not, the rest of the teams in the AFC East will continue to sprint past the franchise that ruled the division the last two decades.
All statistics courtesy of Pro Football Reference.