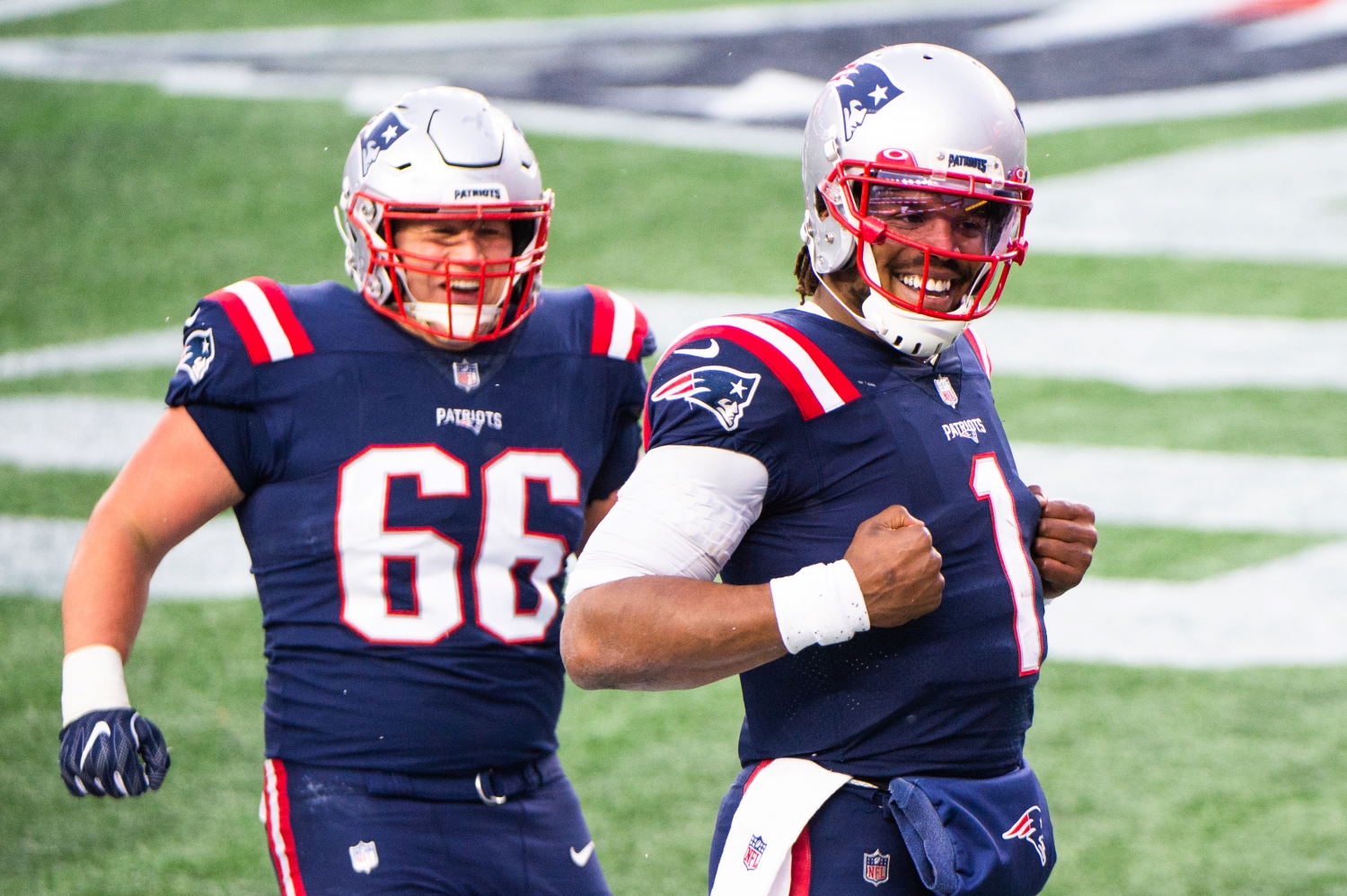 Cam Newton Proves He's Completely Delusional About His NFL Future With Ridiculous Comment About Himself
Despite his disastrous season with the Patriots, Cam Newton has no grasp on the fact that he is not a starting-caliber NFL QB anymore.
Apparently Cam Newton didn't watch film of himself from his dismal first season with the New England Patriots.
Because based on his ridiculous comment from his appearance on the I Am Athlete podcast, it's clear that the former Carolina Panthers star has absolutely no concept of reality about his NFL future.
Cam Newton failed to rehab his value in his first season with the Patriots
Bill Belichick took a low-risk, high-reward gamble on Cam Newton last season.
Needless to say, the Patriots got exactly what they paid for.
Signed to a league-minimum deal that included added contract incentives, Newton managed to avoid the injury issues that plagued him during his final years with the Panthers.
While his improved health allowed him to start 15 games, New England fans grew frustrated with watching the former No. 1 pick consistently fail to deliver on Sundays.
Newton only threw eight touchdown passes on 368 attempts. Meanwhile, he tossed 10 interceptions and committed six fumbles while going 7-8 as a starter.
The 6-foot-5, 245-pound signal-caller did rack up 592 yards and 12 touchdowns as a runner. However, his inability to make basic throws— coupled with his questionable decision making—made his first season in Foxborough an absolute flop.
With free agency around the corner, it certainly seems like Newton's value is at an all-time low.
The former Panthers star's ridiculous comment proves he's absolutely delusional about his NFL future
Although Cam Newton did acknowledge his struggles throughout the year, that didn't stop the 31-year-old from recently making a ridiculous comment that proves he doesn't have a grasp on reality when it comes to his football future.
During an appearance on the I Am Athlete podcast, Newton spoke about a number of topics with former NFL players Brandon Marshall, Chad Johnson, and Fred Taylor.
Of course, the discussion included the idea of retiring, which doesn't seem like a completely unrealistic option based on how his career has gone in recent years.
Yet, Newton took things to an entirely different (and delusional) level with his response to the idea of hanging up his shoulder pads and helmet for good.
"Hell no! I can't go out like that," he said. "I hear all of that talk. My pride won't allow me to do it. There aren't 32 guys better than me."
Oddly enough, Newton might actually be correct in his assessment. Because based on what he put on tape in 2020, there might be more than 32 guys capable of playing the quarterback position better than the former NFL MVP.
In a league where topping 3,000 passing yards and 25 touchdowns seems routine, Newton hasn't achieved both feats in a single season since 2015. In fact, that represented the only time in his career in which he surpassed 24 passing touchdowns.
Plus, the wear and tear on his body has sapped the former Heisman Trophy winner of the explosive athleticism that made him a nightmare to stop back in his prime.
Needless to say, the days of "Superman" seem long gone.
Will Newton be back in New England for the 2021 season?
Cam Newton deserves plenty of praise for his work ethic. After all, even though he did not live up to expectations with the Patriots, he certainly earned respect from his teammates and coaches for his effort on and off the field.
But no matter how much time he dedicated to preparing his mind and body, he simply never found any semblance of consistency running Josh McDaniels' offense.
With his 32nd birthday rapidly approaching, Newton doesn't have time on his side. He only played two games in 2019, and he looked more like practice squad material in 2020 rather than a player who deserved to start on Sundays.
Yet, based on his own words, Newton is under the delusion that he should have a QB1 role for some NFL team in 2021.
A return to the Patriots remains a possibility. After all, it's not like Belichick can afford to completely write off any option at the quarterback position.
However, New England needs to admit the experiment failed and move in another direction. Otherwise, the team will waste yet another year trying to salvage a signal-caller who simply does not offer enough upside to warrant such an investment.
Still, that doesn't mean Newton won't find a new NFL team to play for this fall. The Washington Football Team could offer him a chance to try and rehab his value under former Panthers head coach Ron Rivera.
But given their recent investment in Taylor Heinicke, Washington clearly thinks the 27-year-old has a chance to be the long-term answer at the most important position in sports.
So even if Newton does reunite with Rivera, he might find himself backing up the former undrafted free agent out of Old Dominion.
And if that happens, it will only highlight the fact that the former No. 1 pick no longer ranks as one of the top-32 quarterbacks in the NFL.
And barring something completely unforeseen, he never will again.
All statistics courtesy of Pro Football Reference.