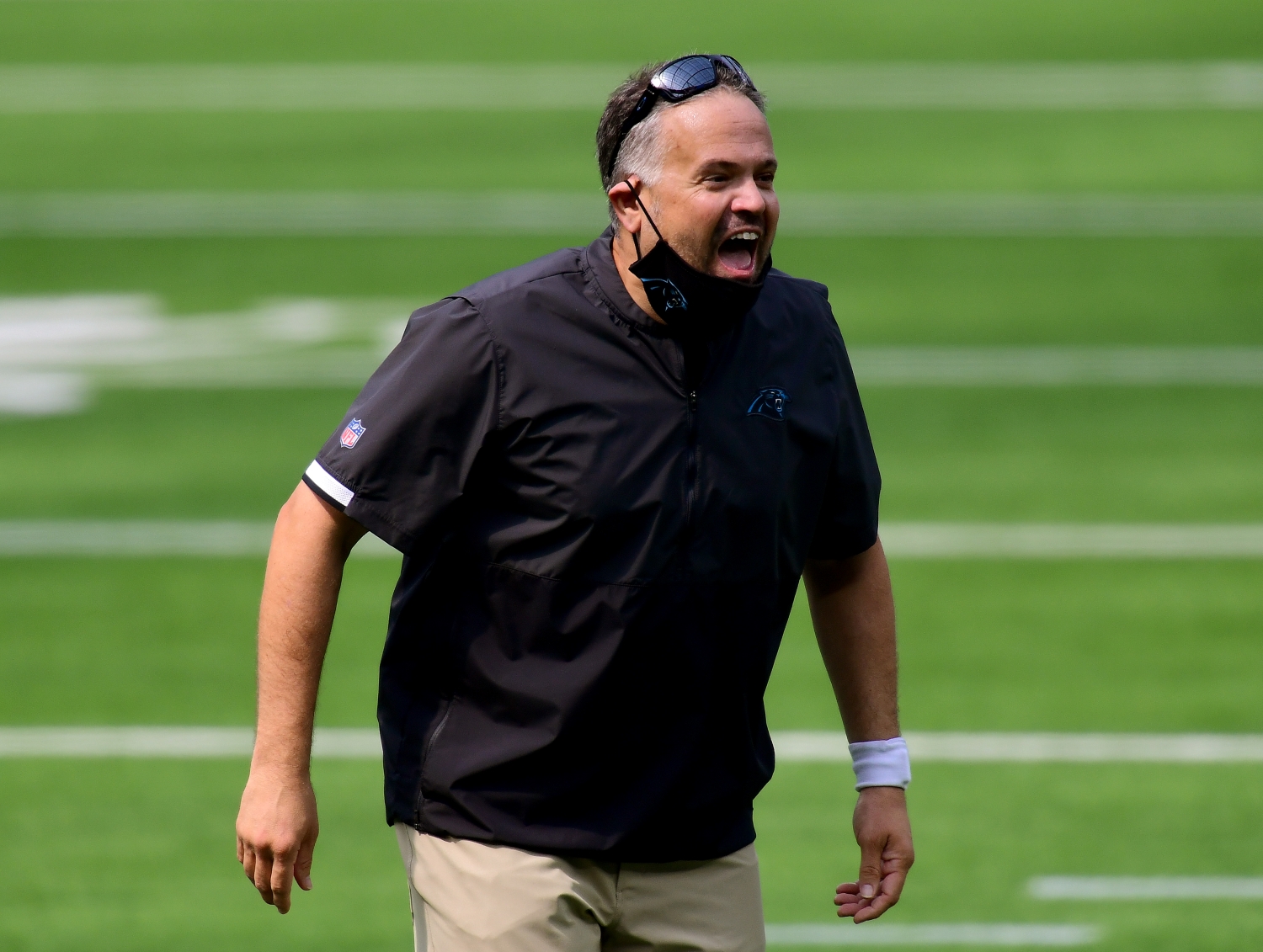 The Carolina Panthers Have Suddenly Secured an Extra $24 Million to Set Up Their Pursuit of the NFL's Most Disgruntled Star
The Carolina Panthers have been busy creating extra salary cap space in an effort to land a franchise-altering quarterback: Deshaun Watson.
The Carolina Panthers showed flashes of potential in Matt Rhule's first season as an NFL head coach. However, the NFC South franchise still has plenty of work to do in order to become a legitimate Super Bowl contender.
Obviously, finding a long-term answer at the quarterback position remains priority No. 1.
And thanks to a recent series of transactions, the Panthers suddenly have an extra $24 million to secure the future of their franchise.
Carolina has created a significant amount of salary-cap space this week
For the Panthers, planning for the future has been a clear theme this week. Carolina made several cost-cutting moves to free up precious salary-cap space.
On Wednesday, the team severed ties with veteran defensive tackle Kawann Short. The two-time Pro Bowler only played five games the last two seasons due to injuries. Releasing Short cleared $8.66 million off the books, per ESPN.
On Friday, the Panthers once again purged their roster of several players who didn't fit in with the team's future financial plans.
Carolina gained $5.9 million in cap space by releasing defensive end Stephen Weatherly.
The team saved an additional $3.55 million by designating safety Tre Boston as a post-June 1 release.
In addition, the release of punter Michael Palardy saved the Panthers $1.787 million.
Those moves combined to give Carolina $19.9 million in additional salary-cap space.
And on Saturday, that figure jumped to north of $24 million.
ESPN's Field Yates reported via Twitter that the Panthers converted center Matt Paradis' $8.03 million base salary into a signing bonus. In doing so, they created roughly $4.6 million in salary-cap space.
The Panthers now have the financial wriggle room to secure the future of their franchise
According to David Newton of ESPN, the Panthers' recent string of releases are part of an overall plan to make a major upgrade at the most important position in sports. Throw in Saturday's restructure with Paradis, and it's clear Carolina has its sights set on landing a major upgrade at the quarterback spot.
Carolina reportedly offered the No. 8 pick, a fifth-round selection, and Teddy Bridgewater to the Detroit Lions in exchange for Matthew Stafford.
Obviously, though, the LA Rams blew that proposed deal out of the water in order to land the former No. 1 pick.
However, after swinging and missing on Stafford, the Panthers have aggressively worked to create much-needed salary-cap space to go after an even better option: Deshaun Watson.
According to Newton's source, Carolina plans "to make a strong run" at acquiring the Houston Texans star. Of course, that will require Nick Caserio to reverse course from his public stance on the franchise having no interest in trading the team's best player.
Although Watson only carries a $15.94 million cap hit for 2021, that figure balloons to $40.4 million in 2022.
So while releasing several veteran contributors may sting, the Panthers can find replacements via other avenues. However, the opportunity to land a proven star has to be enticing for a team that has desperately needed a franchise quarterback for several years.
Is Deshaun Watson destined to become Tom Brady's new NFC South rival?
Now that they have created a significant chunk of salary-cap space, the Panthers have positioned themselves to be a serious contender in the Deshaun Watson sweepstakes. But as much as Matt Rhule would love to run his offense though the dynamic QB, that doesn't necessarily mean the former Clemson star will call North Carolina home anytime soon.
After all, it will take more than financial wriggle room to land the 25-year-old.
Based purely on what they can offer, the Panthers do not appear to be the strongest contender if there's a bidding war for Watson's services. While the team does hold the No. 8 pick, the Miami Dolphins and the New York Jets possess multiple first-rounders that seemingly make them better potential trade partners for the Texans.
With that in mind, it seems almost guaranteed that Carolina would have to send multiple future first-round picks (plus an established player) to convince Houston to send the three-time Pro Bowler to the NFC South.
But with Tom Brady and the Tampa Bay Buccaneers running the division, perhaps that will sway the Panthers to "overpay" to acquire a surefire superstar. Because until they have a legitimate franchise quarterback, they don't stand a chance at winning their own division…let alone a Super Bowl title.
Will the disgruntled Texans signal-caller become the next man to line up under center for David Tepper's team?
If Houston gives in and officially puts Deshaun Watson on the market, you can bet Carolina will do everything possible to make that dream a reality.
Like Sportscasting on Facebook. Follow us on Twitter @sportscasting19.