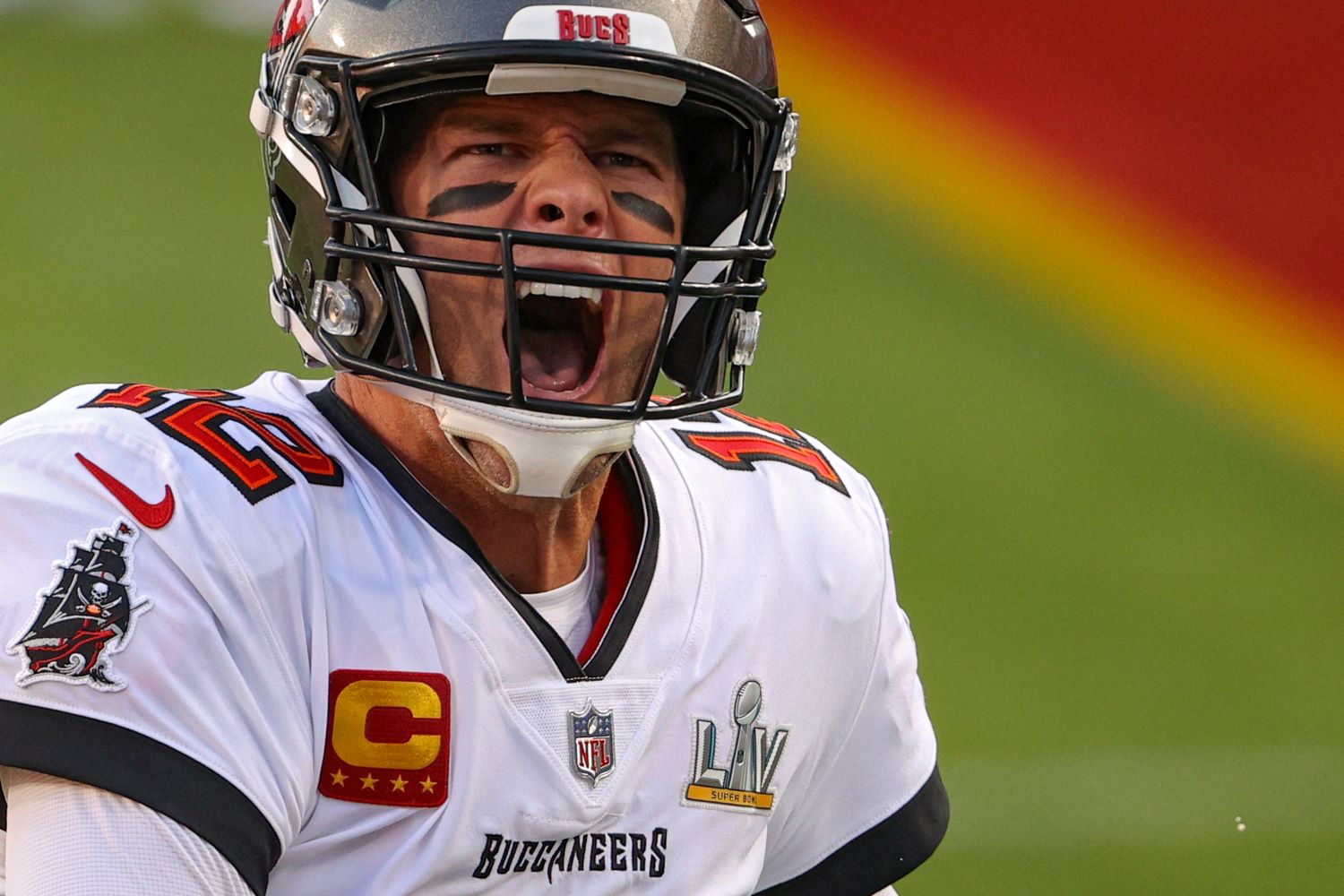 Tom Brady May Soon Have a Future NFL Hall of Famer as His Newest Teammate
Tom Brady already has a boatload of weapons in Tampa, but future NFL Hall of Famer Adrian Peterson sounds desperate to join the Buccaneers.
Tom Brady already has a ton of proven playmakers at his disposal. But if the Tampa Bay Buccaneers honor one future NFL Hall of Famer's wish, the greatest quarterback of all time will soon have a new teammate down in Florida.
And if general manager Jason Licht manages to add another offensive skill player to the mix, it might be impossible for any defense to slow down the Bucs next season.
Tom Brady has played with a number of superstars during his decorated career
Tom Brady grew frustrated with his lack of weapons in New England during his final few years with the team.
However, the seven-time Super Bowl champion got to call many talented players his teammates throughout the course of his time with the Patriots.
From a pure talent perspective, Randy Moss still ranks as the best receiver to ever catch passes from Brady. The electrifying wideout completely obliterated expectations by catching a record-setting 23 touchdowns in his first year in Foxborough.
His quarterback set the single-season passing touchdown record that year by throwing 50 TD for a Patriots squad that finished one game shy of completing a perfect season.
Of course, the post-Moss offense shifted dramatically in terms of philosophy.
That gave Rob Gronkowski a chance to put his rare skillset on full display. The big-bodied tight end quickly emerged as one of the most difficult one-on-one matchups in the NFL. Although he suffered a number of injuries during his Patriots career, Gronkowski made plenty of magic with Brady.
Fittingly, his final catch in a New England uniform came in Super Bowl 53, which set up the game's only touchdown.
Besides Moss and Gronk, Brady has also thrown plenty of passes to stars like Julian Edelman and Wes Welker. And while the Patriots have rarely featured a true No. 1 running back, the team did enjoy the benefit of having Corey Dillon carry the load during their third Super Bowl run.
The Buccaneers QB may soon have a future NFL Hall of Famer as his newest teammate
Fresh off his seventh Super Bowl win, Tom Brady has to be ecstatic about sticking it to Bill Belichick in his first season away from Foxborough.
Unfortunately for a fellow future Hall of Famer, he's still searching for his first one.
But that could soon change if the Buccaneers are interested in adding one of the greatest running backs in NFL history to their roster.
Recently, Adrian Peterson expressed his desire to come to Tampa.
"That would definitely be something that I'm interested in," the 35-year-old told TMZ Sports. "Playing with Tom Brady…that by itself is enticing."
He further added, "I don't know what they're going to have going for next season, but if they want me to be a part of it, I'll be a part of it for sure."
Although Peterson has earned seven Pro Bowl selections and an NFL MVP trophy during his Canton-worthy career, he still has one big accomplishment missing from his Hall of Fame resume: a Super Bowl ring.
"I'm definitely trying to add a trophy to my resume," Peterson explained.
Should Tampa even be interested in signing Adrian Peterson?
Tom Brady and Adrian Peterson will both get inducted into the Pro Football Hall of Fame, but that doesn't necessarily mean the two living legends will become teammates.
Sure, the seemingly-ageless running back played all 16 games in his first (and apparently only) season with the Detroit Lions. However, Peterson has only topped 1,000 rushing yards once since his dominant 2015 season that included a league-leading 327 carries for 1,485 yards and 11 touchdowns.
The Buccaneers must first decide whether to retain Leonard Fournette. The former first-round pick fared much better in Tampa after falling out of favor in Jacksonville. Will Jason Licht want to invest a ton of money on a back who hasn't been the model of consistency since he entered the NFL as the fourth-overall pick back in 2017?
Plus, Ronald Jones ran for a career-high 978 yards during the regular season. If Peterson comes on board, he would likely eat into the young back's snaps.
At the end of the day, though, if TB12 wants AP to come to Tampa, don't be surprised to see the future Hall of Famers lining up in the same backfield next season.
Because as we saw with Antonio Brown and Rob Gronkowski, the Bucs seem willing to do anything to make their quarterback happy.
Patriots fans only wish Bill Belichick did the same.
All statistics courtesy of Pro Football Reference.