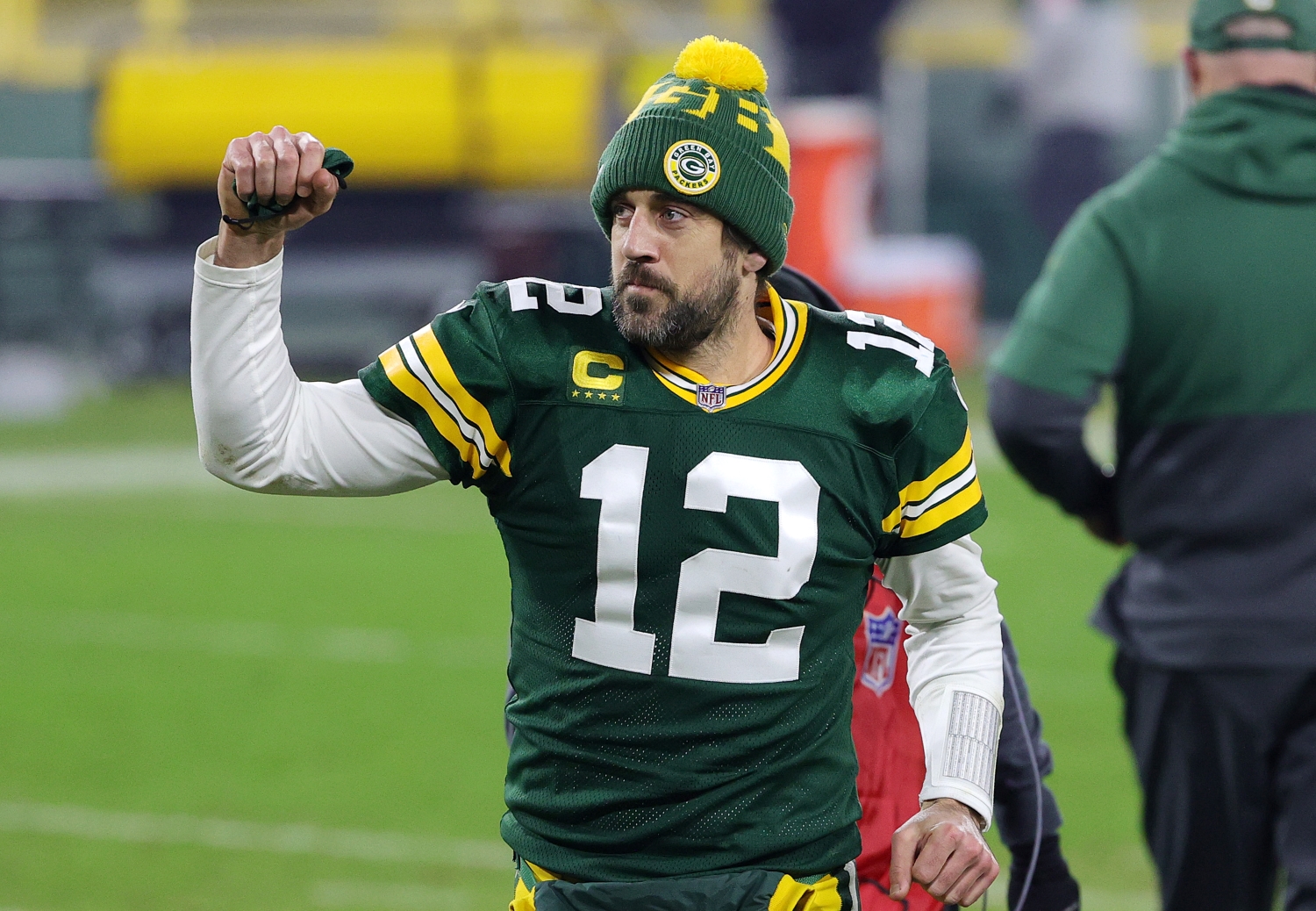 Aaron Rodgers May Soon Receive a Long-Awaited Gift From the Packers
Aaron Rodgers may soon receive a long-awaited gift from the Packers that could finally put the team over the top for the 2021 NFL season.
Green Bay Packers fans may want general manager Brian Gutekunst to add another receiver for Aaron Rodgers, but the fact remains that the team's defense needs far more help.
Luckily for the future Hall of Fame quarterback, he may soon receive a long-awaited gift from the same GM who surprisingly drafted his potential successor last April.
And considering he may not be around much longer in Green Bay, Rodgers should be thrilled about the Packers' reported interest in a player who absolutely has the ability to transform the team's defense into an elite unit.
Green Bay's defense hasn't exactly held up its end of the bargain over the years
The fact Aaron Rodgers only has one Super Bowl ring to his name has much to do with a Packers defense that simply hasn't held up its end of the bargain on a consistent basis. After ranking second in points allowed in 2010, Green Bay has ranked in the top-10 just once, which came in 2019.
Last season, Mike Pettine's unit finished just 13th in points allowed.
Meanwhile, Rodgers earned NFL MVP honors after throwing a league-high 48 touchdown passes for the No. 1 offense in football.
Specifically, Green Bay's defensive woes have shown up in the biggest moments. Despite earning a postseason berth on a near-annual basis, the NFC North franchise hasn't come close to tasting championship glory again.
And the defense remains the No. 1 culprit.
In 2011, the New York Giants dropped 37 points on the top-seeded Packers at Lambeau Field to earn a spot in the NFC championship.
The following year, Colin Kaepernick and the San Francisco 49ers put up 45 points in another lopsided divisional-round loss for Green Bay.
Two years later, the Packers completely fell apart in the second half against Russell Wilson and the Seattle Seahawks in the NFC championship. Rodgers and the offense mustered just six second-half points. Meanwhile, the defense surrendered 28 points after halftime in a game that ended with a final score of 28-22.
Before the Atlanta Falcons blew a lead of their own in Super Bowl 51, they dropped 44 points on the Packers in the NFC title game to send Rodgers and Co. home early…again.
And a year ago, Green Bay lost yet another conference championship showdown by giving up 37 points to the 49ers.
Even worse?
San Francisco only attempted eight passes and still won with ease.
Aaron Rodgers could soon get a long-awaited gift from the Packers
Aaron Rodgers certainly hasn't been perfect, but it's clear that he isn't the biggest problem in Green Bay. Rather, the Packers' inability to consistently perform at a high level on defense remains a major issue.
And with the decorated quarterback hinting that he may be playing elsewhere sooner than later, it's certainly possible that Rodgers will only have one or two more cracks at winning a Super Bowl title with the only franchise he's ever suited up for.
Luckily for the three-time NFL MVP, he may soon receive a long-awaited gift that could help him achieve that mission.
Because after watching his team largely sit out the free-agent process over the years, it looks like Rodgers could have a new teammate in Green Bay who boasts star power, proven production, and excellent leadership abilities.
According to Bill Huber of Packer Central, a league source confirmed that the Packers are one of about a dozen teams that have shown interest in signing J.J. Watt.
The Houston Texans icon recently got released as part of a mutual decision between he and the team. Free to sign anywhere, Watt will look to join a team that presents him with a strong opportunity to win his first Super Bowl ring.
Green Bay certainly offers the former University of Wisconsin star a chance to do just that.
Why signing J.J. Watt is more important than getting the star quarterback another weapon
Adding J.J. Watt wouldn't necessarily make Aaron Rodgers a better player. After all, unless the Packers plan on using the 6-foot-5 defensive end at tight end, he won't catch a single pass from the superstar quarterback.
However, signing the longtime Texans star would give Rodgers a much better chance at winning his second Super Bowl ring.
In fact, a fair argument can be made that doling out major dollars for Watt would represent a better investment for the Packers than signing a free-agent receiver to a lucrative contract.
As long as Davante Adams is in the fold, Rodgers already has one of the top-five best receivers in football. Robert Tonyan recently emerged as a legitimate weapon at tight end. And if Aaron Jones re-signs with Green Bay, that will give the Packers another elite playmaker on offense. Adding another weapon or two through the draft costs much less than signing a veteran on the open market.
On the other hand, adding Watt would provide a significant upgrade to a defense that only had one player surpass five sacks last season. His size, strength, and versatility would fit well up front next to Kenny Clark, Za'Darius Smith, and Preston Smith.
Plus, his presence could open up more opportunities for 2019 first-round pick Rashan Gary, who totaled just five sacks and 11 quarterback hits in 2020.
An improved defense would go a long way in helping the Packers finally live up to their Super Bowl potential. Because as Rodgers proved in 2020, he still has what it takes to win on Sundays.
But if Green Bay doesn't make upgrades on the other side of the ball, he will never win another ring…at least not with the Packers.
All statistics courtesy of Pro Football Reference.