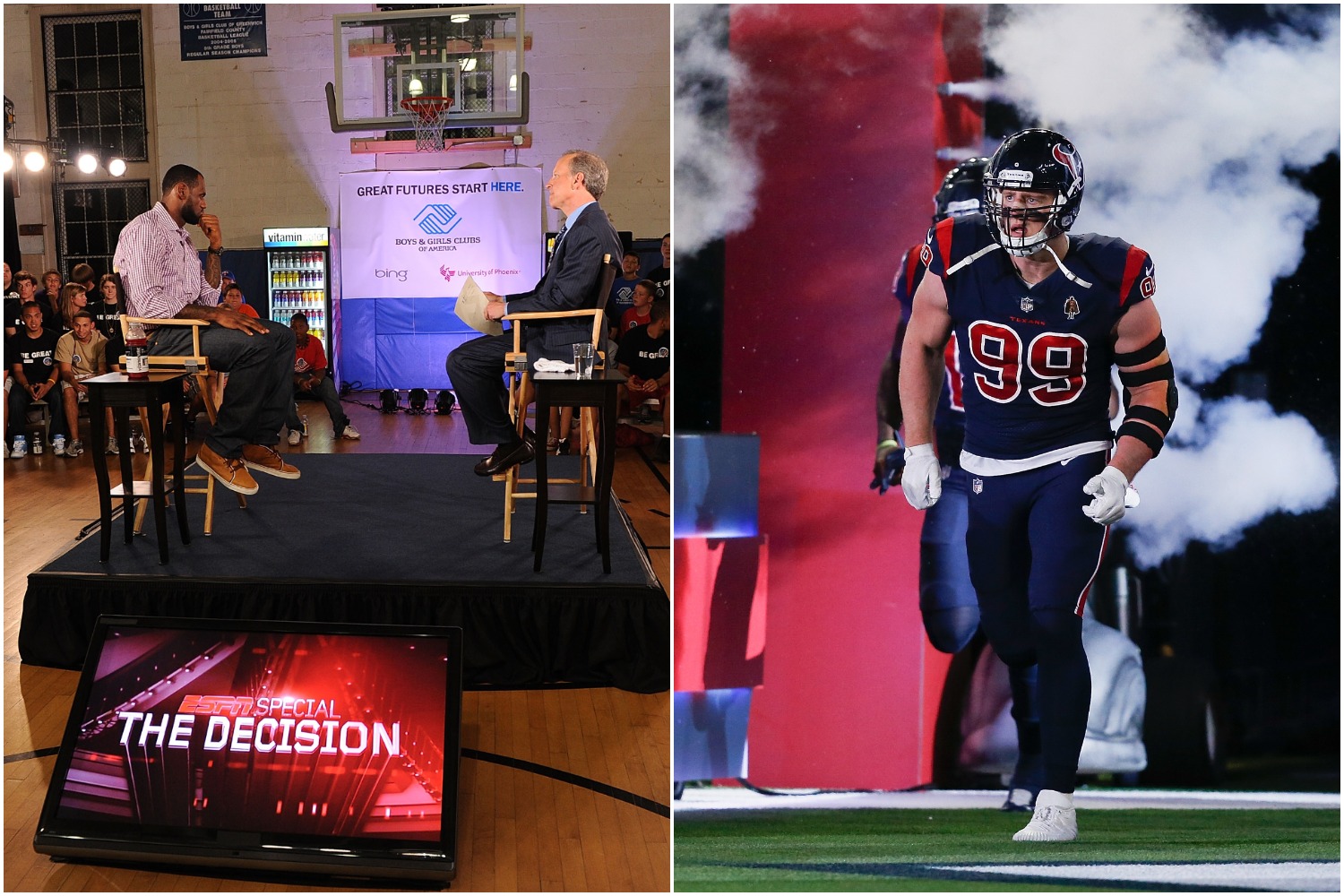 J.J. Watt Needs to Pull a LeBron James With His Free Agency Decision
With the opportunity to choose his next NFL team, former Texans star J.J. Watt needs to pull a LeBron James with his free agency decision.
With the Houston Texans granting him his release, J.J. Watt now has the opportunity to play for another NFL team. And if he wants to maximize what could be his last chance at winning a Super Bowl ring, he needs to pull a LeBron James with his free agency decision.
And no, that doesn't mean Watt needs to have his own TV special to announce his next move.
Rather, the NFL star simply needs to follow in the NBA legend's footsteps when choosing his next destination.
An end of an era in Houston
J.J. Watt joined the Texans as the 11th overall pick of the 2011 NFL draft. It didn't take long to realize Houston got a steal with that selection.
After a solid rookie season, the 6-foot-5, 288-pound defensive end led the league with 20.5 sacks and 39 tackles for loss. Watt earned his first of three NFL Defensive Player of the Year honors, which also put him in line for a sizable raise.
Following another double-digit sack campaign, he signed a six-year, $100 million contract extension prior to the 2014 season.
He responded by totaling 20.5 sacks and a league-high 29 tackles for loss.
However, after a 17.5-sack season in 2015, Watt suffered a brutal string of injuries that forced him to miss significant time. From 2016-2020, he only suited up in 48 games.
Although the future Hall of Famer finally played all 16 games last season, he didn't stuff the stat sheet like normal. Watt only totaled five sacks and 17 tackles for loss for a Houston team that went 4-12.
And with the future of the franchise hanging by a thread, the veteran got his wish and got released by the team on Friday.
J.J. Watt has already drawn interest from several NFL teams
J.J. Watt spent a decade in Houston terrorizing quarterbacks and anyone else who crossed his path on the field.
Now, the 31-year-old has the opportunity to join any of the 31 remaining teams.
And it hasn't taken long for potential suitors to express interest in adding a player who many consider to be one of the greatest defensive linemen of all time.
On Friday night, ESPN's Ed Werder reported via Twitter that approximately 12 teams have shown interest in signing the five-time Pro Bowler. Werder named the Pittsburgh Steelers, Cleveland Browns, Buffalo Bills, and Tennessee Titans as franchises who could make a move for Watt.
Given his desire to join a team with legitimate Super Bowl aspirations, all four of those AFC contenders seem like logical landing spots.
However, if Watt truly wants to make the most of his first shot at free agency, he shouldn't sign with any of those teams.
Instead, he needs to pull a LeBron James with his next career move.
The former Texans star needs to pull a LeBron James with his free agency decision
Like J.J. Watt, LeBron James put his blood, sweat, and tears on the line for the franchise that drafted him. However, after falling short on multiple occasions with the Cleveland Cavaliers, the NBA star wanted to jump ship to a team that offered a better chance at winning a title.
While James earned plenty of criticism for announcing his decision on live TV, he made the right choice by leaving the cold weather of Cleveland for the warm sunshine of South Florida.
And Watt should do the same.
The Miami Dolphins present a fantastic fit for the newly-minted free agent.
First, the team has ample cap space to sign the former Texans star to a fair contract. Plus, with no state income tax, Watt could keep more money in his pocket by taking his talents to Miami.
From a football perspective, the Dolphins also offer the aging star a chance to win a Super Bowl title. After posting a surprising 5-11 record with little talent with which to work, Brian Flores led the Dolphins to a 10-6 record last season. Miami ranked sixth in points allowed, so the addition of Watt could take the defense to an even higher level.
He would also provide a strong voice in the locker room, which would be a welcomed addition for a team that still needs to learn how to sustain success and build a winning culture.
And let's not forget that the Dolphins could still make a major move at quarterback to strengthen their chances of winning a Super Bowl title.
After all, Deshaun Watson wants out of Houston, and Miami can offer a fair trade package centered around Tua Tagovailoa and draft picks.
Wouldn't it be fitting if the Texans' two biggest stars reunited in Miami?
If T.J. Watt's brother pulls a page out of LeBron James' playbook, that may just happen after all.
All statistics courtesy of Pro Football Reference.