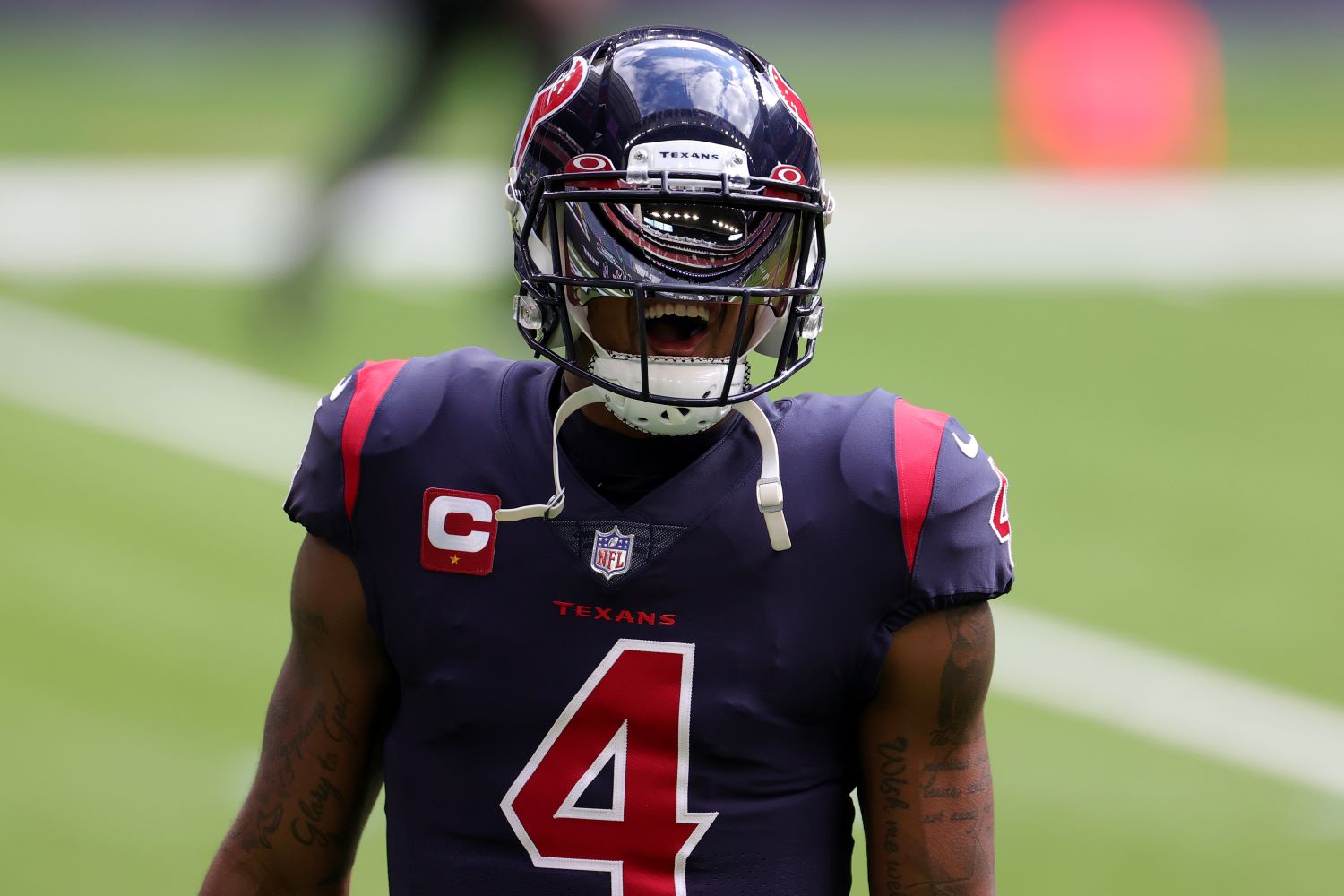 The Texans' Reported Asking Price for Deshaun Watson Will Cost Way More Than Just Draft Picks
The Houston Texans reportedly want a huge haul for Deshaun Watson. Which NFL teams can meet their high asking price for the star quarterback?
With one star NFL quarterback already traded, will Deshaun Watson be the next Pro Bowl signal-caller to get dealt? That depends on whether another NFL team will agree to the steep price the Houston Texans have reportedly set for their disgruntled franchise quarterback.
And now that we have a better idea of what it will take to pry the former Clemson star away from Houston, it makes it easier to put together potential trade packages and project where Watson will ultimately land.
The Matthew Stafford trade cost the Rams dearly
The NFL offseason has begun for 30 teams, and it certainly hasn't taken long for a stunning move to occur. On Saturday, the LA Rams shipped Jared Goff to the Detroit Lions in a monster deal for Matthew Stafford.
To call the price high would be an understatement. After all, the Rams had to send two first-round picks, along with a third-round selection, to swap one former No. 1 pick for another. LA also took on a $22.2 million dead-cap hit charge by trading Goff.
Obviously, though, Sean McVay and Les Snead believe Stafford has what it takes to turn LA into a Super Bowl champion. Widely respected for his toughness, the 32-year-old finally has a chance to legitimately compete for a title. The pairing of Stafford and McVay should help the Rams improve on offense after a down year in 2020.
Still, the trade also cost LA the ability to add blue-chip players in the future. By trading away multiple first-round picks for both Jalen Ramsey and Matthew Stafford, the Rams will not have a Day 1 pick until 2024. In fact, they will have gone seven straight drafts without taking a player in round one.
The Texans have named their price for Deshaun Watson
After watching the Rams give up a huge haul for Stafford, many viewed that as a barometer of what an NFL team will have to pay for Deshaun Watson.
However, that's not exactly the case.
After all, Stafford is much older and is certainly at least a notch or two below his peer. Plus, Goff's contract played a major role in the Rams having to give up such significant draft capital to acquire the longtime Lions QB.
On the other hand, the Watson situation differs greatly. The 25-year-old could actually be viewed as a bargain based on his current deal. And other than Patrick Mahomes, he might be the most talented quarterback in the league.
As such, it will cost a pretty penny (to put it lightly) to pry him from the Texans' clutches. In fact, we now know what Houston wants in a Watson trade thanks to John McClain.
According to the longtime NFL reporter, the Texans want two first-round picks, two second-rounders, and two young defensive starters in a deal for their upset franchise quarterback. In fact, McClain cautioned that the price could be even higher.
On the surface, that seems like a lot to give up.
But given his production while playing for arguably the NFL's worst-run franchise, Watson is absolutely worth that cost.
In fact, there are several teams that could meet those demands and immediately secure one of the league's brightest stars.
Which NFL team will convince Houston to trade its star QB?
Based on McClain's tweet, it will take both premium draft picks and young defensive starters to land Deshaun Watson.
The Miami Dolphins stand out as a team that can put together a deal that hits all those requirements.
Ironically, they have the Texans to thank for that.
Armed with extra picks from the Laremy Tunsil deal, Miami can satisfy Houston's desire for multiple picks in the first two rounds. Plus, the Dolphins have several young defenders who could interest the Texans, including Christian Wilkins, Jerome Baker, and Raekwon Davis.
The New York Jets also own multiple first-round picks in the 2021 NFL draft. But a Watson deal would likely have to include Quinnen Williams, who might be New York's only defensive player worth trading for other than Marcus Maye.
The Jacksonville Jaguars also have the draft capital the Texans seek. However, even a franchise as incompetent as Houston seems smart enough to not trade one of the best quarterbacks in football to a division rival.
Perhaps another team will mortgage future picks like the Rams in order to win the Watson sweepstakes. For now, though, it seems like the race for the star signal-caller will end with the three-time Pro Bowler getting sent to an AFC East team.
And this time, it won't be Bill Belichick getting the last laugh over the rest of the division…unless Nick Caserio decides to do his former boss one big favor.
Like Sportscasting on Facebook. Follow us on Twitter @sportscasting19.