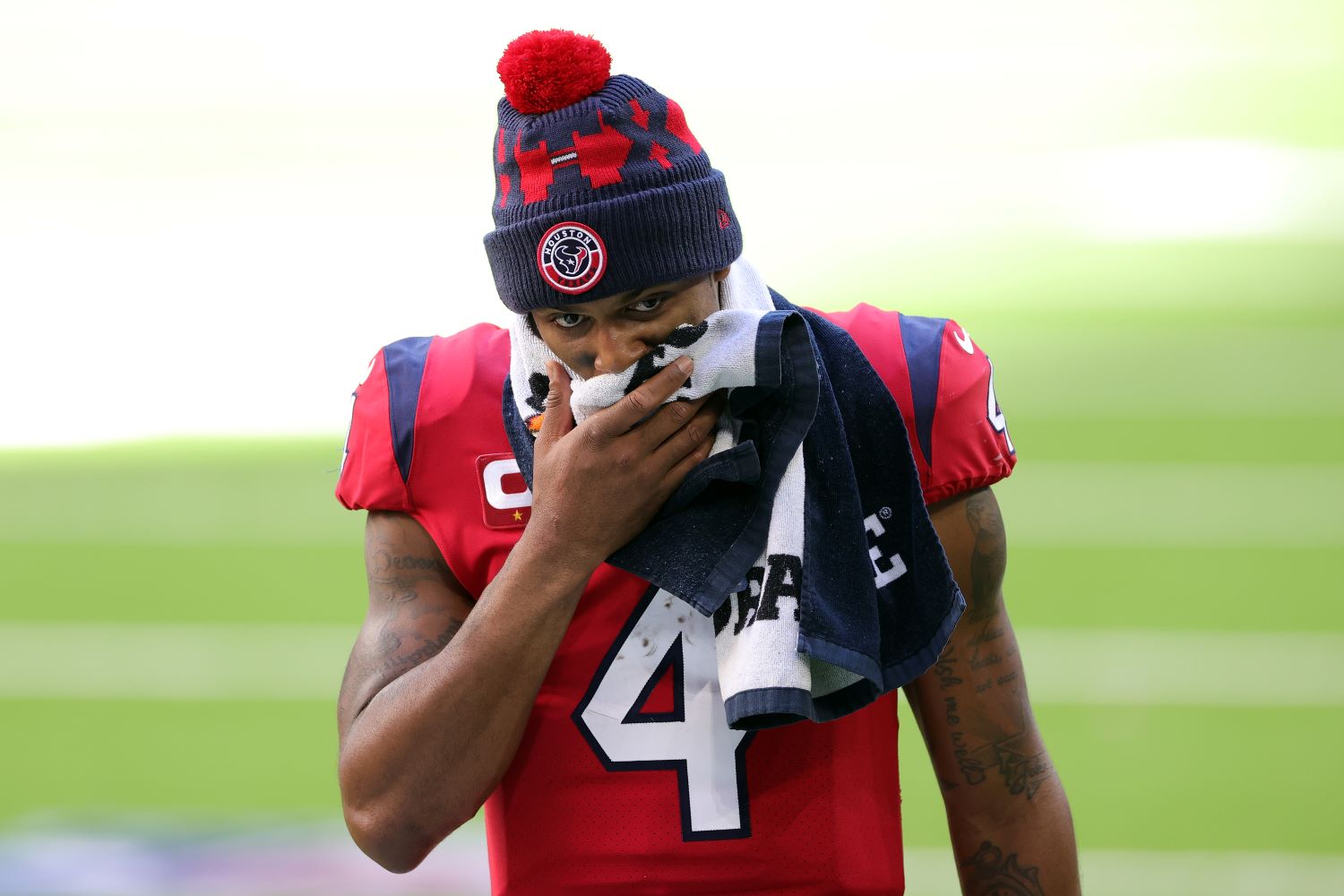 Deshaun Watson Just Taught the Texans a Terrifying Lesson in Social Distancing
Deshaun Watson just taught the Texans a terrifying lesson in social distancing. Will the disgruntled quarterback find a way out of Houston?
Before 2020, the concept of "social distancing" didn't exist. But thanks to the COVID-19 pandemic, we all received a tough tutorial on a topic no one planned on learning about.
On Saturday, though, Deshaun Watson took things to another level by teaching the Houston Texans a terrifying lesson in #socialdistancing. Only in this situation, he wants way more than six feet of safe space.
Because based on everything that has transpired in recent weeks, one thing is abundantly clear: The superstar quarterback desperately needs a change of scenery.
And publicly, at least, Watson has taken a sizable step forward to leave the Texans in the past.
Houston ruined its relationship with Deshaun Watson
Despite already having the most important piece of a championship puzzle, the Texans are in full crisis mode.
That's the case when your franchise quarterback officially wants out.
Even with Deshaun Watson locked up to a lucrative long-term deal, Houston will likely have a new signal-caller under center when the 2021 season begins.
The 25-year-old recently requested a trade after the team essentially ignored him during its search for a new general manager. Hiring David Culley as head coach did nothing to change Watson's mind about remaining in Houston.
Yet, when the topic of trading the team's biggest star came up on Friday, Nick Caserio made it clear that the Texans have no plans to do so.
"Organizationally, just want to reiterate our commitment to Deshaun Watson. He's had a great impact on this organization, a great impact on a lot of people, a great impact on this team," Houston's new GM told reporters. "We look forward to the opportunity to spend more time with him here this spring, once we get started. We have zero interest in trading the player."
The disgruntled quarterback just taught his team a terrifying lesson in social distancing
A day after the Texans tried to publicly distance themselves from the Deshaun Watson trade rumors, they just received a terrifying lesson from their most important player in social distancing.
Because based on his Instagram and Twitter accounts, the three-time Pro Bowler clearly has no interest in associating with Cal McNair's team.
On Saturday, multiple reporters pointed out that Watson removed any mention of the Texans on his social media accounts. Of course, that occurred less than 24 hours after Caserio stated that Houston has no interest in "trading the player."
By disassociating himself from the franchise, Watson no longer has just one foot out the door. Rather, it looks like he has completely shut the door on a potential resolution with a team that has failed to surround him with the right pieces to win a Super Bowl title.
Considering McNair basically chose Jack Easterby over his franchise quarterback, it makes perfect sense for Watson to finally say "enough is enough" by simply scrubbing the Texans' name from his social media accounts.
Houston should be terrified by Watson's latest move, especially considering how star athletes continue to use their influence and power to get what they want. While NBA stars have an easier path to control their fate, a true elite quarterback like Watson has the same ability to force his team to bow to his wishes.
But will he succeed in finding a new NFL home?
Who will win the sweepstakes for the Texans star?
Unless Patrick Mahomes is your quarterback, your team should be checking in to see what it will take to pry Deshaun Watson from the Texans. In reality, though, only a few franchises can actually offer anything close to fair value for an established star on a pretty affordable multi-year contract.
Ironically, the Dolphins and Texans could soon do business…again. Bill O'Brien sent a ransom to Miami in exchange for left tackle Laremy Tunsil. Now, those extra draft picks could get sent back to Houston in order to make Watson the new face of South Beach.
Of course, a Dolphins-Texans deal would have to include Tua Tagovailoa. Would Miami be willing to move the former Alabama QB less than a year after selecting him fifth overall? Or does Brian Flores want to build around the southpaw signal-caller by using that draft capital on position players?
Elsewhere around the league, the Jets also stand out as a potential (and perhaps the most likely) suitor for Watson's services. New York can also offer multiple first-round picks and a young quarterback with theoretical upside. But if Houston doesn't believe in Sam Darnold, that could give Miami the edge in the bidding war.
Plus, could another NFL team get involved? The Carolina Panthers reportedly will aggressively pursue Watson. Could Bill Belichick try and work his connection with Caserio to somehow steal his next starting quarterback?
While nobody knows where Watson will ultimately end up, he certainly has made it clear that the Texans don't deserve his time, attention, or affiliation.
Houston may pay the star quarterback millions of dollars, but he just gave the AFC South franchise a free (and terrifying) lesson in #socialdistancing.
Let's see how far away Watson ends up from Houston when all is said and done.
Like Sportscasting on Facebook. Follow us on Twitter @sportscasting19.