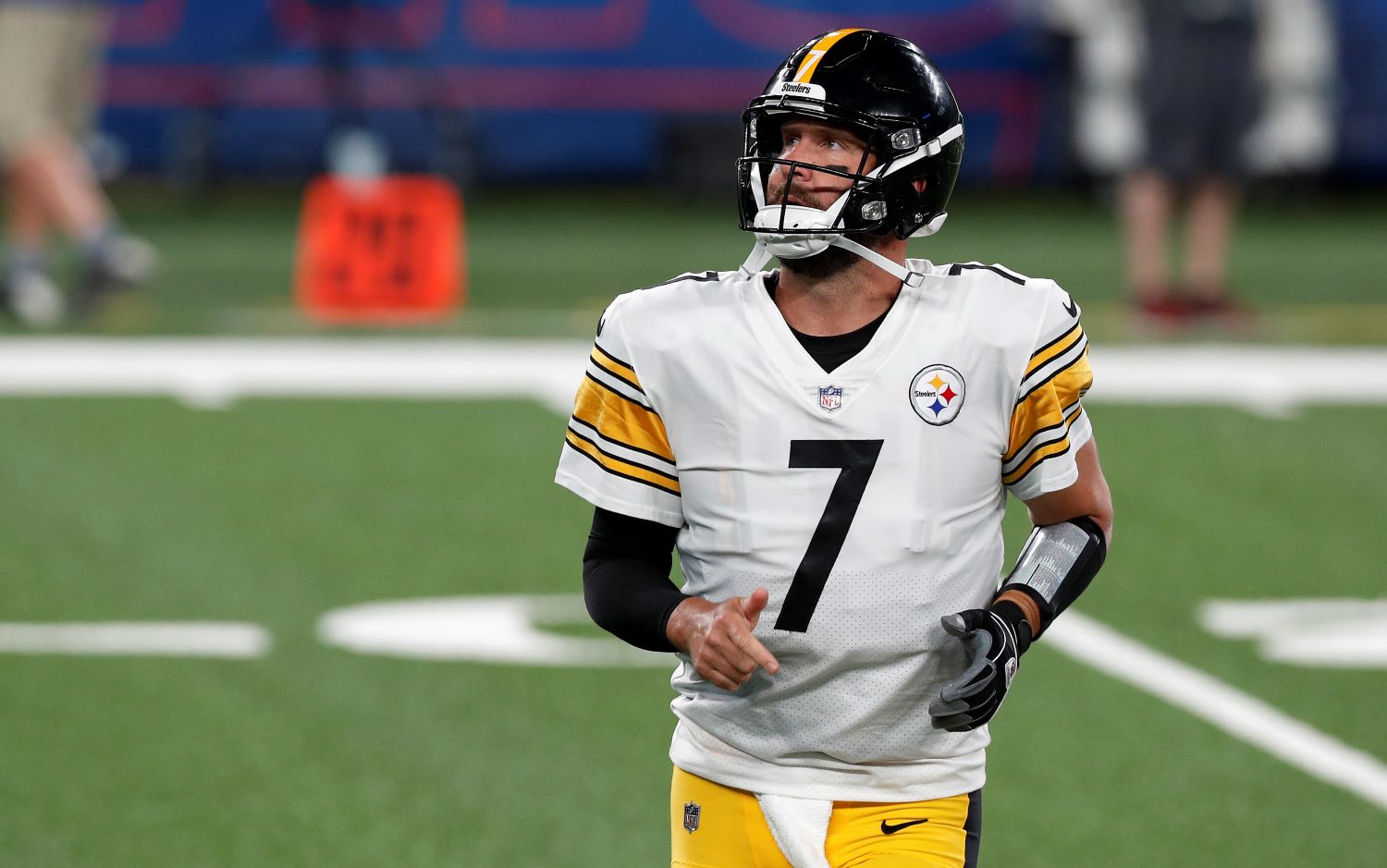 The Pittsburgh Steelers Have Given Ben Roethlisberger a $41 Million Ultimatum
The Pittsburgh Steelers have given Ben Roethlisberger a clear ultimatum, but does that mean the aging QB will remain in the AFC North?
Ben Roethlisberger stormed back from an injury-shortened 2019 season to help the Pittsburgh Steelers win the AFC North for the first time since 2017.
But that doesn't mean the aging quarterback will continue to suit up for Art Rooney's team.
In fact, the future Hall of Famer has been given a $41 million ultimatum by the only NFL franchise he's ever played for. Will that result in the two sides working out an agreement to keep Big Ben in Pittsburgh for at least one more year? Or will the Steelers have to find a new quarterback this offseason?
Ben Roethlisberger faces an uncertain future
When Ben Roethlisberger missed essentially the entire 2019 season with a serious elbow ailment that required surgery, it raised obvious concerns about his future with the Steelers.
Given his age and lengthy injury, the two-time Super Bowl champion entered the 2020 season with plenty of questions to answer.
Roethlisberger responded by delivering one of the better years of his Canton-worthy career.
In 15 games, the 6-foot-5, 240-pound signal-caller completed 65.6% of his passes for 3,803 yards, 33 touchdowns, and just 10 interceptions. However, his solid bounce-back campaign ended in embarrassing fashion.
Despite throwing for 501 yards and four touchdowns, Big Ben tossed four interceptions in Pittsburgh's 48-37 loss to the Cleveland Browns in the opening round of the NFL playoffs.
Although he proved he still has what it takes to play on Sundays, Roethlisberger's future in Pittsburgh remains uncertain. Considering he turns 39 in March and has only one year remaining on his contract, it's certainly not a guarantee that he will line up under center in a Steelers uniform when the 2021 season begins.
The Steelers have given their franchise quarterback a $41 million ultimatum
During the 2019 offseason, the Steelers signed Ben Roethlisberger to a two-year, $68 million contract extension.
Now, though, that deal could cost him his job in Pittsburgh.
In 2020, Big Ben carried a reasonable cap hit of $23.75 million. However, that number will climb in 2021…significantly.
And that's exactly why the Steelers icon has been given a $41 million ultimatum by the only team he's ever played for.
"Coach and Kevin have both been candid with Ben in terms of letting him know that the current contract structure is not going to work," Pittsburgh president Art Rooney said during a recent interview with team reporter Missi Matthews. "So we're going to have to figure out if we can work together to craft something that we all can live with."
Rooney, of course, was referring to Steelers coach Mike Tomlin and general manager Kevin Colbert. Both men (along with Rooney) must determine what to do about the aging quarterback's massive $41 million cap hit for 2021.
Pittsburgh can sign Roethlisberger to another extension, but that would be a big risk given his durability concerns.
On the other hand, based on a recent report from The Athletic that the 38-year-old QB is willing to restructure his deal, perhaps the Steelers will save valuable cap space and avoid having to replace one of the most decorated players in franchise history…for now.
How will Pittsburgh approach the quarterback position this offseason?
Even though he will have a bust in the Pro Football Hall of Fame one day, Ben Roethlisberger definitely isn't worth a $41 million cap hit at this stage of his career.
And by letting their longtime quarterback know that he will not be playing in Pittsburgh under his current deal, the Steelers have at least shown that they're willing to move on from Big Ben if they can't agree to a contract resolution.
Even if the two sides do strike an agreement, that doesn't mean Colbert and Tomlin should feel comfortable about the future of the franchise.
At best, Roethlisberger has a year or two left in the tank. And Mason Rudolph does not look like a viable option to succeed the future Hall of Famer.
In order to avoid a Patriots-like setback, the Steelers would be smart to invest an early-round pick on a quarterback in the 2021 NFL draft. Alabama's Mac Jones or Florida's Kyle Trask could fit in nicely in an offense that features plenty of playmakers.
Then again, will Tomlin and Colbert want to dedicate a first-round pick on a player who won't help their current quarterback?
Just ask Aaron Rodgers and the Green Bay Packers how that situation worked out.
All contract data courtesy of Spotrac. All statistics courtesy of Pro Football Reference.