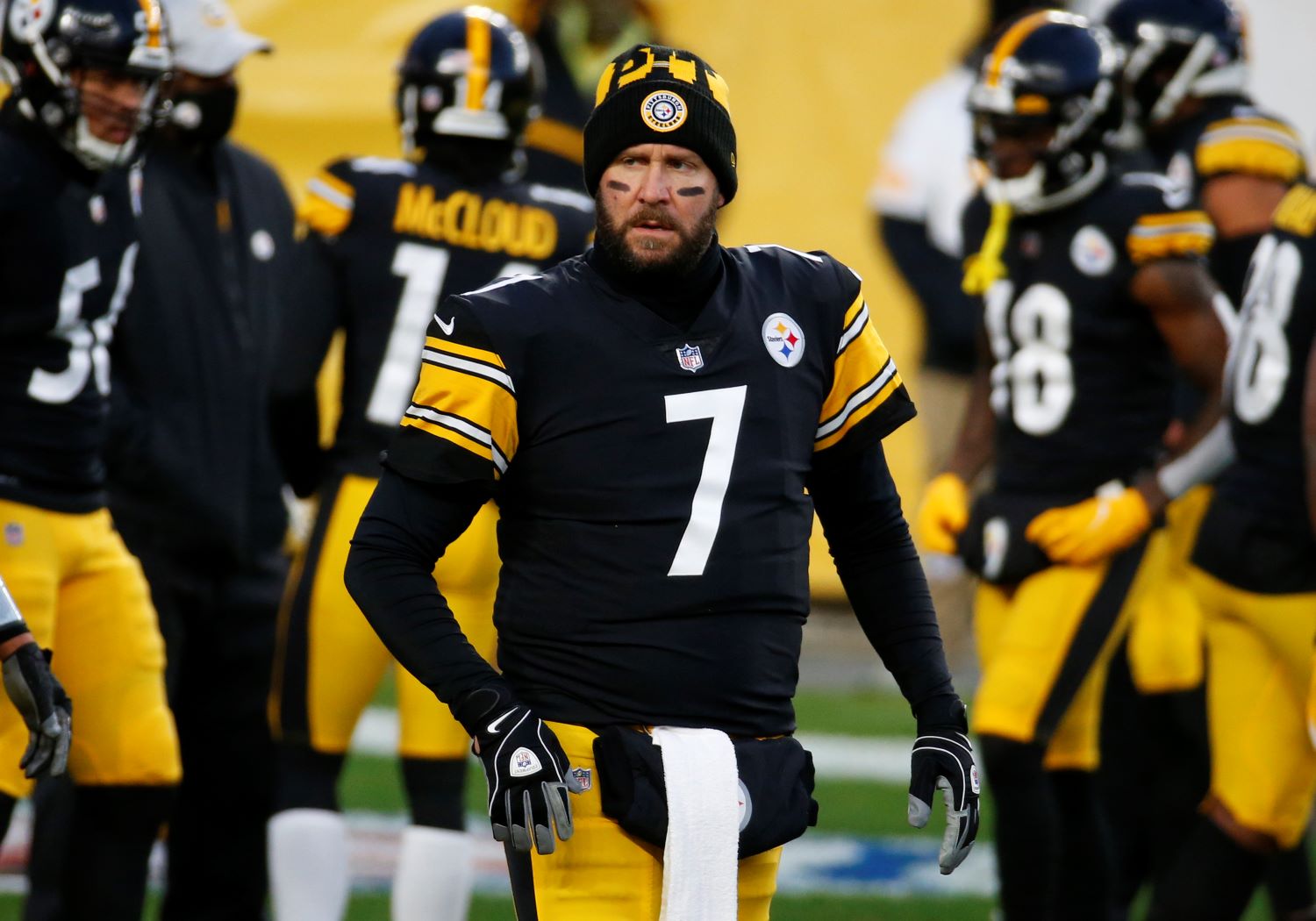 Ben Roethlisberger Has Backed the Steelers Into a $41 Million Corner
Ben Roethlisberger wants to play in 2021, but the Pittsburgh Steelers have to figure out what to do about his huge $41 million cap hit.
Coming off a lost 2019 season that sparked retirement rumors, Ben Roethlisberger has bounced back to put the Pittsburgh Steelers near the top of the AFC standings. And as his 17th NFL season winds to a close, the future Hall of Famer has reportedly already made up his mind about his 2021 plans.
Unfortunately for the Steelers, the longtime face of the franchise has backed them into a $41 million corner. But will general manager Kevin Colbert find a way to fix Pittsburgh's expensive problem?
Ben Roethlisberger plans on playing in 2021
Just two years ago, Ben Roethlisberger led the NFL with 5,129 passing yards. That number plummeted to 351 last season. The aging quarterback played just two games due to a serious elbow injury that required season-ending surgery.
But after rehabbing his way back to full strength, Roethlisberger has stayed healthy in his age-38 campaign. In 14 games, the six-time Pro Bowler has completed 65.3% of his passes for 3,462 yards, 30 touchdowns, and 10 interceptions.
With their franchise quarterback playing at a high level again, the Steelers started the season by ripping off 11 straight victories. However, their offense has struggled mightily in the month of December. After falling to the Cincinnati Bengals on Monday Night Football, Pittsburgh's losing streak now sits at three games.
But even if the team falls short of winning a title this year, Roethlisberger has already made up his mind about his NFL future.
On Monday, ESPN's Adam Schefter reported the two-time Super Bowl champion wants to continue playing next season. Barring a change of heart, Big Ben intends on playing out the final year of his contract that he signed in April 2019.
And by declaring his plan for 2021, Roethlisberger has officially backed the Steelers into a $41 million corner.
The Steelers are backed into a $41 million corner
Ben Roethlisberger has made more than $253 million during his brilliant NFL career. The Steelers have rewarded him with multiple contract extensions over the years, including an $87 million pact in 2015.
Just over 18 months ago, Pittsburgh signed Roethlisberger to a two-year, $68 million contract that included a sizable signing bonus of $37.5 million. However, while he counts $23.75 million against the cap this season, Roethlisberger will cost the team much more than that in 2021.
Based on the structure of his two-year agreement, Big Ben carries a whopping $41.25 million cap hit next year despite having a total compensation package of just $19 million.
Unless he pulls a 180 and changes his mind about continuing his NFL career, the longtime Steelers quarterback will force the franchise to make a tough decision about his future.
For Pittsburgh, being backed into a $41 million corner could lead to a drastic change at the most important position in pro sports. The team can move on from Roethlisberger by absorbing a $22.5 million dead-cap charge. Still, that's a sizable hit to take for a player who will no longer be on the roster.
The Steelers could also explore trading the aging quarterback to a team looking for a high-end bridge option. But what kind of message would that send to the locker room? Does Pittsburgh really want to let Roethlisberger finish his career elsewhere? Or would Steelers ownership do everything possible to ensure the 2004 first-rounder never wears another team's colors?
Should Pittsburgh extend Big Ben again?
Clearly, the Steelers face a monumental decision this offseason about Ben Roethlisberger's future with the team. Although he wants to return for his 18th season, that doesn't mean he'll be playing in Pittsburgh.
Trading or releasing the veteran would certainly be a difficult call to make. But at the same time, it would allow the Steelers to transition to a new era. And given the fact that the team hasn't won a Super Bowl title since 2008, maybe it's time to pull the plug on Roethlisberger.
On the other hand, the team can work its way out of that $41 million corner by taking the complete opposite approach.
Another contract extension would give the Steelers the ability to lower Roethlisberger's 2021 cap charge. Still, committing more money and years to an aging player with a lengthy injury history seems like a massive risk.
Pittsburgh GM Kevin Colbert can't afford to build a competitive team if Roethlisberger counts $41 million against the salary cap in 2021, especially if the cap drops to the $175 million floor due to the COVID-19 pandemic.
But is Colbert willing to commit longer to the Big Ben era?
We'll find out in the ensuing months.
Just don't be surprised if Ben Roethlisberger's Steelers career comes to a close earlier than he'd like.
All contract info courtesy of Spotrac. All statistics courtesy of Pro Football Reference.