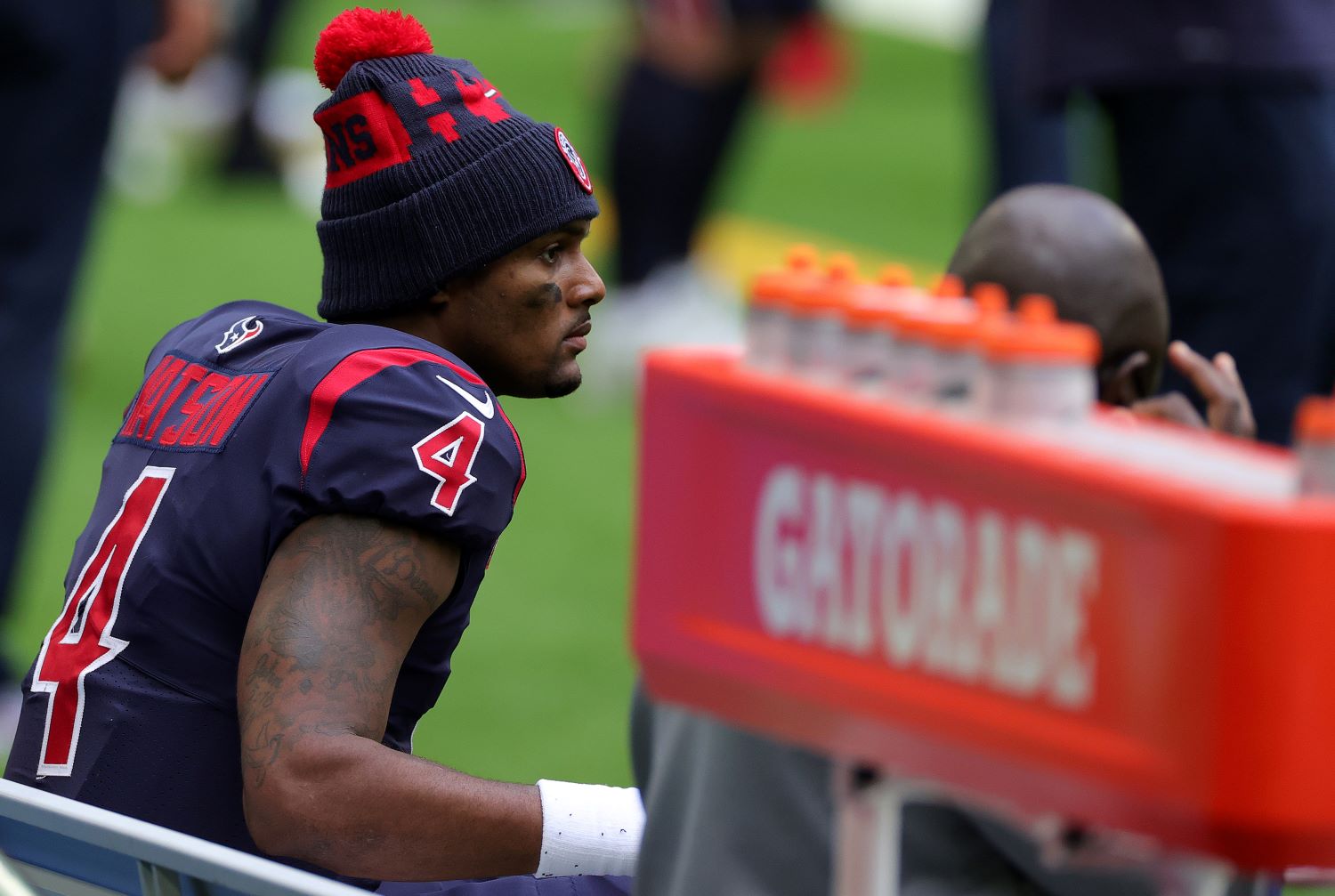 Texans GM Nick Caserio Just Sent a Crystal Clear Message About Trading Deshaun Watson
With rumors swirling about a potential Deshaun Watson trade, Texans GM Nick Caserio sent a crystal clear message about moving the star QB.
Think Nick Caserio has second thoughts about leaving the New England Patriots? The long-time NFL front-office executive finally moved on from working for Bill Belichick only to find himself in a highly unenviable situation with the Houston Texans.
After all, the newly-minted general manager has a massive problem on his hands in the form of an upset Deshaun Watson.
With rumors swirling about potential landing spots for the disgruntled quarterback, Caserio just sent a crystal clear message about trading the team's best player.
But will his words hold true?
Nick Caserio has a ton of issues to address in his new role with the Texans
For years, Nick Caserio operated as Bill Belichick's trusted confidant. But after serving as the No. 2 new man in New England for more than a decade, he took his talents to Houston earlier this month to run his own team.
And in doing so, he walked into an absolute disaster of a situation.
From an overall roster standpoint, the Texans have several areas to address this offseason. Will J.J. Watt remain with the franchise that drafted him 11th overall back in 2011? How will Houston improve an offense that clearly needs better talent at wide receiver and running back?
Or how about an offensive line that still can't protect Deshaun Watson adequately?
Of course, that unit will likely have a new quarterback to keep upright in 2021. Because despite having one of the best quarterbacks in the league, the Texans have ruined their relationship with their biggest star to the point that Watson has officially requested a trade.
Needless to say, Caserio has a ton of work to do to fix a roster that has holes on both sides of the ball.
Houston's GM just sent a clear message about trading Deshaun Watson
At this point, it seems all but guaranteed that Deshaun Watson will play for another NFL team next season. Yet, the idea of dealing the star signal-caller isn't something that the Texans are interested in.
At least, that's what Nick Caserio wants people to believe.
On Friday, Houston's new GM spoke to the media and sent a clear message about trading one of the NFL's most electrifying stars.
"Organizationally, just want to reiterate our commitment to Deshaun Watson. He's had a great impact on this organization, a great impact on a lot of people, a great impact on this team," Caserio said. "We look forward to the opportunity to spend more time with him here this spring, once we get started. We have zero interest in trading the player."
He further added, "We have a great plan, a great vision for him and for this team and his role on our team."
Caserio certainly left no doubt about where the Texans stand on Watson. But given all that's transpired, does anyone really believe Houston will convince its best player to pull a 180 on his trade request?
Has the situation truly reached the point of no return?
Nick Caserio may have tried to sweep the Deshaun Watson dilemma under the rug on Friday, but Texans fans shouldn't listen to their new GM.
At this point, Houston has already inflicted enough damage to cause the most important player on the team to demand a trade. Why would Watson change his mind, especially after the Texans made such an uninspiring hire by naming David Culley as head coach?
Instead of openly lying to the fanbase, Caserio should start working the phones to find the best offer for a player who should command an unprecedented haul.
The Miami Dolphins seem to have all the pieces to land Watson. Tua Tagovailoa could become the new face of the Texans, and the team would have multiple first-round picks to give him immediate help.
Sticking in the AFC East, the New York Jets can also offer a young quarterback (Sam Darnold) and valuable draft capital in exchange for Houston's established star.
Ultimately, Caserio inherited a bad situation brought on by ownership and the looming presence of his former Patriots colleague, Jack Easterby.
Unfortunately for Houston's new GM, his first major task will likely be to trade away the most valuable commodity in sports…even if he just told Texans fans the franchise has no plans to do so.
Like Sportscasting on Facebook. Follow us on Twitter @sportscasting19.