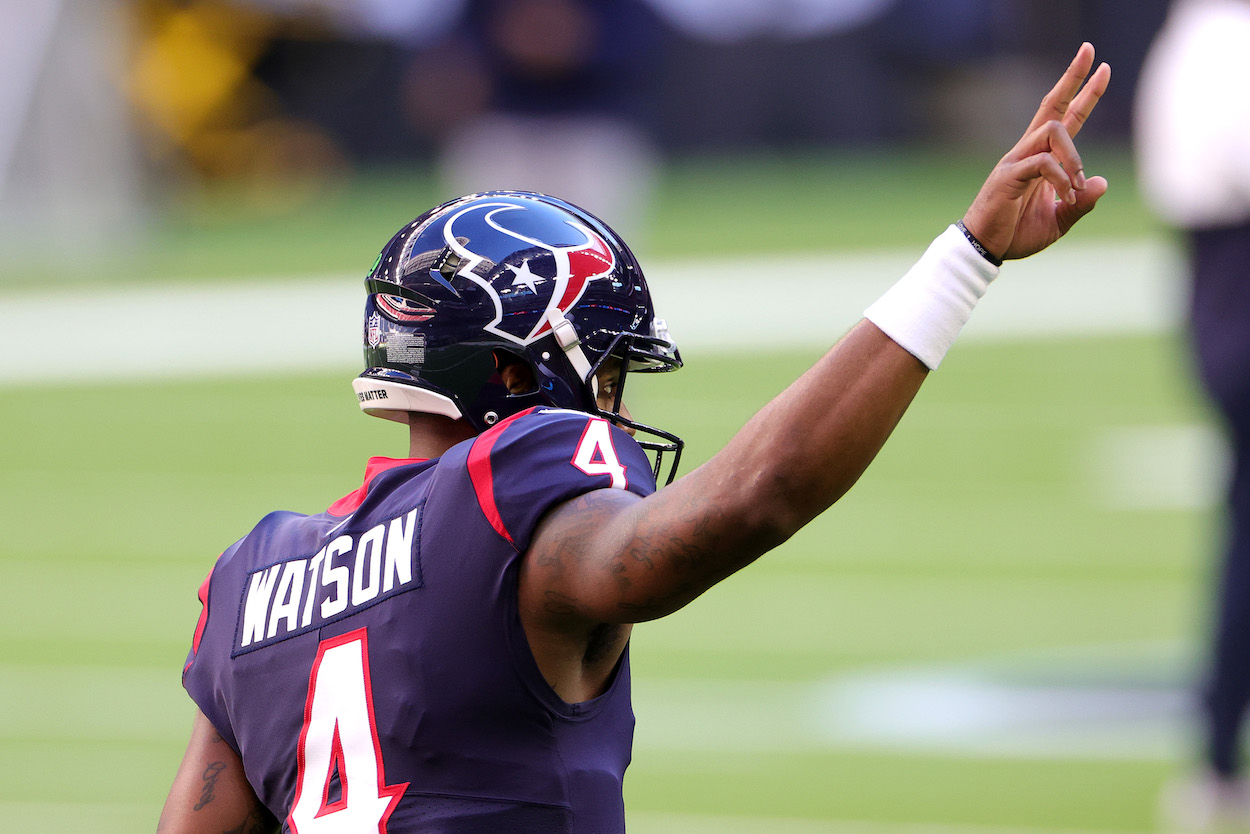 Deshaun Watson Has a Powerful Houston Voice Pleading for Him to Stay
Deshaun Watson and his days with the Houston Texans appear to be numbered. Not if this powerful Houston voice has a say in the matter.
Deshaun Watson wants out of Houston. After four seasons in H-Town, the three-time Pro Bowl quarterback has had enough playing for a team that appears to be headed in the wrong direction. Houston fans are understandably upset and hoping something will change his mind. One of Houston's most powerful voices jumped into the fray over the weekend and delivered an impassioned plea with the hopes he might influence Watson to stay.
Deshaun Watson has become a perennial Pro Bowler
Deshaun Watson was destined for greatness when the Houston Texans drafted the national championship-winning Clemson quarterback with the No. 12 overall pick in the 2017 NFL draft. He played well his rookie season before suffering a season-ending ACL injury in November.
The following season Watson started all 16 games, and despite being on the receiving end of an NFL-leading 62 sacks, threw for 4,165 yards, 26 touchdowns, and nine interceptions. More importantly, he led the Texans to an 11-5 record and a berth in the playoffs, where they lost in the wild-card game.  
In 2019, Watson put together another solid Pro Bowl year under center, throwing for 3,852 yards, 26 touchdowns, and 12 interceptions. The Texans made it one step further in the postseason, advancing to the divisional round, where they lost to the eventual Super Bowl-winning Kansas City Chiefs.
During the 2020 season, without the main weapon from his first three years in perennial All-Pro wide receiver DeAndre Hopkins, who was traded to the Arizona Cardinals in the offseason, Deshaun Watson still excelled. He had the best statistical season of his career in 2020, throwing for a league-leading 4,823 yards, with 33 touchdowns and seven interceptions. He earned his third consecutive Pro Bowl nomination. 
Deshaun Watson publicly expresses his anger with Houston Texans
This past offseason when the Houston Texans traded Deshaun Watson's favorite target and one of the league's best receivers in DeAndre Hopkins and got hardly anything of value in return, it raised more than a few eyebrows. Watson included.
During the 2020 season, things continued to trend in the wrong direction as the Texans fired head coach and general manager Bill O'Brien mid-season and finished the year with a 4-12 record. In the days since the season concluded, the club has further drawn Watson's ire for its failure to include him in any discussions on hiring the team's new general manager Nick Caserio, and a still undetermined head coach. 
Watson unflinchingly took to Twitter, confirming an ESPN report that his frustration level with the organization was at an all-time high.
"I was on two then I took it to 10," Watson tweeted.
Houston fans including mayor trying to entice Watson to stay  
The Houston Texans fan base is understandably upset knowing that Deshaun Watson wants out because of a front office that has consistently revealed its incompetence, including its inability to communicate with the face of the franchise about the club's future direction and how he fits into it. 
Last week, some Texans fans gathered in a rally of support for their quarterback marching from the restaurant Watson owns to NRG Stadium. On Sunday, one of Houston's most powerful voices and an ardent Watson supporter, Houston Mayor Sylvester Turner, publicly voiced his support.
"Houston loves Deshaun Watson and the Houston Texans," Turner posted on Twitter. "Houston is a great City that is hungry to back our players and team. As Mayor of a City that is second to none. I pray we move forward together."
Turner later offered up more personal thoughts on Watson.
"I value Deshaun Watson as a player, but I respect him even more as a person. I know he loves this city because I have seen how much he has given of himself and his treasure to people in this city. I am humbled to be his Mayor. I hope that won't change anytime soon."
Whether the mayor's impassioned pleas have any effect remains to be seen. If Deshaun Watson does leave Houston, the Texans front office only has itself to blame and you can be sure next season the fans will be sure and let them know about it.