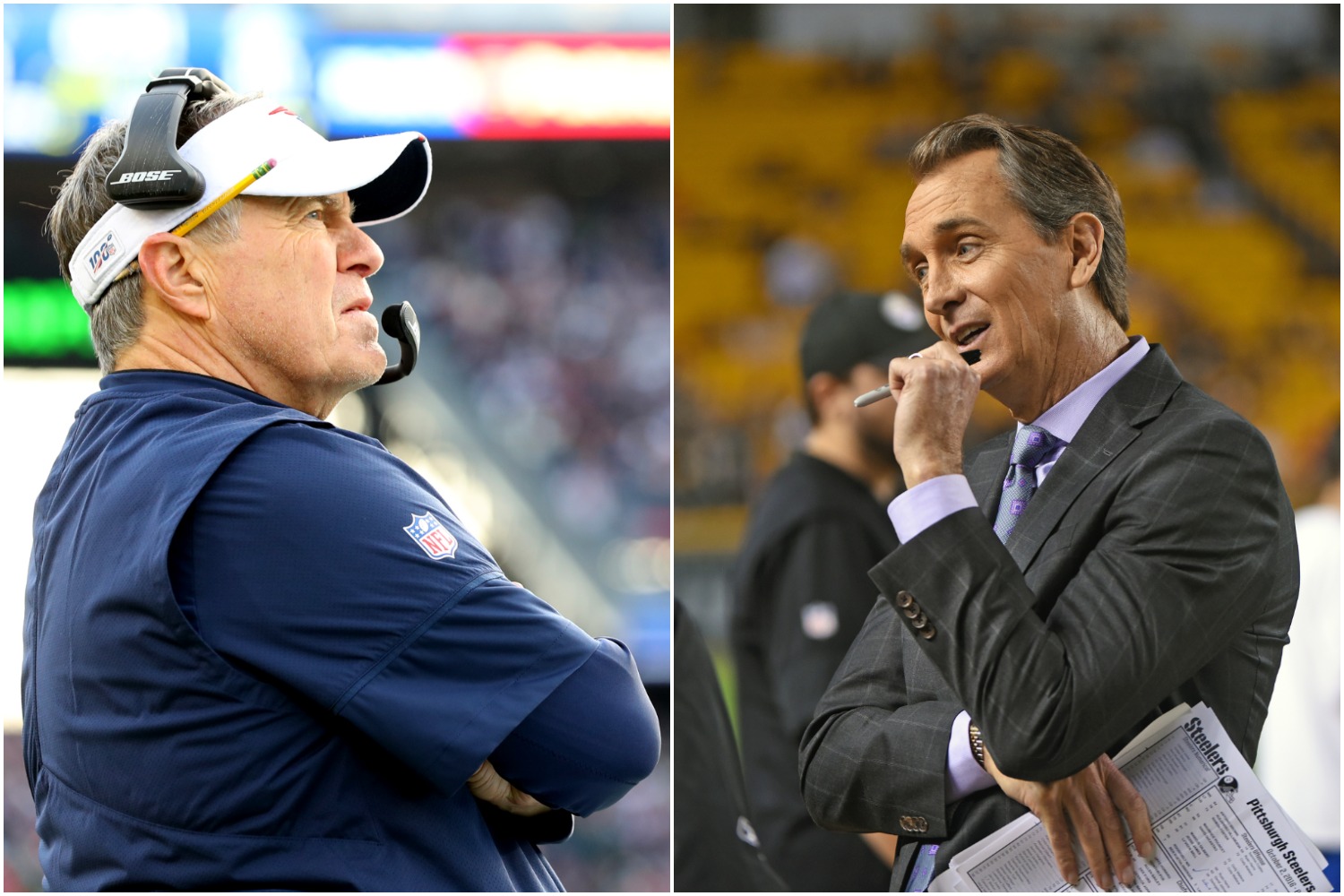 Cris Collinsworth Knows Exactly Who Bill Belichick Should Target as the Patriots' Next Starting Quarterback
Cris Collinsworth has a star quarterback in mind who he believes would be an ideal fit for Bill Belichick and the New England Patriots.
Cris Collinsworth certainly knows what he's talking about when it comes to NFL quarterbacks. After all, the sports media icon spent almost a decade catching passes as a Pro Bowl receiver for the Cincinnati Bengals.
One team in desperate need of a quarterback upgrade, of course, is the New England Patriots.
And if Bill Belichick needs a little help in identifying who he should target as the "successor" to Cam Newton, all he has to do is listen to Collinsworth.
Bill Belichick has to hit the reset button at the most important position in sports
For two decades, the Patriots had the best quarterback situation of any NFL team. But that ended last spring when Tom Brady left behind the cold winters of New England for the year-round warmth of Tampa.
Instead of replacing the six-time Super Bowl champion via the 2020 NFL draft, Bill Belichick went in another direction. He signed Cam Newton to an incentive-laden contract…and did nothing else.
The former No. 1 pick flopped miserably in his first season in Foxborough. Although he did pile up 12 rushing touchdowns, Newton threw 10 interceptions and just eight passing touchdowns. His inconsistent play (to put it mildly) prevented the Patriots from ever establishing any type of rhythm on offense. It also didn't help that his "weapons" fell well below NFL-caliber.
Even with Newton struggling on a near-weekly basis, Belichick refused to turn the job over to Jarrett Stidham. The 2019 fourth-round pick has barely seen the field and no longer looks like a potential successor to TB12.
In the ensuing months, New England must find a new starting quarterback.
And Cris Collinsworth already knows the right man for the job.
Cris Collinsworth knows exactly who the Patriots should bring in as their next starting quarterback
If the Patriots plan on going the veteran route at the quarterback position, they have a chance to make a sizable upgrade by acquiring yet another former No. 1 overall pick.
Recently, the Detroit Lions and Matthew Stafford mutually agreed to part ways this offseason. Despite owning a 74-90-1 career record, the 32-year-old draws high praise for his toughness, leadership, and accuracy. He's thrown for more than 45,000 yards since entering the league in 2009.
In a recent appearance on The Dan Patrick Show, Cris Collinsworth was asked where Stafford fits best. To little surprise, he pegged the Patriots as the ideal landing spot for the longtime leader of the Lions.
"That feels like the obvious choice to me," Collinsworth said before discussing other veteran quarterbacks who could be on the move. "The question that has to be answered, for me, in New England is, 'Is this a long-term or a short-term play?'"
He brought up Bill Belichick's pursuit of Don Shula's all-time wins record as part of the discussion. Realistically, New England's head coach would need to stick around for at least four or five more seasons to have a shot at surpassing the NFL legend. But if Belichick doesn't plan on coaching that much longer, Collinsworth believes that could drastically impact the way the Patriots approach the most important position in pro sports.
"If he doesn't and this is a two-year game plan and he wants to retire—you know only Bill knows this—then Matthew Stafford feels like a great fit to me," he said.
Will New England pull the trigger on a Matthew Stafford trade?
Cris Collinsworth sure sounds high on a potential pairing of Matthew Stafford and the Patriots.
But will Bill Belichick make a trade for the former top pick?
Armed with the 15th overall selection in the 2021 NFL draft, he certainly has the draft capital to entice Detroit to send Stafford to New England. However, other NFL teams could get into a bidding war and ultimately drive the price up beyond Belichick's liking.
Should that occur, the Patriots will have to pivot in another direction. Jimmy Garoppolo could be an option. Will the Green Bay Packers and Aaron Rodgers part ways this offseason? If their relationship has been damaged beyond repair, perhaps Belichick would be willing to pay a steep price to acquire one of the most talented quarterbacks in NFL history.
Of course, he could also hold on to the 15th pick and use it on a prospect like Mac Jones or Kyle Trask.
Either way, expect the Patriots to look much different on offense in 2021.
After all, they can't afford to roll it back with Cam Newton based on how awful he looked in 2020.
All statistics courtesy of Pro Football Reference.