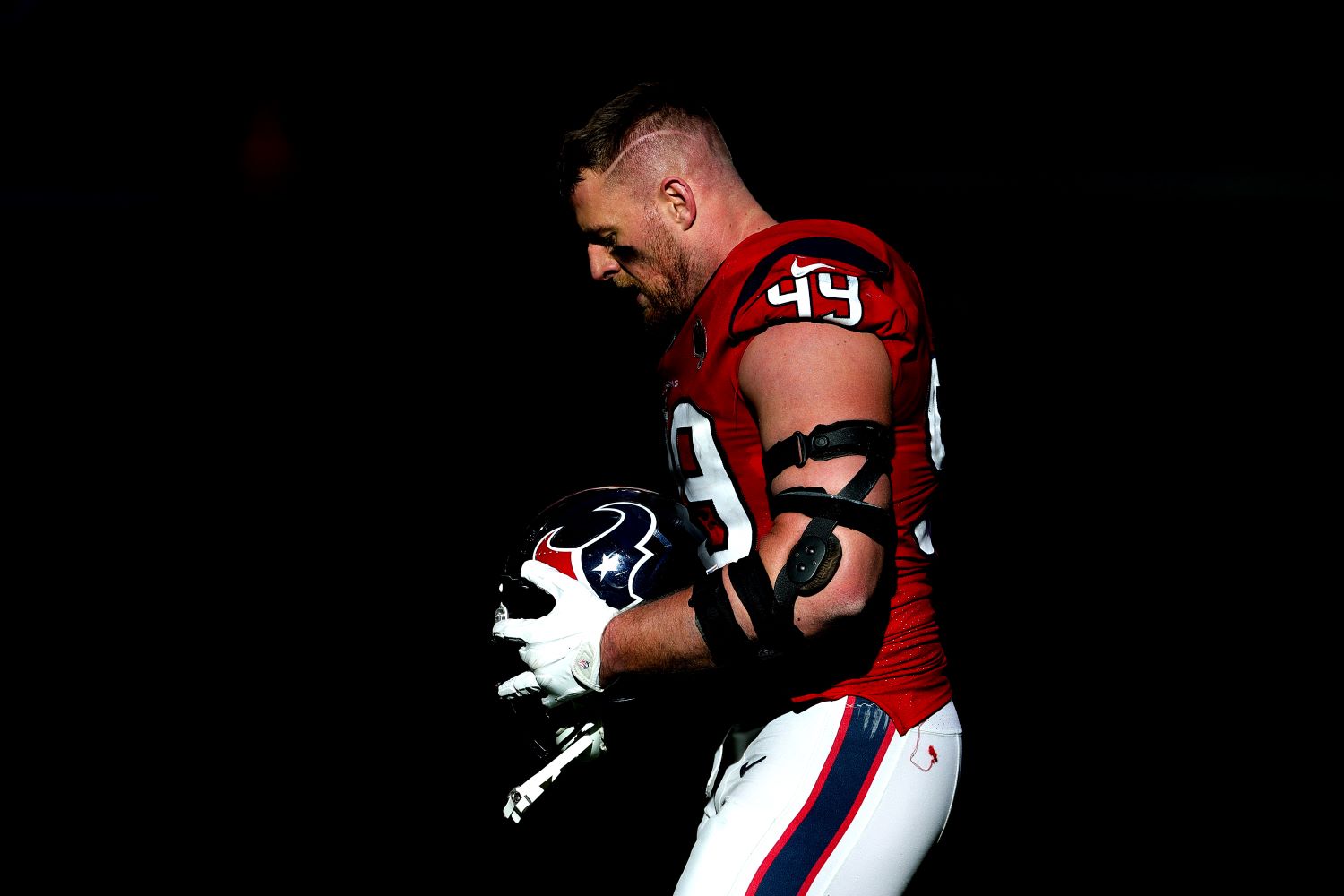 J.J. Watt Paid a $17.5 Million Price to Secure His Freedom From the Texans
The Houston Texans granted J.J. Watt his wish by releasing the franchise icon on Friday. And by doing so, they just saved $17.5 million.
Since the Houston Texans selected him 11th overall in the 2011 NFL draft, J.J. Watt has literally put his body on the line for the AFC South franchise. The menacing defensive lineman has suffered numerous injuries during the course of a career that should earn him a spot in the Pro Football Hall of Fame one day.
But after watching his team fall apart on multiple levels, and with his NFL career nearing an end, Watt wanted the Texans to grant him one final wish.
And by honoring the franchise icon's request, Houston just saved $17.5 million. But what does the future hold for the future Hall of Famer and his now-former team?
Major changes continue to take place in Houston
It's a tough time to be a Texans fan.
After all, the franchise has undergone significant changes over the last six months that haven't exactly sat well with J.J. Watt and Deshaun Watson.
In October, Bill O'Brien got fired. Of course, the former Penn State head coach managed to trade away DeAndre Hopkins and Jadeveon Clowney before he received his walking papers.
In need of both a new general manager and a head coach, the Texans completely bungled the entire process. Rather than taking Watson's thoughts into consideration, the franchise unsurprisingly poached another employee away from the New England Patriots by hiring Nick Caserio as GM.
The team also made an underwhelming hire by naming David Culley as head coach.
In yet another eyebrow-raising move, longtime team president Jamey Rootes resigned on Wednesday. According to ESPN, he did not like the direction that the organization was going under the direction of executive vice president Jack Easterby.
And with Watson seeking a trade, it's clear that Houston has major problems on its hands.
But as the star quarterback waits to see if an NFL team can blow the Texans away with an offer, another prominent member of the organization just succeeded in finding his way out of Houston.
J.J. Watt just got his final wish granted
J.J. Watt has spent his entire NFL career in Houston.
But when he takes the field for the 2021 season, he will have a different uniform on.
On Friday, the Texans released the most decorated player in franchise history.
However, unlike most of the other moves that have happened in recent months, this transaction did not come as a surprise to anyone.
In fact, it's exactly what Watt wanted.
In a video he shared on Twitter, the three-time NFL Defensive Player of the Year revealed more about the nature of his release.
"I have sat down with the McNair family and I have asked them for my release and we have mutually agreed to part ways at this time," Watt said. "I came here 10 years ago as a kid from Wisconsin who'd never really been to Texas before. And now I can't imagine my life without Texas in it. The way that you guys have treated me, besides draft night. I mean, you guys booed me on draft night. But every day after that, you treated me like family. And I truly feel like you're my family."
The Texans save over $17 million by releasing the franchise legend
For Texans fans, J.J. Watt's release certainly has to sting. He's a beloved figure in the Houston area, especially since he helped raise more than $41 million to help Hurricane Harvey relief efforts.
Ironically, his exit will result in more financial aid. Only this time, it's the Texans who will benefit from Watt's generosity.
By moving on from the 31-year-old defensive end, the Texans just saved $17.5 million in 2021 cash and salary cap space. According to the NFL Network's Tom Pelissero, the five-time Pro Bowler can sign with a new team as soon as he wants.
Where Watt ends up remains a mystery. Although he no longer ranks as a top-tier player at his position, he certainly could help a contending team from both an on-field and locker-room perspective.
So which NFL teams could be in the mix for the future Hall of Famer's services?
The Miami Dolphins present an intriguing potential fit. Watt could spend the final few years of his career playing in warm weather for a team that doesn't seem far away from competing for a Super Bowl title.
Other teams that project as logical landing spots include the Indianapolis Colts, the Baltimore Ravens, and the Tennessee Titans.
Plus, you can never rule out the Patriots, who desperately need more power and punch along the front seven.
Ultimately, Watt should have no shortage of suitors.
And by granting his wish and giving him his freedom, the Texans now have nearly $18 million to spend to try and upgrade the talent around Watson…assuming he's still under center to start the season.
Like Sportscasting on Facebook. Follow us on Twitter @sportscasting19.