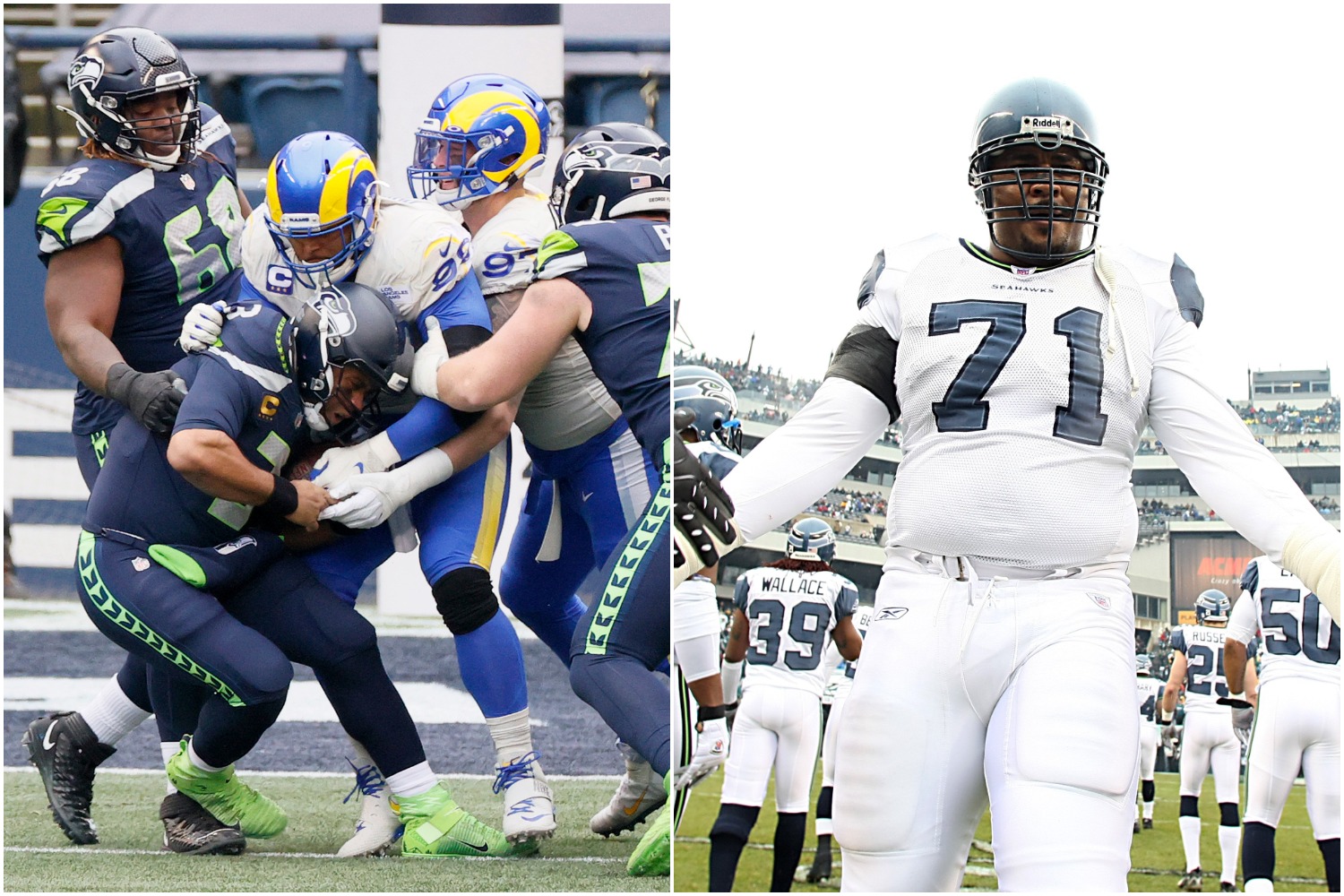 Russell Wilson's Uncharacteristically Critical Comments About His Teammates Has Forced a Seahawks Legend to Come to Their Defense
Hall of Fame left tackle Walter Jones issued a stern warning to Russell Wilson after the Seahawks QB threw his teammates under the bus.
Russell Wilson should have more than one Super Bowl ring to his name. Yet, the star quarterback hasn't tasted championship success since he led the Seattle Seahawks to a title back in 2013. Given his talent and consistent production, it's safe to say he's more than held up his end of the bargain.
But after suffering another early playoff exit, the seven-time Pro Bowler has uncharacteristically aired his frustrations about what's wrong in Seattle.
While Wilson certainly has reason to be upset about how things have gone over the last few seasons, the manner in which he expressed his grievances did not sit well with one of the most beloved players in Seahawks history.
So after the franchise's most important player threw his teammates under the bus in public fashion, Walter Jones issued a stern warning to Wilson.
The Seahawks continue to struggle to protect their franchise quarterback
Tipping the scales at 5-foot-11, 215 pounds, Russell Wilson doesn't exactly scream "franchise quarterback" based on his dimensions. But anyone who's watched him play knows he's absolutely one of the top-five quarterbacks in the NFL.
However, the 32-year-old has had to overcome major pass-protection issues to put up Pro Bowl-level numbers.
Despite never having a top-notch offensive line featuring a perennial All-Pro like Walter Jones, Wilson has yet to miss a game since he entered the league as a third-round pick in 2012. His ability to extend plays with his legs has allowed him to rack up nearly 34,000 yards and 267 touchdowns through the air across nine seasons. Plus, he's totaled 4,506 yards and 21 more touchdowns as a runner.
Still, his playmaking brilliance hasn't led to more Super Bowl titles for a team that seemed poised to dominate the NFL for years to come. The breakup of the Legion of Boom hasn't helped in that regard. After all, Seattle no longer possesses anything close to an elite defense.
In reality, though, the biggest problem that continues to plague the NFC West franchise is inconsistent play up front. Wilson has been sacked 394 times in 144 regular-season games, plus another 49 in 16 postseason appearances.
Needless to say, the superstar quarterback has spent plenty of time scrambling for his own safety due to Seattle's offensive line issues.
Russell Wilson raises eyebrows by calling out his teammates
As the face of the franchise, Russell Wilson's words carry tremendous weight. For years, he's played the "good soldier" role and stayed positive despite the Seahawks' inability to provide consistent protection in the passing game.
But things have changed.
Because after watching his offensive line get outclassed by Aaron Donald and the LA Rams, Wilson has totally switched gears in terms of sticking up for his teammates. In fact, he's taken the surprising approach of throwing them under the bus.
"We've got to get better up front," Wilson said during Tuesday's appearance on The Dan Patrick Show. "It's not just passing, [but] in terms of everything you do. It controls the game as you watched the other night."
Of course, he was referring to Super Bowl 55, which featured Patrick Mahomes facing more pressure than any quarterback in Super Bowl history.
Wilson also spoke with reporters via Zoom on Tuesday and delivered some more eyebrow-raising comments about his lack of adequate protection.
"You never want to be sacked that many times. Four-hundred times basically is way too many — 400 too many," Wilson said. "So I think that's a big thing that we've got to fix. That's got to be fixed and has to be at the end of the day, because my goal is to play 10 to 15 more years."
Walter Jones issues stern warning to Seattle's biggest star
"I think you should leave that in-house." – @BigWalt71 on @DangeRussWilson's comments today about getting sacked so much.

Tune in on 950am, the iHeart Radio App, or online at https://t.co/wWfFIc74tS!

— 950 KJR (@SportsRadioKJR) February 10, 2021
For more than a decade, Walter Jones got paid by the Seahawks to protect whoever lined up under center. The nine-time Pro Bowler and Pro Football Hall of Fame inductee can't deny the fact that Russell Wilson has faced significant pressure throughout his decorated NFL career.
Still, the former star left tackle refused to stay silent after Seattle's best player threw his teammates under the bus.
Jones conducted an interview with Seattle-based sports radio station 950 KJR on Tuesday to speak about Wilson's recent comments.
In doing so, he sent a stern warning to the disgruntled quarterback.
"Even though he feels like that, I think you should leave that in-house," Jones said. "Once you put that out there, now everybody's thinking that you don't appreciate the guys that you played with this year."
He further added, "Once you call those guys out, those guys are like, 'Wow, really? We go to war with you every week. We're trying our best not to get you hit.'"
The Seahawks legend then put everything in clear perspective for Wilson.
"You're putting yourself out there on front street, and now you got everybody talking about what you're saying," Jones said. "You always have to be careful of what you say to the media guys, because now it can be a national story, and that's what it is now."
All statistics courtesy of Pro Football Reference.