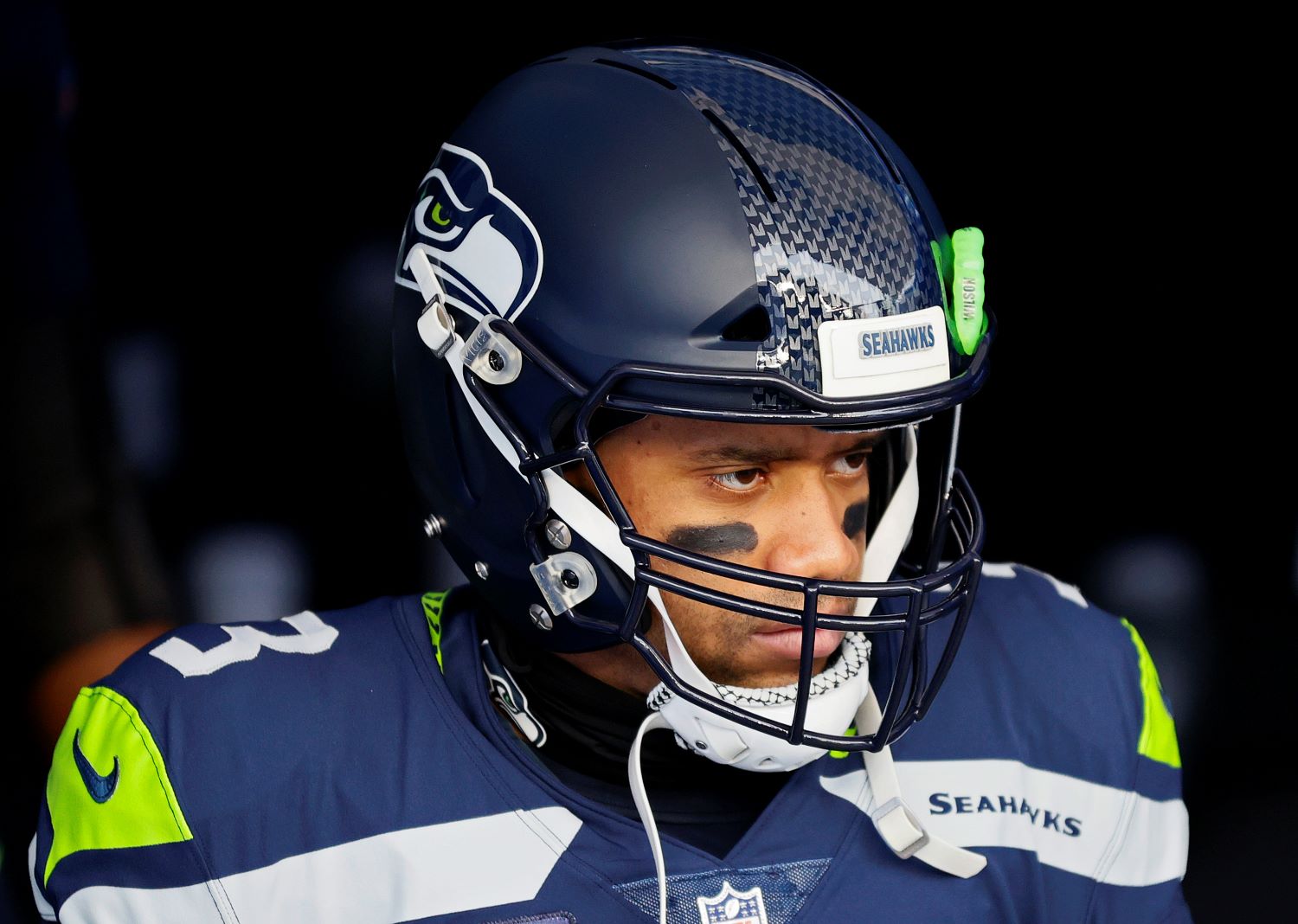 Russell Wilson Has a New Reason to Worry About His Future With the Seahawks
Russell Wilson should be worried about his future with the Seahawks given the team's recent committment to a GM who has lost his magic touch.
Russell Wilson needs to start asking the Seattle Seahawks some serious questions about their long-term plans.
Because with the way things have gone since the Legion of Boom era ended, it's fair to ask whether John Schneider knows what he's doing as a general manager.
Sure, he hit on DK Metcalf and Tyler Lockett. And Chris Carson has also been a home-run selection.
However, the Seahawks have largely come up short in the NFL draft in recent years. As a result, the team has simply not been good enough to make it back to the Super Bowl.
Unfortunately for Wilson, he has a new reason to worry about his future with the Seahawks.
Seattle hasn't come close to winning a title since the Legion of Boom disbanded
Russell Wilson started his NFL career by leading Seattle to five straight postseason berths. In just his second year in the league, the 2012 third-round pick took his team to the Super Bowl. And thanks to a dominant effort by their star-studded defense, the Seahawks hoisted the Lombardi Trophy for the first time in franchise history.
But after making it back to the Super Bowl the following year, the Seahawks have annually fallen well short in their quest for a second title.
And that isn't surprising given their drop-off on the defensive side of the ball.
After allowing the fewest points in the NFL for four straight seasons, the Seahawks took a slight dip in 2016 by finishing third in that category.
Pete Carroll's team missed the playoffs entirely in 2017 due largely to an inconsistent defense that plummeted to 13th in points allowed. Although they earned a postseason berth in 2018, the Seahawks got bounced in the wild-card round.
Then everything hit rock bottom.
With the Legion of Boom fully dismantled, the Seahawks slipped to 22nd in points and 26th in yards allowed in 2019. They surrendered 28 points to Aaron Rodgers and the Green Bay Packers in a divisional-round loss that once again left Wilson watching the Super Bowl from home.
Of course, Seattle just experienced another early playoff exit on Saturday. Despite facing the combination of a hobbled Jared Goff and some quarterback named John Wolford, the Seahawks somehow lost by a final score of 30-20.
John Schneider deserves criticism for Seattle's questionable personnel moves
It might seem silly to knock a team that has only missed the playoffs once since Russell Wilson arrived as the 75th overall pick back in 2012.
Yet, it's totally fair to question John Schneider's ability as a general manager. After all, his resume looks far less impressive if you examine his more recent work.
From an NFL draft perspective, Seattle went from being the gold standard to missing wildly on questionable picks. Since 2016, the Seahawks have had a number of major misses early in the draft, including Germain Ifedi, Malik McDowell, Ethan Pocic, Rashaad Penny and Rasheem Greene. L.J. Collier, who went 29th overall in 2019, has totaled just three sacks in 27 games (16 starts) and looks like another draft bust.
In terms of trades and free-agent signings, Schneider has also struggled in that area in recent years. Trading for Jimmy Graham didn't exactly work out well for Seattle. Signing Luke Joeckel to protect Wilson also proved to be a massive mistake. Don't forget about the Seahawks' failed attempt to resuscitate Eddie Lacy's career, either.
Plus, Schneider mortgaged the future to acquire Jamal Adams. While the former New York Jets first-round pick has All-Pro talent, his arrival did nothing to fix Seattle's defensive woes. The team finished 15th in points allowed and got torched in the passing game all year.
Meanwhile, trading for Adams cost the Seahawks two first-round picks, plus some change. And to make matters worse, Schneider still has to sign the 25-year-old safety to a long-term contract.
Needless to say, the veteran GM hasn't delivered in terms of putting together a Super Bowl-winning squad since Wilson's second season.
Russell Wilson has a new reason to worry about his future with the Seahawks
For Russell Wilson, his future with the Seahawks rests on John Schneider's ability to construct a complete roster. Clearly, Seattle's GM has failed to accomplish that.
Given the uncertainty of the direction of the offense, the Pro Bowl quarterback obviously has a reason to worry about where the team is heading. But on Tuesday, the Seahawks gave their franchise player another reason to worry about his future. Ironically, they probably felt they were doing the opposite.
Seattle signed Schneider to a contract extension that will keep him around through the 2027 NFL draft.
Although maintaining continuity at the GM position is generally a good practice, that's not the case in Seattle. For years, Schneider has failed to provide adequate protection for his franchise quarterback. He's also failed to rebuild the defense since Richard Sherman, Earl Thomas, Brandon Browner, and Kam Chancellor left.
Yet, the Seahawks committed more years to a GM who has missed on far too many early-round picks, trades acquisitions, and free-agent signings.
Meanwhile, Wilson won't become a free agent until after the 2023 season.
So unless his GM experiences a dramatic turnaround, the 32-year-old will continue to watch the Super Bowl from home.
Then again, maybe Wilson will get fed up enough to pull a Deshaun Watson and try to find a way to escape from his own team, too.
All statistics courtesy of Pro Football Reference.