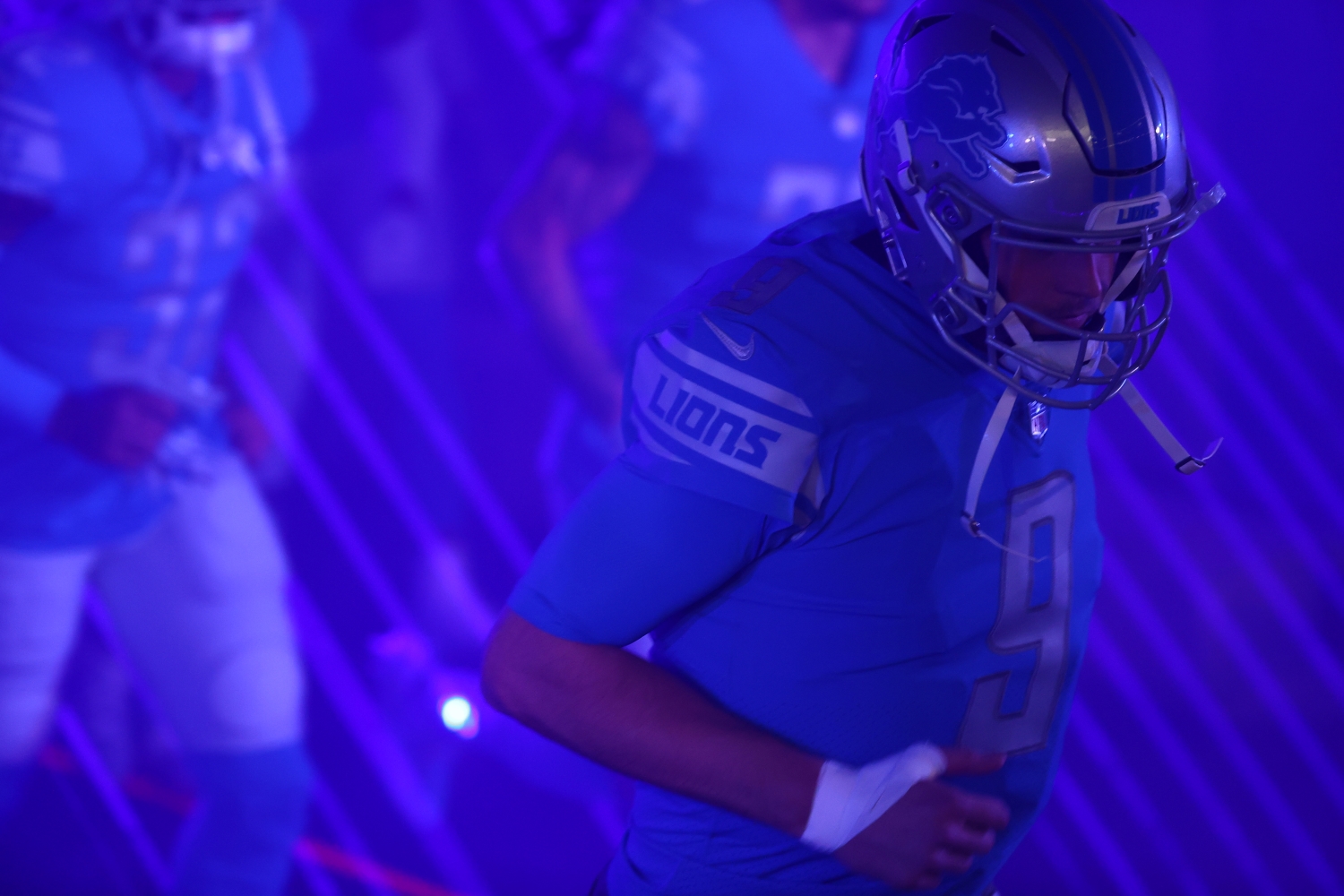 Matthew Stafford Admits the Truth About His Expensive Exit From the Detroit Lions
Matthew Stafford sat down with Mitch Albom and revealed exactly how things transpired with his recent trade from the Detroit Lions.
The Detroit Lions didn't exactly do Matthew Stafford many favors over the years. After all, the franchise routinely finished at (or near the bottom) of the NFC South standings throughout his entire tenure with the team due largely to a lack of adequate talent around the star quarterback.
After enduring years of losing, the former No. 1 pick finally got his wish and got traded to a team with legitimate Super Bowl aspirations. And thanks to a recent interview he conducted, we now know the truth about what went down in Detroit that led to Stafford becoming the new face of the LA Rams.
An end of an era in Detroit
As a testament to his toughness and dependability, Matthew Stafford started all 16 games for eight consecutive years before a back injury limited him to only eight games in 2019.
However, the rocket-armed quarterback's consistent play didn't lead to many wins. A 5-11 2020 season dropped his overall career record to just 74-90-1.
With the franchise heading in a new direction following the disastrous Matt Patricia era, the Lions sought a trade partner for their longtime quarterback.
Several teams presented strong offers, but the Rams won the bidding war for Stafford's services.
And they paid quite an expensive price to acquire a quarterback with only one Pro Bowl berth and a losing record on his resume. The Rams sent Jared Goff, two first-round picks, and a third-round selection to Detroit in exchange for the veteran signal-caller.
Matthew Stafford admits the truth about his expensive exit from the Lions
By leaving the Lions, Matthew Stafford escaped from a franchise that seemingly faces yet another rebuilding project under the leadership of new general manager Brad Holmes and new head coach Dan Campbell.
However, there had been some speculation as to how everything went down in Detroit. In the aftermath of the trade, a report emerged that Stafford did not want to get traded to the New England Patriots.
But in a recent interview with Mitch Albom of the Detroit Free Press, the longtime Lions QB admitted the truth about his expensive exit from Detroit.
"What's accurate is—and this is an incredible thing by [the Lions]—I asked to go to a team that was ready to win a championship," Stafford said, per Pro Football Talk. "And, you know, there were a few teams on that list. There were a few teams that were not on that list. And they were respectful of that and understood completely. I had thoughts and reasons for each one of them."
Although Stafford did not specifically name any teams he did not want to get traded to, he obviously had a few preferred destinations in mind. And thanks to LA's all-in approach, he will now line up under center for a team that has won 43 regular-season games in four years under Sean McVay's watch.
Can the former No. 1 pick lead the LA Rams to a Super Bowl title?
The pairing of Matthew Stafford and Sean McVay holds plenty of promise for LA. When protected, the former No. 1 pick has shown the ability to deliver the ball to any spot on the field. And his toughness and leadership earned him widespread respect from fans, teammates and coaches.
However, Stafford's resume (along with McVay's) still has one key part missing: a Super Bowl title.
Luckily for the former Lions QB, he walks into a much more quarterback-friendly situation than the one he left behind in Detroit. The Rams feature a bevvy of proven playmakers, including the dynamic receiver duo of Robert Woods and Cooper Kupp. Both should surpass 1,000 yards after finishing just shy of that mark in 2020.
Tight end Tyler Higbee caught 44 passes for 521 yards and five touchdowns last season, but it wouldn't be surprising to see him post career-highs catching passes from a quarterback who targeted T.J. Hockenson 101 times last year.
Ultimately, the Rams' Super Bowl chances largely hinge on getting improved play up front. If LA can solidify its offensive line, that will not only provide Stafford with better protection but also help reinvigorate a running game that simply hasn't been nearly as effective as it was during the first two years of the McVay era.
Of course, that will be challenging for general manager Les Snead to accomplish given the expensive price he paid to get rid of Goff and his bloated contract in order to land Stafford.
Because given their lack of draft capital, the Rams don't exactly have an easy path to upgrade the rest of their roster.
Will the Stafford experiment pay off for LA?
Only time will tell.
But based on the enormous amount of resources they devoted to acquire him, the Rams better hope the former No. 1 pick figures out a way to win…fast.
All statistics courtesy of Pro Football Reference.