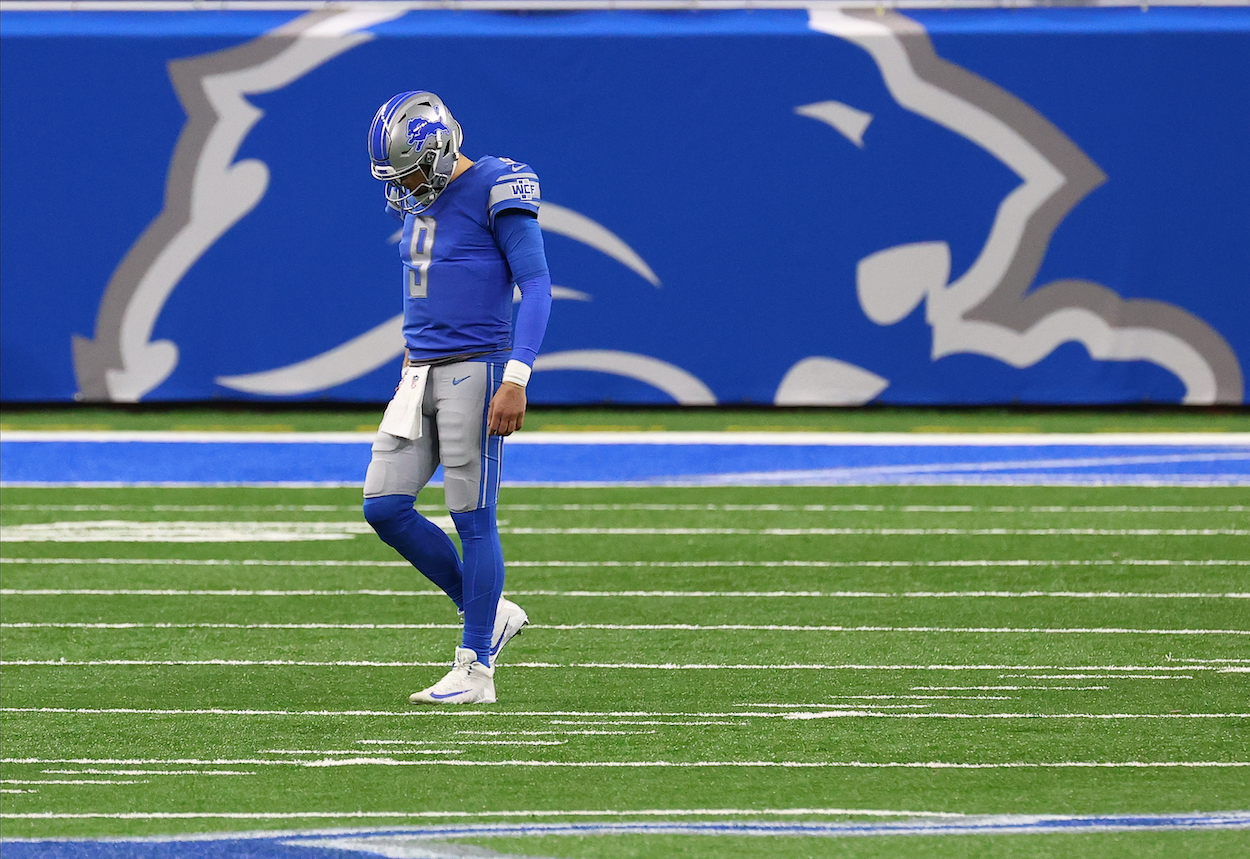 Matthew Stafford Reveals the Competitive Reason Why He Finally Ditched the Detroit Lions
Matthew Stafford accomplished all he could with the Detroit Lions, but the one thing missing from his resume is a championship.
It's hard to imagine Matthew Stafford playing quarterback in anything other than a Honolulu blue jersey and a silver helmet. Stafford has played his entire 12-year NFL career with the Detroit Lions, but he'll be trading in the light blue and silver for royal blue and gold this season when he makes his debut with the Los Angeles Rams.
The under-appreciated QB wanted to spend the rest of his career in Detroit, but his competitive side kicked in as his days in the NFL seem to be winding down. This week, Stafford revealed why he finally made the decision to ditch the Lions for a Super Bowl contender.
Matthew Stafford gave the Detroit Lions all he had
Detroit is all Matthew Stafford knows as an NFL quarterback. It's where he started a new life with his wife, Kelly. Where he started a family and watched his four daughters grow up. Where he began his journey in the NFL, and where he wanted it to end.
"I never thought I would ever finish my career anywhere else," Stafford told Mitch Albom of the Detroit Free Press this week.
Stafford plays his first 12 seasons with the Lions. Despite constant turmoil in the front office and a below-average roster year in and year out, he did everything in his power to make Detroit a winning city again. He led the Lions to three playoff appearances in 12 years almost single-handedly, but he never won a single postseason game with the team.
"In my mind, I felt like I was going to be able to help us go win six, seven, eight games, because I wasn't gonna let us lose more than that, you know? But I probably wasn't good enough (by myself) to help us win more than that," Stafford said.
"Sometimes it's not the perfect storybook ending in the same place. But I can leave here knowing that I gave this team every damn thing I had."
After over a decade of mediocrity, the 33-year old Stafford just couldn't take it anymore.
Stafford finally requests a trade
After the 2020 NFL season, Matthew Stafford made the hardest decision of his life to approach Lions management and request a trade. A few days later, he was on his way to LA.
"I shared my disappointments in not being able to bring them what I ultimately wanted, a championship," Stafford told the Detroit Free Press. "It was a tough conversation, probably the hardest one I've ever had, but one that I walked out of, frankly, blown away with their support and their understanding. The respect. I mean, it was pretty incredible."
The Lions completed a trade with the Rams that brought back Jared Goff, two future first-round picks, and a third-round pick in 2021.
Stafford never thought it would get to this. He had no intention of leaving Detroit at any point during his career, but his ultra-competitive side finally kicked in.
Matthew Stafford reveals why he finally decided to ditch the Lions
Leaving Detroit was a bittersweet feeling for Stafford. On one hand, he loved and appreciated everything the team and city did for him during his 12 years there. But on the other, Stafford finally had a realistic chance to accomplish his ultimate goal — to win a Super Bowl.
"I've always wanted to play in those big games, I feel like I will excel in those situations," Stafford said. "I wanted to shoot my shot…
"Obviously, we were excited for a new start, excited for the whole process of being on the trading block to be over. Now we had a place. We knew where we were going. I was excited about their roster and their coaching staff and what they can bring to the table and their recent success."
Stafford will forever be a Detroit Lion at heart, but what he is even more than that is a competitor and a winner. He finally has that opportunity to win in LA.