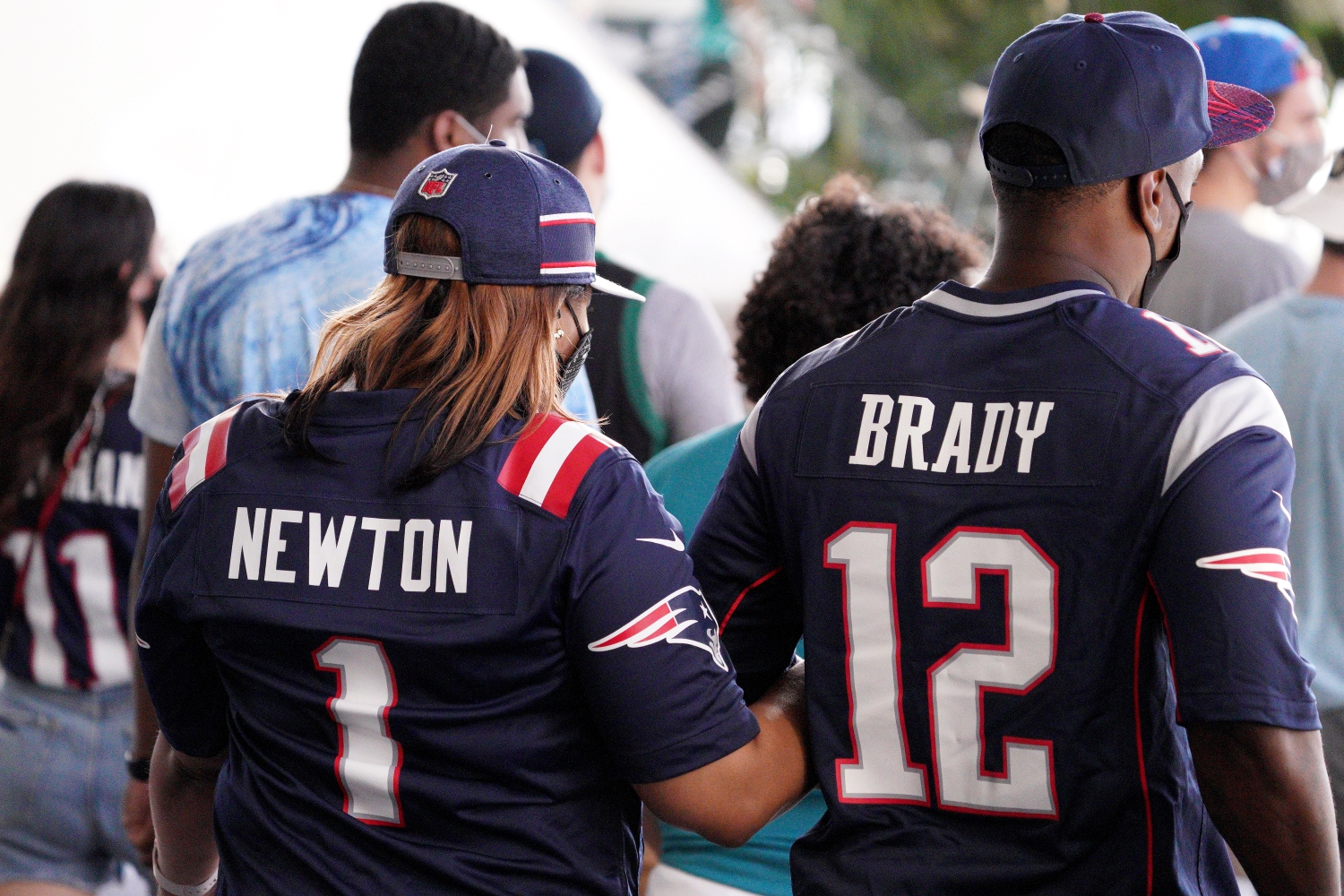 Patriots Fans Should Be Scared Straight by the Official Betting Odds for the Team's Next Starting Quarterback
If the official betting odds are a true indication of who will start at quarterback in 2021, New England Patriots fans should be terrified.
New England Patriots fans went from watching Tom Brady completely dominate defenses to seeing Cam Newton struggle to make simple throws on a routine basis. Because Bill Belichick did not invest wisely at the most important position in sports, Robert Kraft's franchise suddenly seems like just another NFL team rather than an organization that won six Super Bowl titles with TB12 under center.
With Jarrett Stidham as the only quarterback currently under contract, that leaves the Patriots perilously thin at the position. Unfortunately for New England fans, the betting odds for who will begin the 2021 season atop the depth chart lean in a scary direction.
Because based on the candidates oddsmakers have pegged as having QB1 potential in Foxborough, Patriot Nation should prepare for another disappointing season.
Bill Belichick has to start from scratch at the most important position in sports
For nearly 20 years, the Patriots had the greatest quarterback of all time leading their team. And for a brief period, New England had Jimmy Garoppolo waiting in the wings. But after Tom Brady proved he could continue playing at an MVP-level beyond age 40, Bill Belichick had no choice but to trade his hand-picked successor to the 43-year-old quarterback who just won his seventh Super Bowl ring.
Strangely, New England traded Jacoby Brissett a month prior to sending Garoppolo to the San Francisco 49ers for a laughably-low return of a single second-round pick.
Belichick used a fourth-round pick in the 2019 NFL draft to select Jarrett Stidham. However, despite showing flashes of starting-caliber ability in preseason games, he failed to unseat a signal-caller who looked nothing like a former league MVP in 15 starts with the Patriots: Cam Newton.
Somehow, though, a potential second go-around in New England has remained a storyline to follow in the early stages of the offseason. Belichick and Newton have publicly praised each other, which has only fueled speculation that the 68-year-old head coach could bring back the 31-year-old quarterback for at least another year.
At this point, the Patriots' plan to address a franchise-altering issue remains a mystery.
Patriots fans should be scared straight by the official betting odds for the team's next starting quarterback
The betting odds for who could start for the Patriots in Week 1 got released Wednesday by SportsBetting.com.
Unfortunately for fans of the AFC East franchise, the favorites to start the season at the top of the depth chart look scary.
Marcus Mariota, who attempted 28 passes in his first (and perhaps only) season with the Las Vegas Raiders, has the highest odds at 5/2. He enters the final year of the two-year pact he signed last offseason after the Tennessee Titans happily let him walk in order to sign Ryan Tannehill to a $128 million contract.
Mariota entered the NFL in 2015 as the No. 2 pick in the draft. However, neither he nor Jameis Winston convinced their respective teams to continue trying to build around them.
The 27-year-old has played a total of eight regular-season games the last two years. The turnover-prone (45 interceptions and 33 fumbles in 61 starts) and oft-injured signal-caller would also cost valuable draft capital to acquire.
Familiar faces remain in the mix
The second and third options shouldn't inspire any confidence in New England making a sudden turnaround in 2021. Jacoby Brissett, who the Patriots traded away for Philip Dorsett, went 11-19 as a starter with the Indianapolis Colts. He then got sent back to the bench for Philip Rivers, who just retired after failing to even appear in one Super Bowl during a career that will likely still lead to a spot in the Pro Football Hall of Fame one day.
Jarrett Stidham checks in at No. 3. And while some Patriots fans remain hopeful that he can finally make good on the dreaded "potential star" label, the fact he couldn't earn one start last season seems to have sealed his fate as just another blown draft pick by Belichick.
Though he may have starting-caliber physical traits, Stidham obviously didn't convince the one person he needed to that he deserved to unseat Cam Newton and save Patriots fans from having to watch the offense falter on a weekly basis.
New England better not have to resort to No. 4 on the list
Oh, as for No. 4 on the list?
Bettors say Newton has 5/1 odds to open the 2021 season in the same spot as he did in 2020…as the starting quarterback for the New England Patriots.
If that situation occurs, Patriots fans better pray Belichick finally figures out to draft a receiver. And a tight end. And a linebacker…or two.
And if one of those four veterans starts the first game of the 2021 season, Belichick better have a fallback plan that involves something much more inspiring than the No. 6 option on the list.
That would be Blaine Gabbert, who just so happens to be Tom Brady's current backup.
Sorry, Patriots fans.
It doesn't seem like the odds are in your favor.
All statistics courtesy of Pro Football Reference.