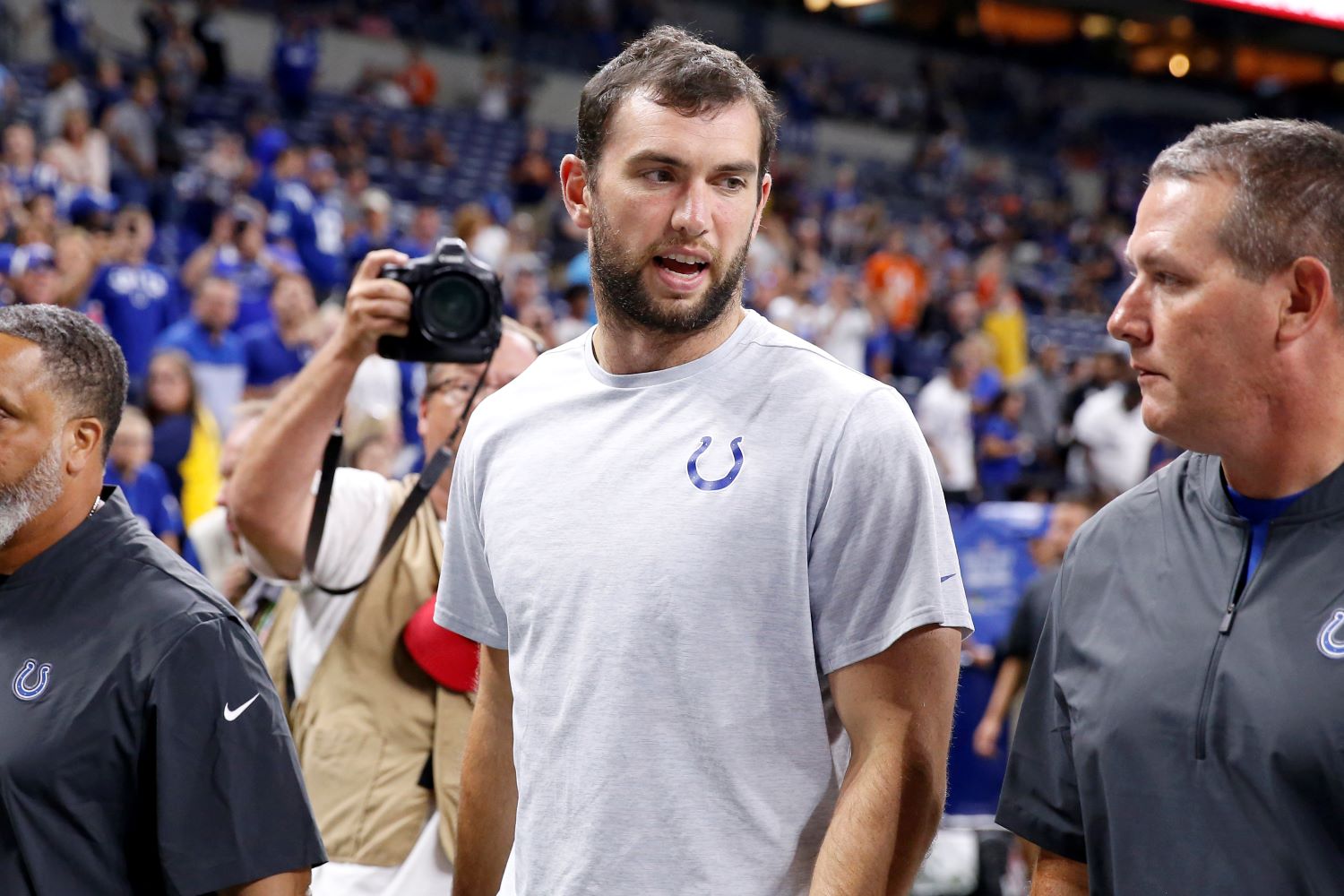 Jim Irsay Sends Stern Message to Colts Fans About Andrew Luck's NFL Future
Jim Irsay sent a stern message to Colts fans about the return of beloved quarterback Andrew Luck, who abruptly retired before the 2019 season.
The Indianapolis Colts suffered a devastating blow when Andrew Luck abruptly retired right before the 2019 season. Instead of having a worthwhile successor to Peyton Manning in place for the next decade-plus, the AFC South franchise still has to find a long-term answer at the most important position in sports.
For Colts fans, a small sliver of hope still exists that the former No. 1 pick could come back after spending a few years away from the game. And with rumors swirling about a possible return, team owner Jim Irsay sent a stern message to his fanbase about Luck's NFL future.
Andrew Luck ended his NFL career prematurely
The Colts seemingly struck gold when they got a chance to transition from Peyton Manning to Andrew Luck. Yet, the former Stanford star never came close to living up to his predecessor.
That didn't have to do with a lack of talent. But when you play just 86 games across seven seasons, it's impossible to put yourself in Manning's territory.
When healthy, Luck showcased a rare skillset that should have made him the face of the NFL for at least a decade. Blessed with a strong arm, underrated athleticism, and a brilliant mind, he earned four Pro Bowl selections during his time with the Colts.
However, Luck sustained a brutal amount of damage during his abbreviated NFL career. In 2015, he suffered a lacerated kidney and a partially torn abdominal muscle. The following year, he suffered a concussion and ended up having shoulder surgery in January 2017.
Although the Colts remained optimistic about their star quarterback's future, Luck missed the entire 2017 season. He returned with a vengeance in 2018 and won NFL Comeback Player of the Year honors.
He never played another NFL down again.
Shortly before the 2019 season began, Luck announced his retirement.
"I've been stuck in this process," he explained. "I haven't been able to live the life I want to live. It's taken the joy out of the game. The only way forward for me is to remove myself from football."
His abrupt retirement hasn't stopped comeback rumors from swirling
Considering he called it quits at age 29, many have speculated that Andrew Luck could come back to the Colts. After all, it doesn't seem impossible to think that a year or two away from the game could motivate the former top pick to get back to playing pro football.
The fact the Colts just lost Philip Rivers to retirement has done little to quiet rumors about a potential comeback for Luck.
According to the Indianapolis Star, earlier this week, alleged texts got posted on Twitter that included an eyebrow-raising nugget that Luck was supposed to have a meeting with "Jimmy with the Colts" and that he's missing the game of football. Obviously, the assumption here is that "Jimmy with the Colts" is owner Jim Irsay.
Former Indianapolis punter Pat McAfee weighed in on the latest Luck comeback rumor during his show. And let's just say he did not hold back in his criticism of Mike Austin, whose wife supposedly is friends with Luck's wife, Nicole Pechanec.
"A massive (expletive) you to Nicole's best friend that leaked these text messages and Mike Austin, his wife and everybody else," McAfee said. "Because this completely is what? Slapping privacy in the face of any person you are basically trying to extort information out of now when you're supposed to be a best friend."
Jim Irsay sends a stern message to Colts fans about the return of the beloved quarterback
Despite Andrew Luck's own admission that he lost the joy of playing football due largely to his injuries, a faction of Colts fans continue to hold out hope that the former face of the franchise will suddenly find the urge to make his return to the NFL.
But even Jim Irsay, who would benefit more than anyone from having Luck back in the fold, refuses to sugarcoat the situation.
In fact, the outspoken owner sent a stern message to Colts fans during a recent interview with CBS4 reporter Chris Widlic.
"Colts fans really need to digest this fact that (Luck's) more retired now than he was a year and a half ago," Irsay said. "He is retired. I mean, only Andrew knows of course, because it's his decision. But I can only say he definitely is retired and there's really no wiggle room or rumor, as much as people would like to hear that."
It's not as if the 61-year-old billionaire doesn't want to see Luck back on the field, either. Clearly, however, Irsay has come to grips with the reality of an unfortunate situation for his franchise.
"Believe me, I wish it was true and I was hiding some big announcement that was coming two days from now, but that's just not the case," he said.
Like Sportscasting on Facebook. Follow us on Twitter @sportscasting19.