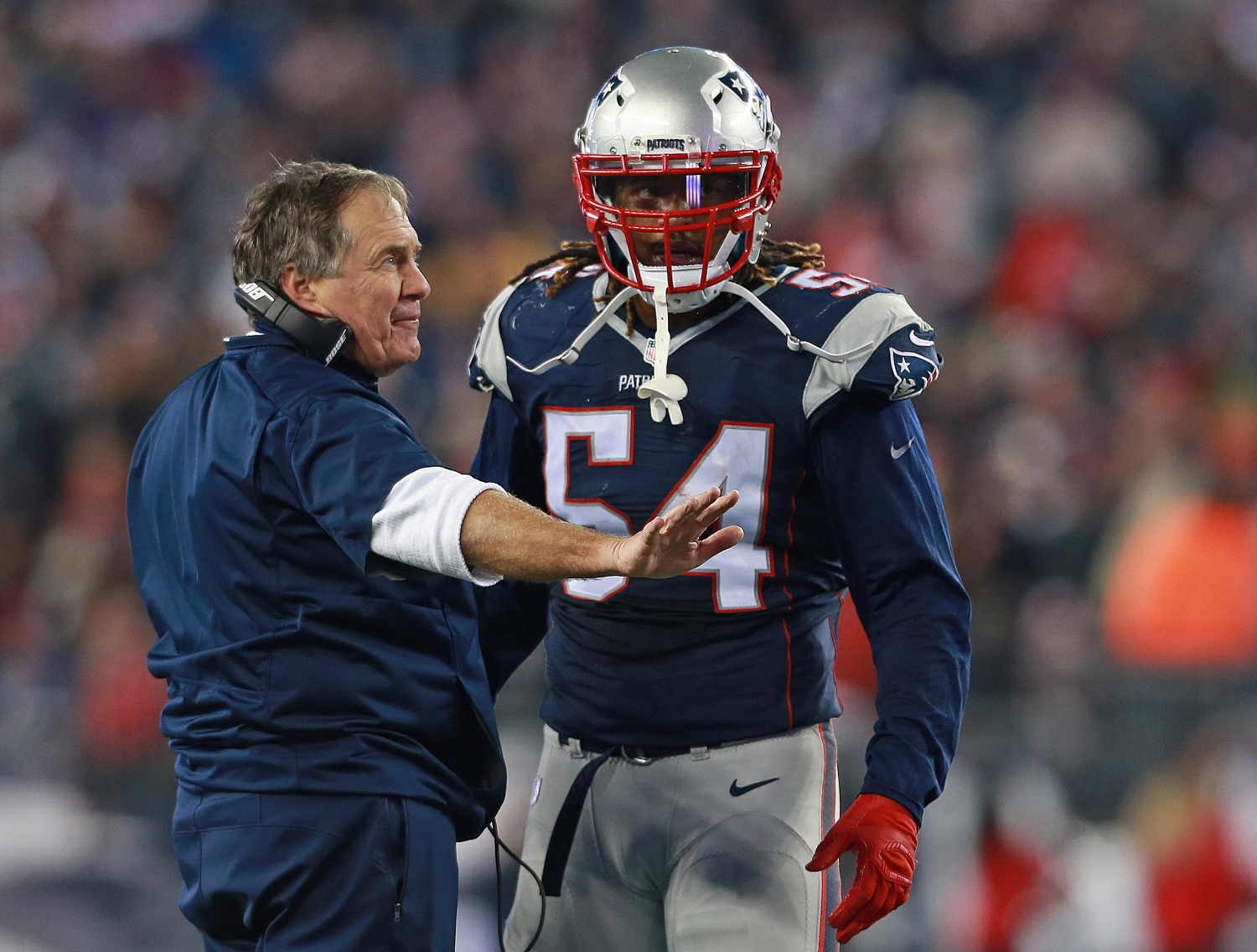 The Patriots Officially Have Reinforcements on the Way to Help Save Bill Belichick From Suffering Another Blow to His Hall of Fame Resume
Bill Belichick went back to being a losing coach without Tom Brady. But with reinforcements on the way, the Patriots could improve rapidly.
Just like he did in his first season with the New England Patriots—otherwise known as the year before Tom Brady took over as the team's starting quarterback—Bill Belichick failed to post a winning record.
The downgrade from the greatest quarterback of all time to a washed-up Cam Newton ended up being much worse than anyone expected. However, the 2020 version of the Patriots featured plenty of new faces at other positions, too.
Luckily for Belichick, a few familiar ones will reportedly find their way back to Foxborough in order to return to action. And if those veterans pick up where they left off, they might just save their coach from suffering another blow to his Hall of Fame resume.
Bill Belichick went right back to losing without Tom Brady as his quarterback
For the first time since 2000, the Patriots posted a losing record. Their 7-9 showing largely stemmed from an offense that struggled to move the chains with any semblance of consistency. With Cam Newton under center, New England plummeted from seventh in scoring to 27th. The offense also ranked 27th in total yards a year removed from finishing 15th.
Tom Brady's absence certainly played a significant role in the Patriots' uncharacteristic season. However, New England also did not feature several key contributors who have collected paychecks from Robert Kraft's franchise for years.
The Patriots had the most players opt out of the 2020 NFL season. Not having Dont'a Hightower and Patrick Chung left two huge holes on defense. While the loss of Marcus Cannon did allow Michael Onwenu to emerge as a potential star in his rookie season, it certainly would have helped to have the battle-tested veteran on the roster.
Ultimately, the Patriots got exposed as a team that does not have starting-caliber players at key positions. Of course, New England's lackluster roster rests on Bill Belichick's shoulders.
Luckily for the six-time Super Bowl winner, he has reinforcements on the way to help him from looking even worse without Brady as his quarterback.
The Patriots officially have reinforcements on the way
Earlier this month, Devin McCourty hinted that his teammates who opted-out last year will return for the 2021 season. That at least gave Patriots fans some hope about the future of the franchise.
Thanks to a report from Ian Rapoport, those fans should now feel slightly more optimistic about New England's chances of getting back to the playoffs this season.
On Friday, the NFL Network reporter took to Twitter to deliver the news that Hightower, Chung, and Cannon "are planning to be back for 2021" and that all three "are in a good place" from a physical standpoint.
That represents a big win for the Patriots in an offseason that ranks as the most important in franchise history. After all, New England still doesn't have a long-term answer (or even a short-term one) at the quarterback position. And based on Bill Belichick's history of drafting skill players, coupled with his apparent disdain for paying wide receivers, Patriots fans should have major concerns about how the team plans on finding weapons for whoever lines up under center in Week 1.
Getting Cannon back bolsters an offensive line group that could lose two long-term starters in free agency. Both Joe Thuney and David Andrews need new deals, but it would qualify as a surprise to see the former back in Foxborough.
Hightower and Chung (along with McCourty) have long been the vocal and on-field leaders for Belichick's defense. The former will instantly upgrade a linebacker group that struggled mightily in 2020. Chung should help tutor second-year safety Kyle Dugger, who many view as his successor.
But even with the trio set to return, will that be enough to save Belichick from suffering another blow to his Hall of Fame resume?
Will the return of key veterans help save Belichick from suffering another blow to his resume?
If Bill Belichick doesn't fix the quarterback position and acquire some legitimate receivers and tight ends, the Patriots might end up picking in the top-10 in the 2022 NFL draft. Clearly, the offense needs major reinforcements beyond Marcus Cannon.
And while Dont'a Hightower and Patrick Chung both boast plenty of big-game experience, they also have lengthy injury histories. Plus, the veteran defenders don't have age on their side.
But based on how the Patriots played last season, they definitely will improve by having Hightower and Chung back in the fold.
However, as Tom Brady and the Tampa Bay Buccaneers prepare to defend their Super Bowl title, Bill Belichick must have an A+ offseason to even get New England back into playoff consideration. And if he fails to hit on his draft picks for yet another year, that will only expose him as a massively overrated general manager. And as we saw last year, not even Coach Belichick could make up for Belichick the GM.
So until the man considered to be the greatest coach in NFL history starts to give himself better talent with which to work, New England will continue to look more and more like an ordinary NFL team rather than a franchise that unlocked the key to sustained success.
At least Belichick has reinforcements on the way.
Unfortunately for Patriots fans, the future of the franchise hinges on him bringing in new ones capable of playing at a starting-caliber level.
Let's see if Belichick can rediscover his vintage form and start hitting on his draft picks.
If not, he may have to update his job history on his resume in 2022.
Like Sportscasting on Facebook. Follow us on Twitter @sportscasting19.