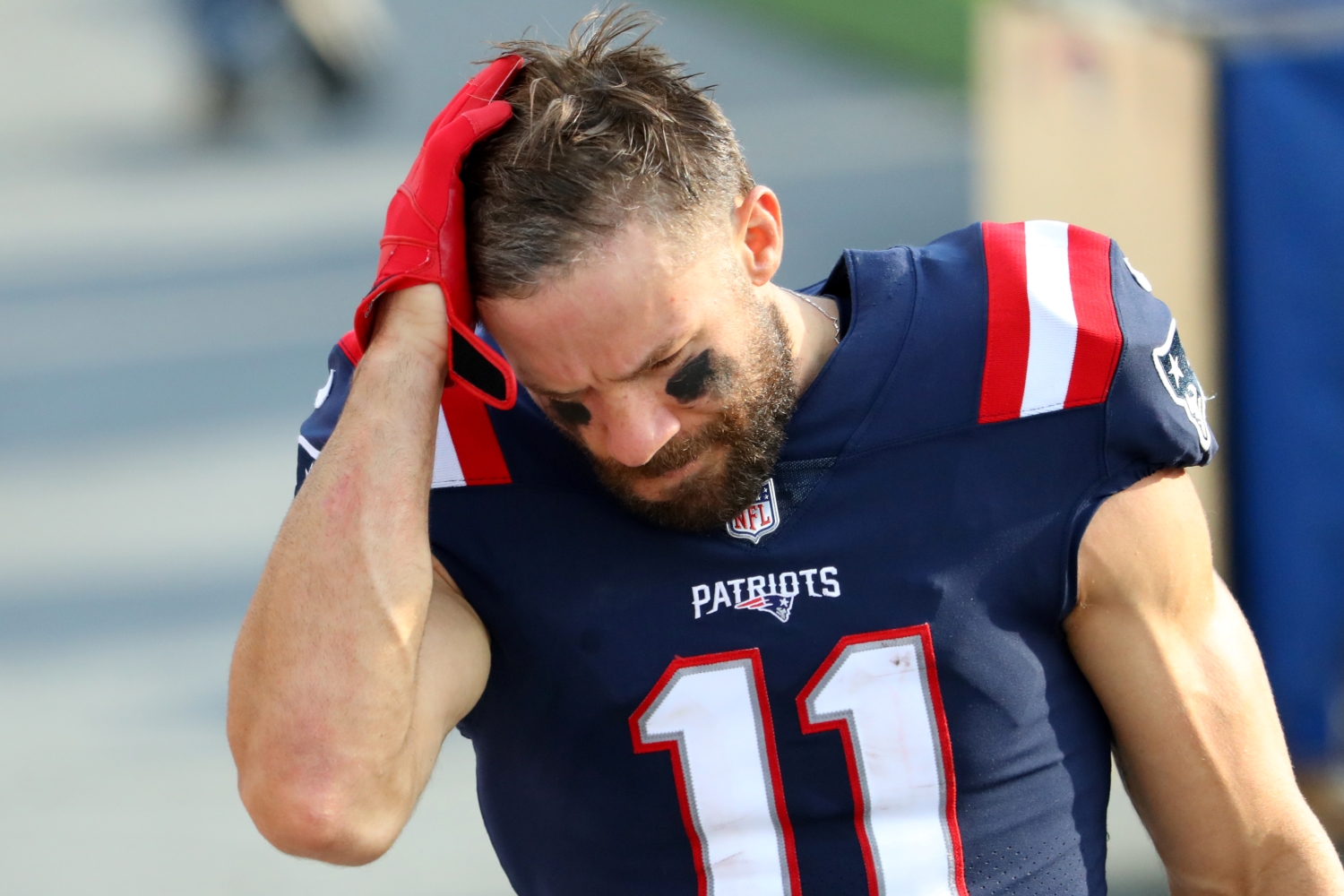 The Latest Update on Julian Edelman Doesn't Sound Promising For His Chances of Remaining With the Patriots
Based on the latest report about Julian Edelman, it sounds like the Patriots need to move on from the former Super Bowl MVP this offseason.
The New England Patriots struggled mightily on offense in their first season without Tom Brady under center. Of course, it didn't help that Cam Newton didn't have a healthy version of Julian Edelman available for the majority of the year.
Widely respected for his toughness, the former Super Bowl MVP played the fewest games of his NFL career in 2020. Unfortunately for fans of Robert Kraft's franchise, the latest update on Edelman doesn't sound promising at all for for his chances of remaining with the Patriots.
A knee injury sidelined Julian Edelman for most of the 2020 NFL season
Despite only tipping the scales at 5-foot-10, 198 pounds, Julian Edelman earned Tom Brady's trust and received plenty of opportunities to make plays because of it.
Renowned for his route-running ability and penchant for picking up yards after the catch, the former seventh-round pick posted three 1,000-yard seasons from 2013-19. Of course, he missed the 2017 season with a torn ACL.
Edelman responded by totaling 850 yards in 12 games before taking his game to another level in the playoffs. He racked up 26 catches for 388 yards in three postseason wins. The dynamic slot receiver earned Super Bowl MVP honors after totaling 10 receptions for 141 yards.
However, after recording a career-high 1,117 yards in what turned out to be Brady's final season in Foxborough, Edelman totaled just 315 yards in six games in 2020.
In late October, the Patriots placed the three-time Super Bowl champion on injured reserve after he underwent minor knee surgery. Ultimately, he never played another snap after New England's Week 7 loss to the San Francisco 49ers.
The latest update on the former Super Bowl MVP doesn't sound promising for his chances of staying with the Patriots
In mid-December, Patriots fans received some positive news when Julian Edelman got designated to return from IR. However, he never made it back on the field. Instead, Bill Belichick eventually announced the 34-year-old would not return to action for the home stretch of the 2020 season.
With New England in clear need of an overhaul at the receiver position, speculation has swirled about Edelman's future with the team. After all, Belichick has a well-documented history of moving on from aging veterans without hesitation.
And based on an update from Ian Rapoport, Patriots fans shouldn't feel optimistic about the beloved franchise icon's chances of remaining in Foxborough much longer.
"My understanding is he [Edelman] does want to play in 2021," the NFL Network reporter said. "That's not the important thing. The important thing is, 'Is his knee going to be healthy enough to play?'"
Despite having surgery four months ago, Edelman doesn't appear close to being game-ready.
"He is still rehabbing. He is still recovering," Rapoport said. "Still trying to see if he's healthy enough to be out there for the 2021 season. No decision made yet on which way that is going to go."
New England needs to part ways with the aging wideout and completely restock the receiver position
Considering the 2021 NFL draft takes place in two months, the latest update on Julian Edelman and his troublesome knee does not sound promising at all for his chances of sticking with the Patriots. And with free agency set to begin soon, New England can't afford to not have a clear plan to address the wide receiver position.
While Damiere Byrd and Jakobi Meyers proved they can play complementary roles, the Patriots desperately need to find at least one starting-caliber wideout. Whether that comes via free agency or the draft remains a complete mystery. After all, Belichick has never seemed interesting in paying top-level money for a receiver.
However, with Edelman likely on his way out, and N'Keal Harry's future looking bleaker than ever, the Patriots would do best to completely overhaul the position. At this point, they need to invest legitimate financial resources to sign a proven veteran who can help immediately. And maybe top personnel executive Dave Ziegler can help New England finally find a receiver in the draft who can become a long-term fixture in Foxborough.
No matter what route the Patriots take at the position, it certainly doesn't sound like Julian Edelman should be part of the team's plans moving forward.
But even if Belichick parts ways with one of the most popular players in franchise history, that doesn't necessarily mean the former college quarterback has caught his final NFL pass.
Maybe the warm weather and a reunion with TB12 will magically rejuvenate Edelman.
After all, the oft-injured Rob Gronkowski certainly looked like he had fun in his first year in Tampa.
All statistics courtesy of Pro Football Reference.