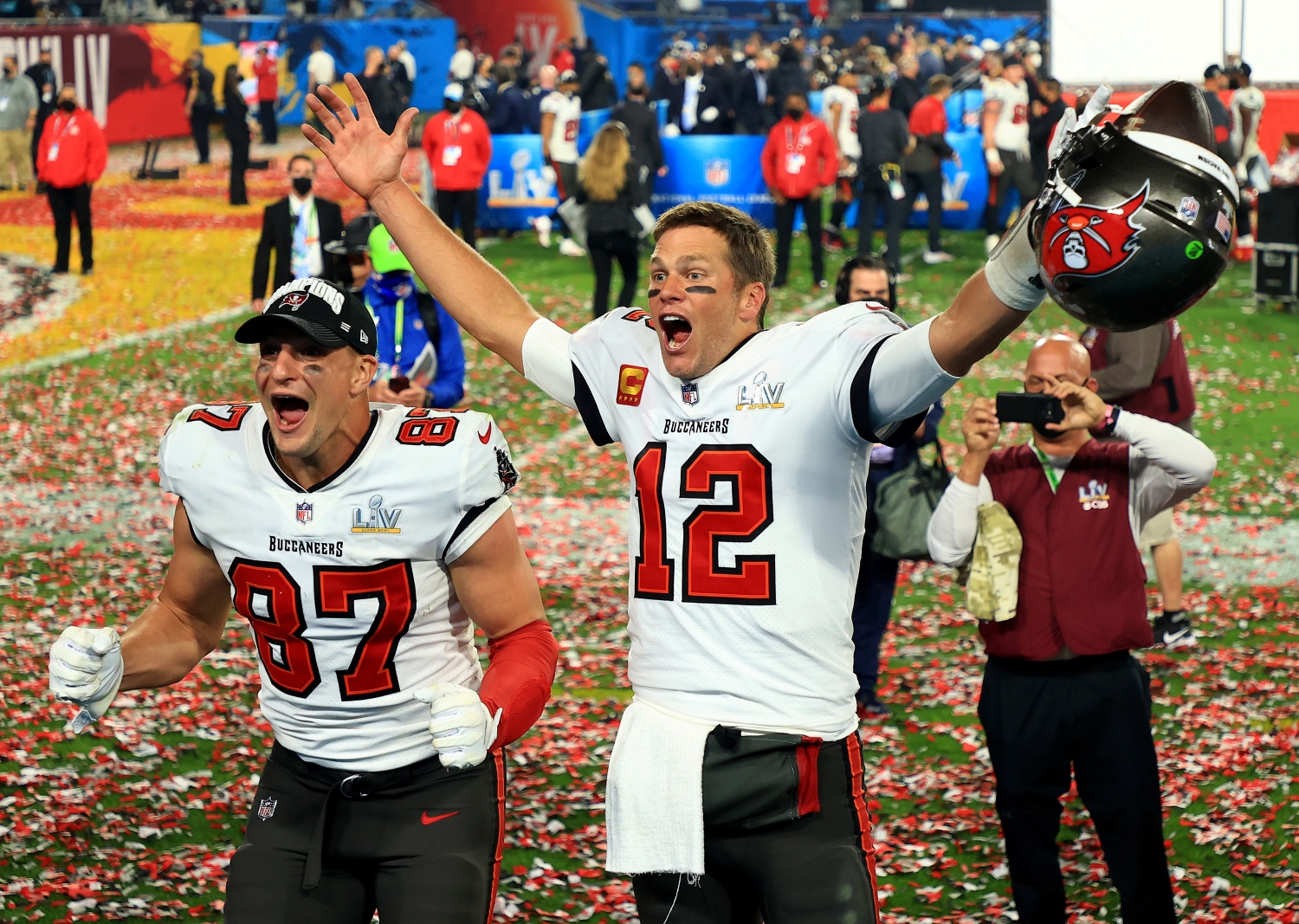 Tom Brady is About to Give the Buccaneers a Valuable Gift They Desperately Need Without Spending a Dime
Tom Brady is about to give the Buccaneers a gift they desperately need without spending a dime. Will that lead to another title for Tampa?
Tom Brady just brought the Lombardi Trophy back to Tampa for the first time in nearly two decades. And by the sound of it, the former New England Patriots star will soon give the Buccaneers a valuable gift that will give the NFC South franchise a much stronger chance of repeating as Super Bowl champions.
And luckily for the greatest quarterback of all time, he won't have to spend a dime to do so.
Tom Brady proved he has plenty left in the tank in his age-43 season
For years, Patriots fans watched Tom Brady continue to defy age and collect Super Bowl rings in the process. However, he couldn't convince Bill Belichick to give him a long-term contract extension.
After gaining his freedom from Foxborough, TB12 happily took his talents to Tampa and turned a perennial losing franchise into the ultimate winner.
In his age-43 campaign, the three-time NFL MVP completed 65.7% of his passes for 4,633 yards and 40 touchdowns. His leadership obviously had a positive effect on a Buccaneers squad that desperately needed to move on from Jameis Winston.
Brady proceeded to send Drew Brees and Aaron Rodgers home early in the playoffs to set up a Super Bowl 55 showdown against perhaps the only quarterback capable of stealing the GOAT title from him one day: Patrick Mahomes.
Ultimately, though, the matchup didn't live up to the hype. The Buccaneers made life miserable for Mahomes, who finished the night without a single touchdown pass.
Meanwhile, Brady's 10th Super Bowl appearance went much smoother than most of his previous trips. He completed 72% of his passes for 201 yards and three touchdowns and earned his fifth Super Bowl MVP trophy.
And by leaving the door open about playing beyond the age of 45, it's safe to say the seven-time champion is far from finished.
The NFL legend is about to give the Buccaneers a gift they desperately need without opening up his wallet
The Buccaneers loaded up to win a Lombardi Trophy. But with several prominent players set to hit free agency, general manager Jason Licht must decide who deserves to remain in Tampa.
Of course, it will take significant financial resources to retain a star-studded list of impending free agents. But thanks to Tom Brady, Tampa should soon receive a valuable gift from the future Hall of Famer that will aid in that effort.
And rather than spending any of his own money to help the Buccaneers, he will actually put the team in a better financial position by securing another payday from the Glazer family.
"If Tom Brady gets a contract extension, which I must say, based on the people I've spoken with, sounds like probably should happen, Brady would probably get either a one- or two-year extension," the NFL Network's Ian Rapoport reported Wednesday.
Of course, extending Brady would open up more salary-cap space for a team that has a number of high-impact players in need of new deals.
By securing another year (or two) of Brady's services, the Buccaneers will have stability at the most important position in sports. And most importantly, they will have extra wriggle room to re-sign key contributors.
Still, that doesn't necessarily mean Tampa will roll out the same roster that thoroughly outplayed the Kansas City Chiefs in the biggest game of the year.
Can Tampa keep its championship core intact in order to make another Super Bowl run?
Although Bruce Arians and Jason Licht have expressed a desire to keep the Buccaneers' championship core intact, it remains to be seen whether that dream becomes a reality.
However, if Tom Brady gives the gift of added salary-cap space, that will give Tampa a much better chance of not losing key players to other teams.
And when you look at the talent level of the Buccaneers' impending free agents, it's clear that it will take quite a bit of money to make sure the team heads into the 2021 NFL season as a top Super Bowl contender.
Here are some of the notable names in need of new deals:
Chris Godwin, WR
Shaquil Barrett, OLB
Lavonte David, OLB
Leonard Fournette, RB
Rob Gronkowski, TE
Ndamukong Suh, DT
Antonio Brown, WR
With roughly $24 million in cap space at the moment, Tampa clearly does not have the financial flexibility to bring all of those players back.
But if they strike an extension with their star quarterback to lower his $28.4 million cap hit, the Buccaneers may just hoist the Lombardi Trophy again next February.
And if Tom Brady keeps playing like he did in his first season in Tampa, he may run out of fingers to fit all of his Super Bowl rings before he finally retires.
All contract data courtesy of Spotrac. All statistics courtesy of Pro Football Reference.