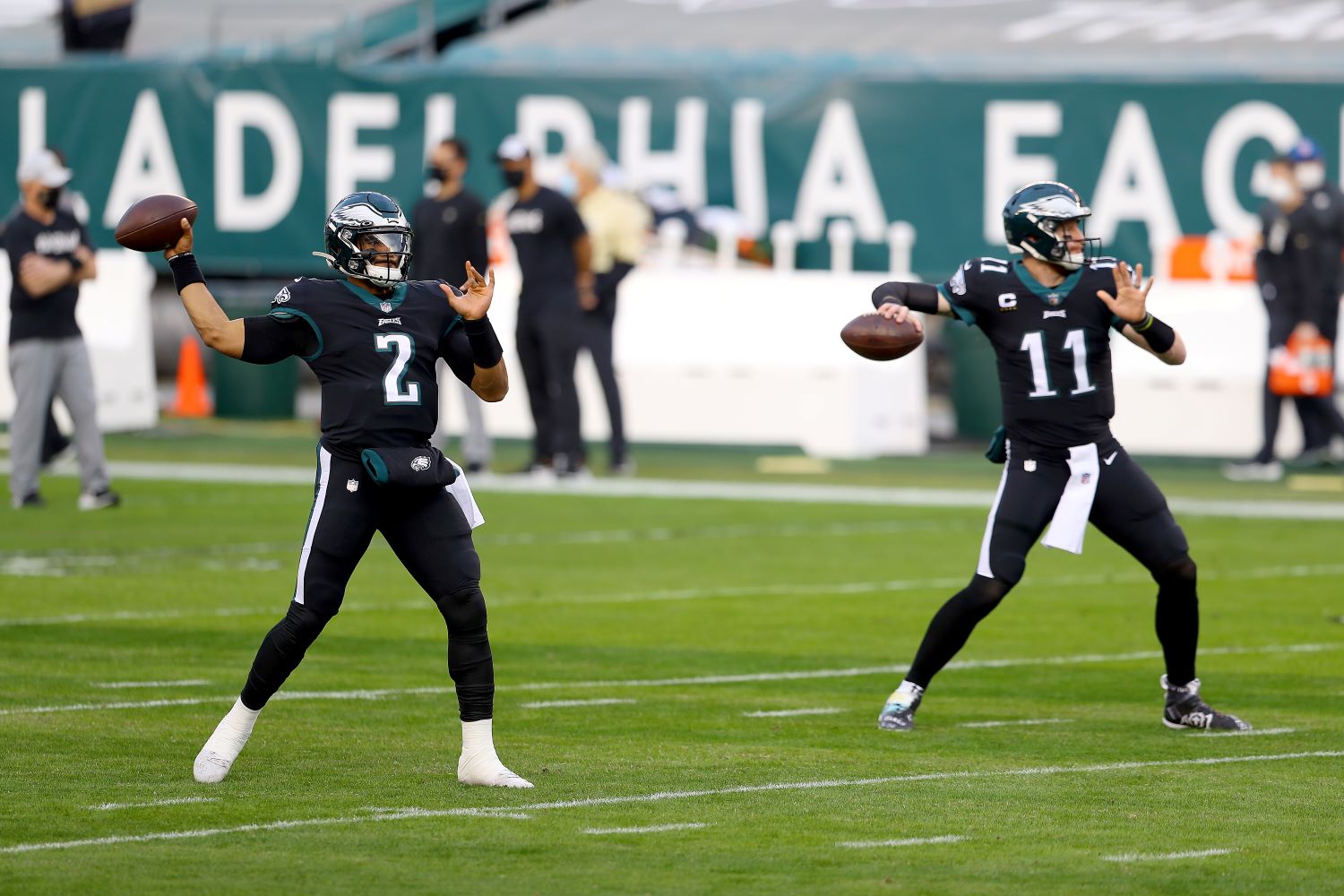 The Philadelphia Eagles Have Decided on Their Starting Quarterback…For Now
On Monday, Eagles head coach Doug Pederson officially silenced any doubts about whether Jalen Hurts or Carson Wentz will start in Week 15.
After watching Carson Wentz struggle for months, Philadelphia Eagles head coach Doug Pederson finally sent the former No. 2 pick to the bench last week. That gave intriguing rookie Jalen Hurts the opportunity to prove why the franchise spent a second-round pick on him back in April.
While the dual-threat signal-caller didn't do anything particularly special, he did lead the Eagles to just their fourth win of the season. Still, Pederson refused to commit to Hurts as the starter for Week 15.
But on Monday, the Eagles officially named their starting quarterback for this week's matchup against the Arizona Cardinals. Ultimately, though, Philadelphia faces a much more important decision about the position this offseason.
Doug Pederson refused to commit to Jalen Hurts after Sunday's win
Carson Wentz may have signed a $128 million contract not too long ago, but that didn't stop the Eagles from recently benching the highly-paid quarterback for Jalen Hurts.
In his first NFL start, the former Heisman finalist showcased some of the skills that made him a star at both Alabama and Oklahoma. Although Hurts completed just 17-of-30 attempts, he did throw a beautiful touchdown pass to Alshon Jeffery for the game's first points.
Hurts' mobility made a major difference on Sunday. The 6-foot-1, 222-pound QB ran for 106 yards on 18 carries in Philadelphia's 24-21 upset against the New Orleans Saints. Meanwhile, Taysom Hill ran for just 33 yards on five carries.
Even after Hurts helped the Eagles improve to 4-8-1, Pederson did not commit to the rookie as the starter for Week 15.
"Jalen got the start this afternoon, and I thought overall, there were some good things and [he] really kind of gave us a spark as a team that I was looking for, and I think we were looking for as a team," Pederson said in his post-game press conference. "But you know, this win is not about one guy. This win is about this team and how resilient this team is."
When asked why he wasn't ready to name Hurts as the starter moving forward, Pederson only said that he planned to "enjoy this win and get ready for next week."
His non-committal stance led to speculation about who will start at quarterback for the Eagles in Week 15.
The Eagles have officially named their starting quarterback for Week 15
Anyone who watched the Eagles on Sunday saw an offense that looked more explosive than it has for pretty much the entire season. In fact, the Eagles racked up 413 total yards against the Saints—their second-highest mark all year.
Philadelphia gained 246 yards on the ground alone. That easily topped the team's previous high of 194 rushing yards that came against the Baltimore Ravens in Week 6.
While the Eagles clearly have major issues to address this offseason, Doug Pederson finally addressed the biggest question remaining in the aftermath of Hurts' first NFL start: Who will be QB1 against the Cardinals?
"After going through the film and really looking back at even to last week and the preparation and everything, I'm going to continue with Jalen this week as the starter," Pederson said at his Monday press conference.
That decision shouldn't be surprising given Wentz's struggles and Hurts' solid first start. At this point, the Eagles might as well continue letting the rookie play so they can get a full evaluation of his ability heading into the offseason. Because once the season concludes, Philadelphia faces a monumental decision at the most important position in sports.
What will Philadelphia do at the QB position this offseason?
Jalen Hurts will get the start in Week 15 against the Cardinals. And in all likelihood, he should remain QB1 for the final few weeks of the 2020 season.
But will that be his role next year, too?
If Hurts performs well the rest of the way, he will have all the momentum heading into the offseason. Still, given the financial implications of cutting or trading Carson Wentz, it looks like he will stick around for at least another season.
At that point, the Eagles would have an incredibly expensive backup, which at least balances out with Hurts' ridiculously cheap rookie deal. Perhaps Philadelphia will hold onto Wentz as an insurance policy in 2021 before unloading him the following offseason.
However, let's not forget that the Eagles believed in Wentz enough to pay him $107 million guaranteed in April 2019. Some of his struggles do boil down to playing behind an injury-ravaged offensive line. Plus, Philadelphia clearly needs to improve at the receiver position.
Could Wentz find success again if he's surrounded by better weapons and gets better protection? Or has he already fallen far enough that the franchise has totally given up on him?
We'll have to wait until the offseason and training camp to find out.
For now, though, Carson Wentz will collect some fat paychecks just to hold a clipboard.
All statistics courtesy of Pro Football Reference.