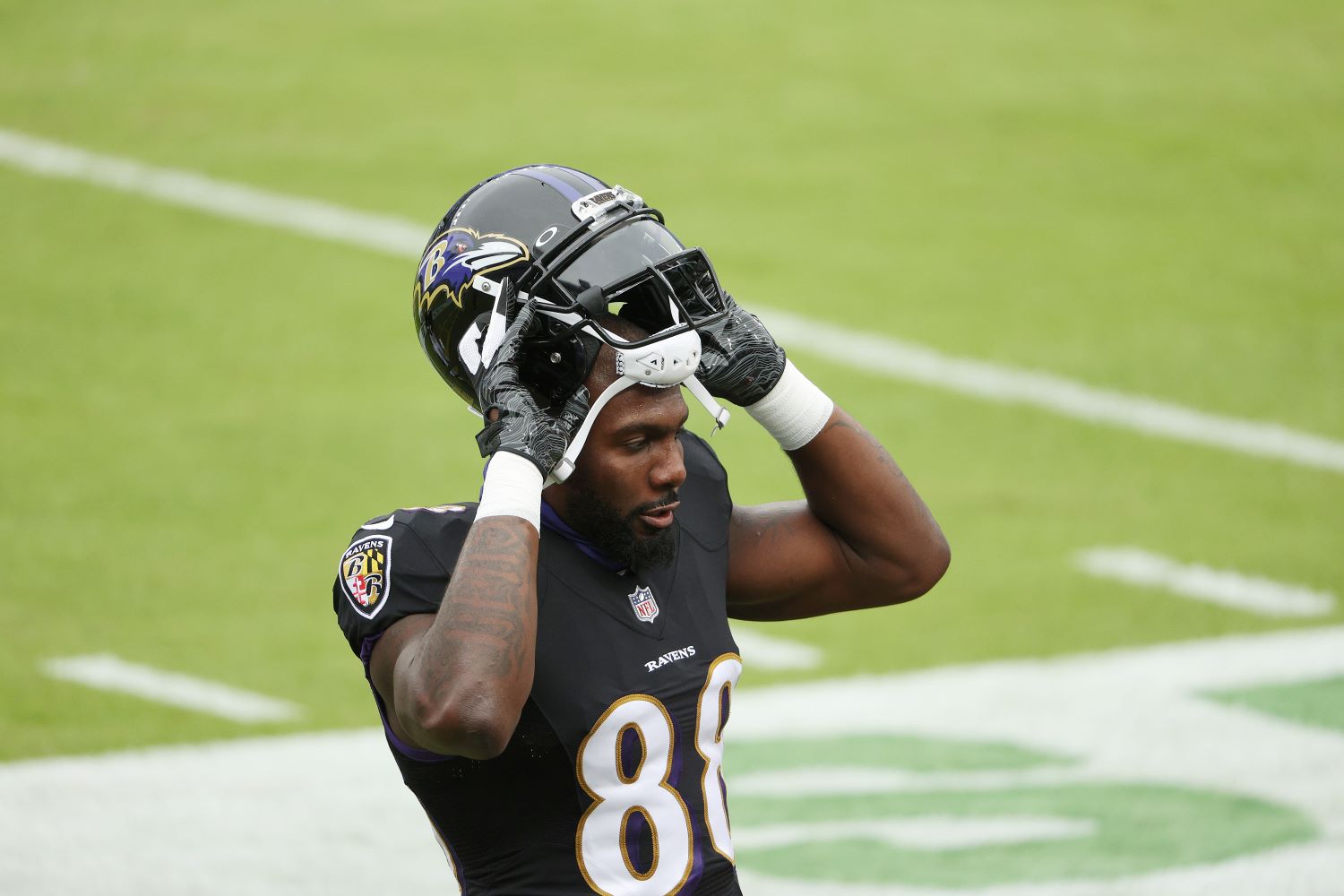 The Baltimore Ravens Have Issued a Clear Directive to Dez Bryant
The Baltimore Ravens have issued a clear directive to Dez Bryant, who has not been shy about blasting the NFL for his COVID-19 situation.
When Dez Bryant signed with the Baltimore Ravens back in October, it represented a fresh start for the former Dallas Cowboys star. Yet, his NFL return has not gone exactly as planned.
With the opportunity to exact revenge against his own team, Bryant never got that chance after he got pulled for testing positive for COVID-19. Since then, the brash wide receiver has aired his frustrations in a very public manner.
Apparently, though, the Ravens have had enough.
Dez Bryant lost his opportunity for revenge
Though his prime may have been short-lived, Dez Bryant put together a heck of a career in Dallas. After the Cowboys made him the 24th overall pick of the 2010 NFL draft, the former Oklahoma State star became one of the most popular players in franchise history.
On the field, Bryant utilized his physicality to outmuscle, outleap, and outproduce the competition. The 6-foot-2, 220-pound wideout earned three Pro Bowl berths in eight seasons with the Cowboys. Bryant earned his only first-team All-Pro selection in 2014 when he led the NFL with 16 touchdown receptions.
However, Bryant essentially fell off the NFL radar the last few years.
He never played a down for the New Orleans Saints in 2018 due to an Achilles tear. He also sat out the 2019 season.
But the former Pro Bowler recently completed his NFL comeback in October when he signed with the Ravens.
And on Tuesday, the ex-Cowboy finally had a chance to exact revenge against his former team. Unfortunately for Bryant, he lost that opportunity shortly before kickoff when he reportedly tested positive for COVID-19. And everything that has transpired since that night has been quite interesting to follow.
The former Cowboys star continues to spark controversy about his COVID-19 situation
For Dez Bryant, getting pulled from the Cowboys game turned out to be the straw that camel's back. At least, that's how he made it seem on social media.
With Twitter buzzing with the news about Bryant testing positive, the Ravens wide receiver fired off several tweets. And let's just say he did not hold back one bit.
"Yea I'm going to go ahead and call it a quit for the rest of the season… I can't deal with this," Bryant wrote 16 minutes after he tweeted that he had tested positive.
He didn't stop there.
The 32-year-old proceeded to call out the NFL directly.
"Since I tested positive for Covid before the game do the game stop or go on?" he wrote before tagging the league's official Twitter account.
Bryant also went on to tweet about drinking wine and invited Twitter users to "post your glass of wine" as the Ravens-Cowboys game went on.
On Thursday, he sparked some controversy by tweeting that he had back-to-back negative test results for COVID and that he wasn't excited about it. He followed up Friday with a tweet that he tested negative again.
The Ravens have issued a clear directive to Bryant
Dez Bryant's controversial COVID-19 story took another turn Thursday afternoon when the Ravens placed him on the reserve/COVID-19 list.
But it sounds like Baltimore wants the story to halt altogether.
At least, from Bryant's side.
On Friday, NFL Network's Tom Pelissero provided some more details on the entire situation, starting with the controversy over the test results.
"It is not a binary result, in terms of positive or negative. The fact that Dez, on gameday, had an inconclusive test result that was then re-run and came back inconclusive again, that meant that there were warning signs," Pelissero said. "That's why they gave Dez that point-of-care test with the new Mason machine, which is supposed to be much more accurate. And that one came back positive."
He also relayed a story from an unnamed player who experienced a similar situation as Bryant.
"There's another star player within the past couple of weeks here who had the exact same thing happen—inconclusive test results," Pelissero said. "Didn't test positive for almost a week but missed the game as a precaution. And sure enough, he then eventually turned positive."
He wrapped up his report with an interesting nugget that involves the Ravens issuing a clear directive to the receiver. And it involves Bryant giving his thumbs a break on his off-time.
"I also have been told that Dez has been advised, 'Just stop tweeting for a little bit,'" Pelissero said.
Will Bryant stay silent?
Ultimately, that doesn't matter as much as the noise he needs to make on the field when he comes off the reserve/COVID-19 list.
Like Sportscasting on Facebook. Follow us on Twitter @sportscasting19.