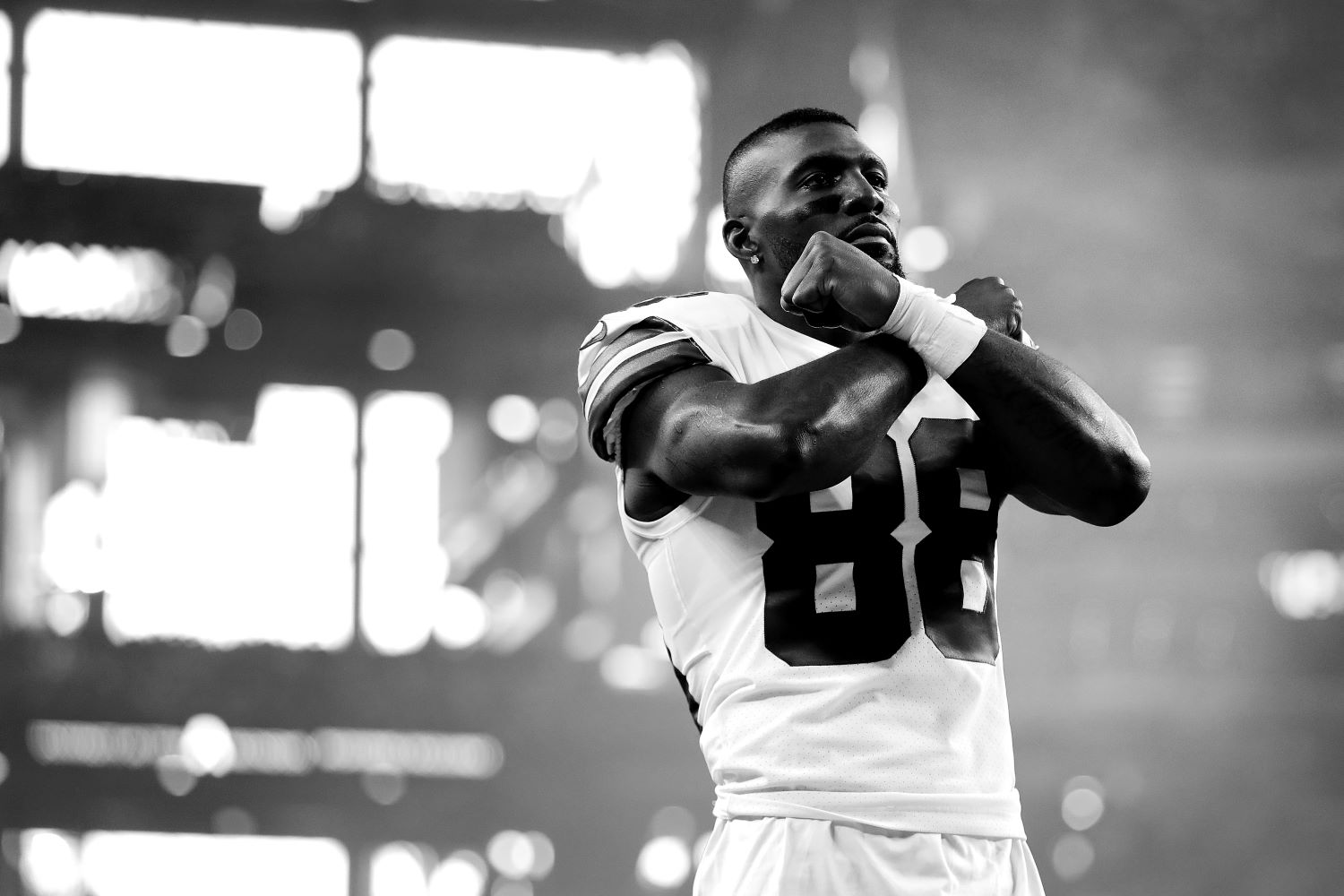 Former Cowboys Star Dez Bryant Just Completed His NFL Comeback
Former Cowboys star Dez Bryant just completed his NFL comeback. Can the 31-year-old be a reliable weapon for the Baltimore Ravens?
While Dez Bryant did sign a contract with the New Orleans Saints in 2018, a torn Achilles ended that experiment before it really began. As a result, the former Dallas Cowboys star hasn't played in an NFL game since 2017. However, the 31-year-old just completed his NFL comeback.
But can the three-time Pro Bowler become a consistent contributor for the Baltimore Ravens? Or will Bryant fail to live up to expectations after spending the last few years watching NFL games from home?
Dez Bryant hasn't played an NFL game since 2017
A decade ago, the Cowboys made Dez Bryant the 24th overall pick of the 2010 NFL draft. The 6-foot-2, 220-pound wideout wasted no time proving Dallas made a great decision to trade up to secure his services.
In his rookie season, Bryant racked up 561 yards and six touchdowns on 45 receptions. He broke out as a superstar in his third season by setting a career-high with 1,382 receiving yards.
In 2013, he earned his first of three Pro Bowl honors after setting a personal-best with 93 receptions. Bryant proceeded to lead the NFL with 16 touchdown receptions in 2014.
However, injuries started to take their toll on the big-bodied receiver. Bryant played just nine games in 2015. He missed three more in 2016. Though he stayed healthy in his final year in Dallas, Bryant averaged a career-low 12.1 yards per catch. The Cowboys released him on April 13, 2018.
Nine weeks into the 2018 season, the Saints signed Bryant to a one-year, $1.25 million deal. However, two days later, he tore his Achilles in practice. He never played a down for New Orleans and has never signed another NFL contract.
Bryant just completed his NFL comeback
After missing the last two seasons, Dez Bryant just completed his NFL comeback. Last week, the ex-Cowboys star appeared to be on the verge of joining the Ravens. And on Tuesday, the union became official.
Ian Rapoport reported via Twitter that Baltimore is signing Bryant to its practice squad. The move makes sense for both sides. The Ravens need more production out of their receivers, and Bryant certainly has an excellent track record of producing from his time in Dallas.
The former first-round pick obviously has spent ample time away from football. However, he chose a landing spot that gives him an opportunity to win his first Super Bowl ring. In eight years with the Cowboys, Bryant got a chance to play in the postseason just twice.
Now, he joins a Ravens squad that has made the playoffs in back-to-back seasons and currently looks like one of the favorites to represent the AFC in Super Bowl 55.
What should Ravens fans expect from the former Cowboys star?
Considering he still has to get promoted to the active roster, Ravens fans should quell their expectations about Dez Bryant. But if the former Cowboys star can harness some of the skills that made him dominant in Dallas, Baltimore will be even more difficult to defend moving forward.
During his prime, Bryant dominated thanks to his physicality and body control. He never won based on pure speed or quickness. Rather, he outmuscled defensive backs and excelled in jump-ball situations.
The Ravens already have a pure speedster in Marquise Brown. However, they need a more consistent chain-mover. In theory, Bryant should provide Lamar Jackson with a big, physical target in critical situations. He certainly brings much more size to the equation than Brown (5-foot-9, 170 pounds) and Willie Snead (5-foot-11, 205 pounds).
Assuming he gets a chance to play on Sundays, it will be interesting to see if Bryant can achieve consistent separation. He struggled in that area during the latter half of his Cowboys career. Does he have enough explosion left in his legs to get open against much younger, faster defensive backs?
If so, the Ravens could very well make a Super Bowl run given the fact they boast the league's top defense. Let's see if the experiment works out, or if Bryant fails to provide an impact in Baltimore.
All statistics courtesy of Pro Football Reference.