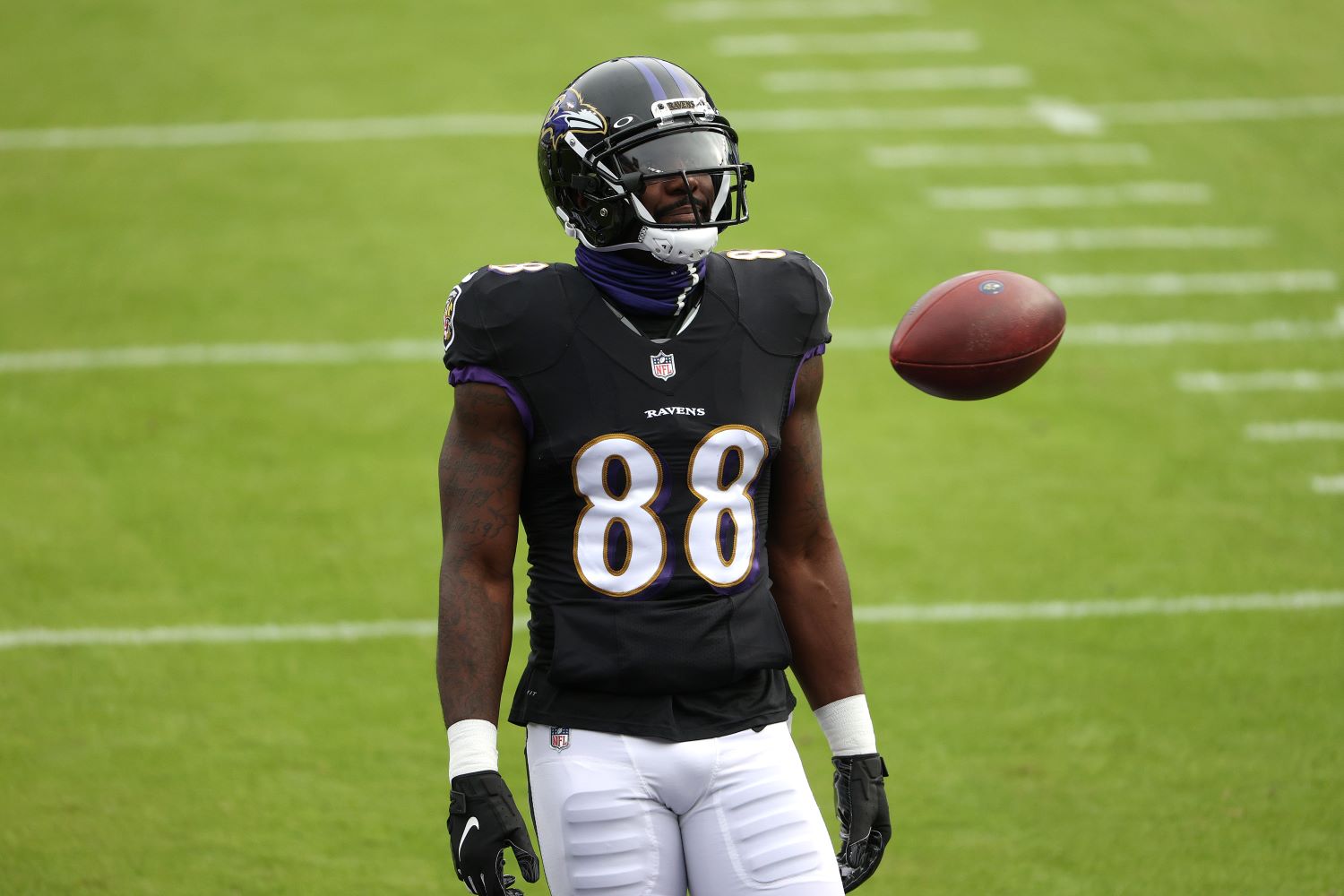 Dez Bryant's Controversial COVID-19 Story Just Took a Major Turn
The controversial Dez Bryant COVID-19 story just took a major turn on Thursday, and let's just say the Ravens WR won't be too happy.
Dez Bryant suffered a brutal setback in his mission to exact revenge against the Dallas Cowboys when he reportedly tested positive for COVID-19 shortly before kickoff on Tuesday. The Baltimore Ravens wide receiver certainly wasn't happy about not getting to play against his former team.
But with speculation swirling about whether Bryant actually tested positive, this controversial story just took a major turn. And the ex-Cowboy certainly can't be pleased with how his NFL return is going right now.
COVID-19 kept Dez Bryant from exacting revenge on the Cowboys
Dez Bryant established a reputation as one of the NFL's top wide receivers with the Cowboys. From 2012-2014, the big-bodied pass-catcher racked up 273 catches for 3,935 yards, and 41 touchdowns. Bryant led the league with 16 TD receptions while earning first-team All-Pro honors in 2014.
However, his play started to slip in his final years in Dallas. The two sides parted ways after the 2017 season. Although Bryant resurfaced with the New Orleans Saints, he suffered a torn Achilles before he ever got a chance to play in a game.
Back in October, the Ravens signed the three-time Pro Bowler to their practice squad. He has appeared in three games since joining the AFC North franchise.
Bryant's fourth game in a Baltimore uniform should have come on Tuesday. The 32-year-old had a chance to exact revenge against the Cowboys and their 32nd-ranked defense.
Yet, that never happened.
As the veteran receiver warmed up in preparation to face his former team, he got told he tested positive for COVID-19. He got ruled out of the game and fired off a number of tweets expressing his displeasure with the NFL.
His controversial story just took a major turn
Dez Bryant rightfully got upset that he got ruled out shortly before kickoff in a game that carried plenty of personal meaning to him. Despite reportedly testing positive, the Ravens did not place the veteran receiver on the reserve/COVID-19 list on Wednesday.
That sparked some speculation that his test might have been a false positive.
Bryant certainly seemed to support that theory with a tweet on Thursday that read, "I tested negative back to back for covid and I'm not excited about it."
However, his controversial COVID-19 story just took a major turn.
On Thursday afternoon, the Ravens announced that Bryant has been placed on the reserve/COVID-19 list. According to head coach John Harbaugh, Bryant had an inconclusive test before the game and then tested positive through a rapid-results test.
Bryant will be sidelined for at least 10 days. He will miss Monday night's game against the much-improved Cleveland Browns.
While Bryant surely can't be happy about the situation, he needs to stay focused on what he can control. Because when he does return, the Ravens need him to be a consistent contributor down the stretch.
What will Bryant provide Baltimore when he's back?
Since making his return to the NFL, Dez Bryant has barely made a blip on the radar. He played just two snaps in his first game back. In Week 11, he caught four of five targets for a paltry 28 yards. The 6-foot-2, 220-pound receiver only got targeted twice on 32 snaps in Baltimore's Week 12 loss to the Pittsburgh Steelers.
Down the stretch, the Ravens need much more from Bryant if they want to make a Super Bowl run. To this point, Baltimore's passing attack has not lived up to expectations…and that's being kind. The Ravens rank dead-last with just 169.3 passing yards per game.
Meanwhile, Lamar Jackson has thrown just 18 touchdown passes through 12 games. The reigning MVP led the league with 36 a year ago.
Baltimore does not boast a particularly intimidating group of pass-catchers. Mark Andrews and Marquise Brown carry a heavy load, but they need help from the rest of their teammates.
Bryant won't wow anyone with his speed or overall explosiveness, but he at least gives the Ravens size and physicality. He has to become a more consistent contributor down the stretch, particularly in the red-zone and third-down situations.
But at 32 years old, can he still make an impact on a weekly basis?
Thanks to COVID-19, we'll have to wait a little longer to find out.
All statistics courtesy of Pro Football Reference.