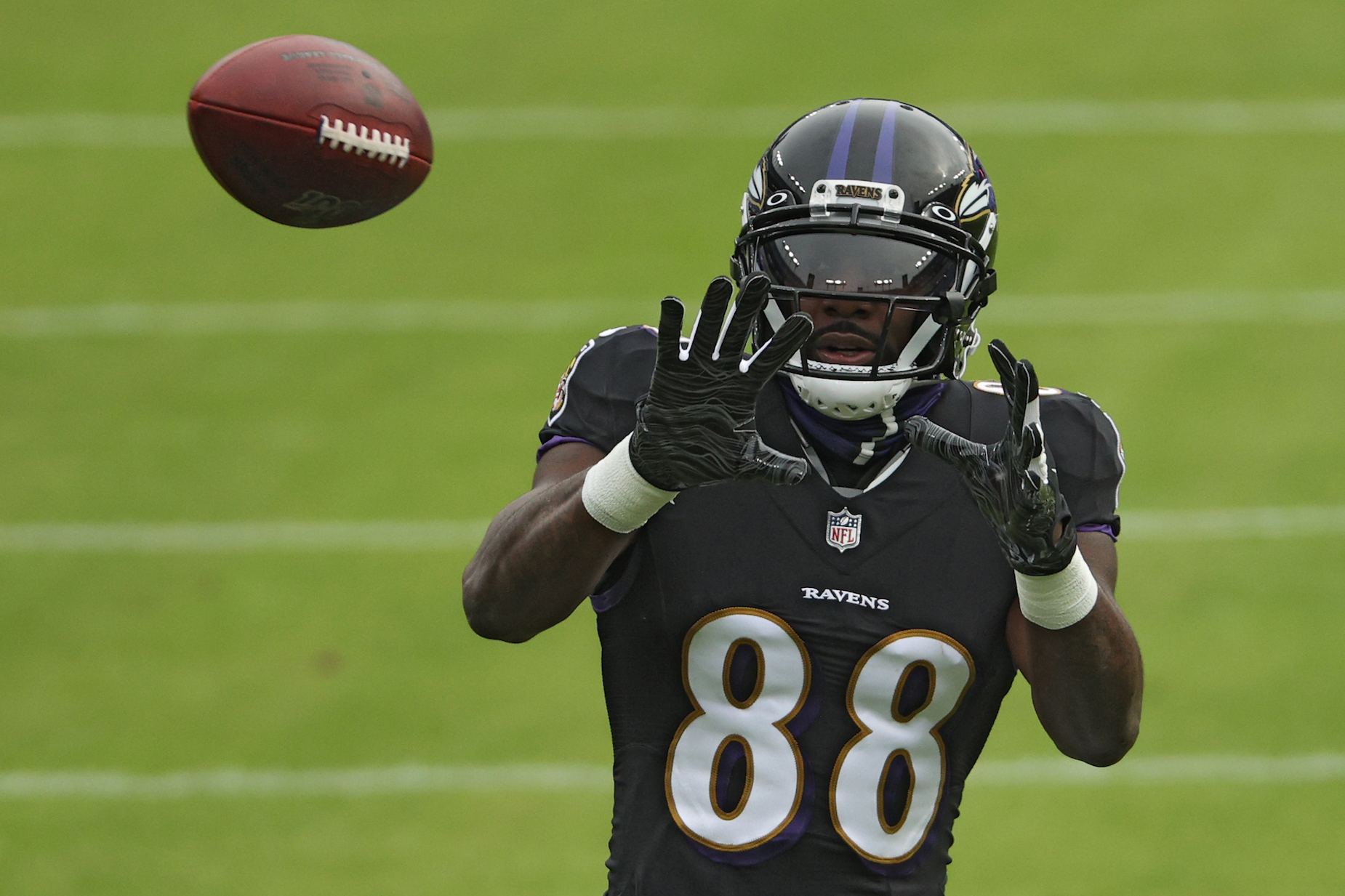 Dez Bryant Lost More Than Just a Game Check After Testing Positive for COVID-19
On Tuesday night, Baltimore Ravens receiver Dez Bryant tested positive for COVID-19. That unfortunate reality could cost him dearly.
After some COVID-19-related delays, the Baltimore Ravens and the Dallas Cowboys finally played their Week 13 game on Tuesday night. Since it's 2020, though, there was one final twist in the tale: minutes before kickoff, Dez Bryant was informed that he tested positive for COVID-19 and was pulled from the field. The receiver spent the rest of the evening watching the game, drinking wine, and tweeting in an attempt to process what happened.
Since he didn't suit up for action on Tuesday night, it's safe to assume that Dez Bryant won't be getting a game check. The Baltimore Ravens receiver, however, lost out on more than his salary.
Dez Bryant's NFL comeback was cut short by COVID-19
In 2020, the name Dez Bryant might not inspire much emotion from anyone other than Dallas Cowboys and Baltimore Ravens fans. In the early 2010s, though, it was a much different story.
Bryant played his college football at Oklahoma State before joining the Dallas Cowboys as the 24th pick of the 2010 draft. While there were initially some concerns about his maturity and character, the receiver developed into a legitimate star in Big D; before long, he was regularly torching defenses with his blend of size and athleticism.
Injuries, however, eventually slowed Bryant down, and the Cowboys released him after the 2017 campaign. He tried to mount a comeback during the 2018 season with the New Orleans Saints but tore his Achilles tendon before ever making it onto the field.
After roughly two years out of football, Bryant was ready to make his comeback. He joined the Baltimore Ravens' practice squad, suited up for three games, and earning a spot on the active roster. After his positive COVID-19 test, though, the receiver tweeted that he wouldn't play any more football this season.
Missing out on something bigger than football against the Cowboys
Since he was deactivated before kickoff, it's safe to assume that Dez Bryant won't be receiving a game check for Tuesday's date with the Dallas Cowboys. The receiver, however, missed out on something more important than money.
"This was more than just another game for me," Bryant tweeted after he learned of his positive test. "It wasn't about revenge.. I didn't need a catch… I wanted to make a point."
Even if hindsight proves that the Dallas Cowboys made the right move by releasing Bryant when they did, the wideout's sentiments are completely understandable. No one ever wants to be told they aren't good enough by anyone, let alone their employer of eight-years.
Dez Bryant could have also kissed his NFL career goodbye
Beyond losing out on some salary and his chance to play against the Dallas Cowboys, Dez Bryant may have suffered another major loss on Tuesday night. At this point, it's possible that the receiver will never suit up for another NFL game.
While opting out of the rest of the 2020 campaign shouldn't impact his future employability, Bryant didn't exactly do anything to catch the eye of his future employers. Beyond proving that he could practice and play a few games without suffering another injury, the receiver barely made a statistical impact; he played three games for the Ravens, catching four passes for 28 yards.
Although he may have some training camp and practice squad offers, it, unfortunately, seems like Bryant is getting pretty close to the end of the road. Even if Dez is planning on "coming back," as he said in another tweet, teams aren't going to be chomping at the bit for a chance to sign a 32-year-old receiver who's played three games of meaningful football since 2017.
In the context of the NFL season, it's easy to look at a positive COVID-19 test as simply a bump in the road. Dez Bryant's situation, however, serves as a reminder of the gravity of the situation. Football players aren't robots or gladiators; they're real people who have hopes, dreams, and motivations beyond game checks and touchdowns.
Stats courtesy of Pro-Football-Reference